The Key To Convert Instructor-Led Training To eLearning: Is Instructor-Led Training (ILT) Dying?
Is instructor-led training (ILT) dying? No, ILT isn't dying. But there sure has been an increase in large-scale conversions of ILT materials to online learning. While a lot of this is triggered by challenges on training budgets, I believe it also provides an opportunity to relook at the traditional format and enhance the training delivery. According to the '2016 Benchmark Report: The State of Online Training', "Technology has not decreased the demand for instructor-led training, but gives instructors new tools to reach learners…The trend in instructor-led learning is enablement through technology, both in hybrid and fully virtual delivery".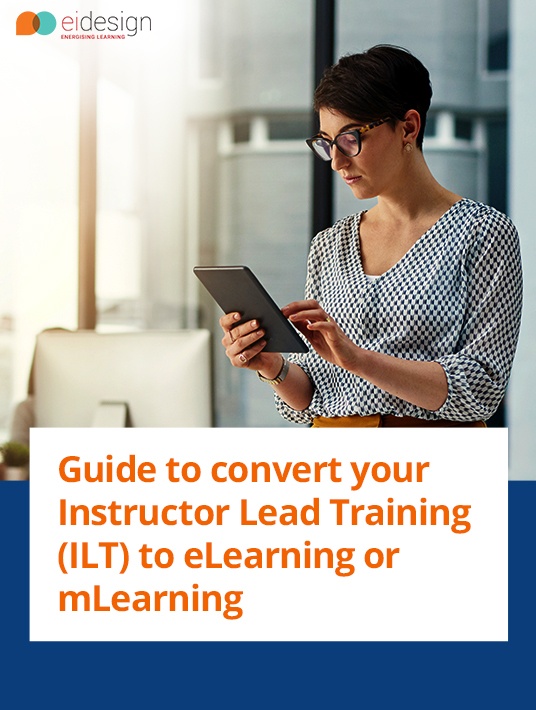 eBook Release
Guide To Convert Your Instructor Lead Training (ILT) To eLearning Or mLearning
This eBook provides useful insights for transformation from ILT to effective online training
Easier said than done. Right?
The process of converting your ILT collateral to online is certainly more than converting a PowerPoint deck to an online format. You need to plan for several aspects to ensure a successful conversion of your ILT to online training.
In this article, I will provide cues and process steps that will help you make this effort successful.
But before getting down to the process you should follow to convert instructor-led training to eLearning or mLearning, let's take a quick look at the benefits you will accrue.
What Are The Benefits That You Will Accrue As You Convert Instructor-Led Training To eLearning Or mLearning?
Benefits For Businesses
Savings in cost.
This is probably the biggest factor that triggers conversion of ILT to eLearning and results in cost savings.
Scalability.
Closely linked to the savings in costs is the related advantage of being able to reach out to your entire audience in one go. This scalability also brings in higher efficiencies in rolling out as well as managing these training programs.
Leverage new and emerging trends.
As organizations draw up the strategy to convert instructor-led training to eLearning, they can double the impact by embracing approaches that resonate with learners and contribute significantly to ROI. These include mLearning with flexibility of responsive designs that support multi-device delivery as well as strategies like microlearning, gamification, Story-based learning, scenario-based learning, and so on.
Higher training efficiency.
Organizations have discovered that switching to eLearning can help increase their training efficiency. IBM's switch to eLearning helped their employees learn five times more the material they would otherwise learn in the same time in a standard training session.
Benefits For Learners
Shorter seat time.
Typically, the seat time of an online program will be less than half (or one-third) of the ILT program. This is seconded by the fact that a Brandon Hall study concluded that eLearning takes 40-60% less time to complete compared to traditional classroom training. This means that the learner can achieve the same learning outcomes in much lesser time.
Providing control to the learner.
The eLearning approach is learner-centric and provides the control to the learners, enabling them to go through the training at their own pace. Plus, they have access to this training to refer to or refresh when required.
Providing flexibility to the learner.
eLearning provides anytime, anywhere access to training. Additionally, it provides a choice to learners as they can select the device on which they want to learn.
Higher retention of learning.
According to a study carried out by the Research Institute of America, the retention rate was in the range of 25-60% for eLearning whereas it was 8-10% for face-to-face training.
You can also take a look at this video to learn about the benefits of converting ILT material to online learning.
Why Is This Exercise Not About Converting A PowerPoint Deck To An Online Format?
At EI Design, our ILT/VILT and blended solutions practice is 15 years old. However, even today I find that more often than not, the conversion of ILT collateral to online is still treated as an exercise of converting an existing PowerPoint deck to an online format. Let me set this bit in the right context.
Since the existing ILT collateral was already instructionally designed, it is assumed that direct conversion of the existing Powerpoint deck into an online format (preferably HTML5 so that it can be accessed on all devices including desktops, laptops, tablets, and smartphones) is all there is to it as you venture into converting your ILT to eLearning.
While the source material is instructionally designed, you still need to go through the classic steps involved in creating online training or eLearning (ADDIE model of development).
What Process Can Be Followed To Ensure An Effective Conversion Of Instructor-Led Training (ILT) Collateral To eLearning Or mLearning?
The most commonly used process to create online training is the ADDIE model of development. This is what you need to follow even though you are converting an instructionally designed collateral to online training (eLearning or mLearning).
The ADDIE model stands for:
Analysis.
Design.
Development.
Implementation.
Evaluation.
What Aspects Should You Watch Out For To Ensure An Effective Conversion Of Instructor-Led Training (ILT) Collateral To eLearning Or mLearning?
Based on my practical experience, I recommend that the following aspects should be part of your conversion strategy from Instructor-Led Training (ILT) to eLearning- or mLearning-based online training.
Prior To The Conversion Exercise
Prior to initiating the conversion exercise, take some time out and quantify the following aspects of the existing ILT program:
1. What is working. 
This should be used to determine the "success factors" for the online version.
2. What is not working. 
These aspects need to be identified and right strategies to offset these challenges must be part of the online training strategy.
3. What more can be achieved. 
As you embark on the conversion path, you can set additional goals that were not feasible in ILT delivery. As I had highlighted earlier, today you can use various strategies that engage the learner better. These could include:
Story/Scenario-based learning.
Microlearning.
Learning paths: Rather than offering discrete training, you can design it as a "learning journey" that can have components of formal learning and performance support or informal learning. You can supplement these through new trends like social learning and content curation to engage your learners over longer periods of time.
During The Transformation Phase
1. Relook at developing the learning outcomes for online training. 
This is a pre-requisite and your updated learning outcomes must map precisely to the online training content.
2. Assess if you can convert the ILT program to a fully online training or you need to think of a blended approach. 
Just because you have a mandate to go online, don't miss this step and do a holistic assessment that the conversion process will indeed meet the required outcomes. Otherwise, identify if certain aspects need to be retained in the ILT format and pick a blended solution.
3. Relook at the content and layer the information. 
Instead of converting the entire source deck "as-is" to an online format, layer it into "Must Know" or the information aligned to meet the learning outcomes and "Good to Know". Remember, the online training format allows you to do an effective layering of your source content thereby reducing the seat time but still provide learners with additional supporting information that would enrich their learning.
4. Map existing classroom activities to interactivities. 
This is an important exercise and the range of interaction types available today across various eLearning authoring tools will help you do this mapping. You can pick from several, standard approaches like click to reveal, drag and drop, hotspots as well as scenarios with complex decision making options.
5. Assessment strategy. 
Base the assessments on your "Must Know" information. You can, however, add Inline Checks to checkpoint some aspects of the "Good to Know" information. The online medium provides several interesting formats for evaluation so use them to make them more engaging and effective.
By following these simple steps, you will be able to ensure an effectve conversion of your ILT collateral to online training (eLearning or mLearning).
You can also take a look at this video that serves as a checklist for aspects to consider before you convert your ILT material to online learning.
I hope this article will be useful in your conversion of existing Instructor-Led Training to eLearning or mLearning. Do use this opportunity to "transform" the learning and create a higher value to both business and learners. Do contact me if you have any queries.
Also Read: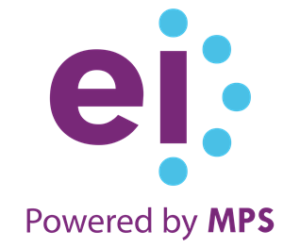 EI
EI is an emotionally intelligent learning experience design company that partners with customers in their Digital Transformation journey.