Why Are Workforce Well-Being Programs Important?
In recent years, actions to improve employee wellness are becoming increasingly popular among businesses. However, as there are no straightforward ways to measure the effects of such programs, many employers hesitate to implement them. If you're having doubts yourself, read on to discover 6 convincing reasons why you should invest in workforce well-being sooner rather than later. In addition, we share 7 resources you should include in your remote employee wellness program.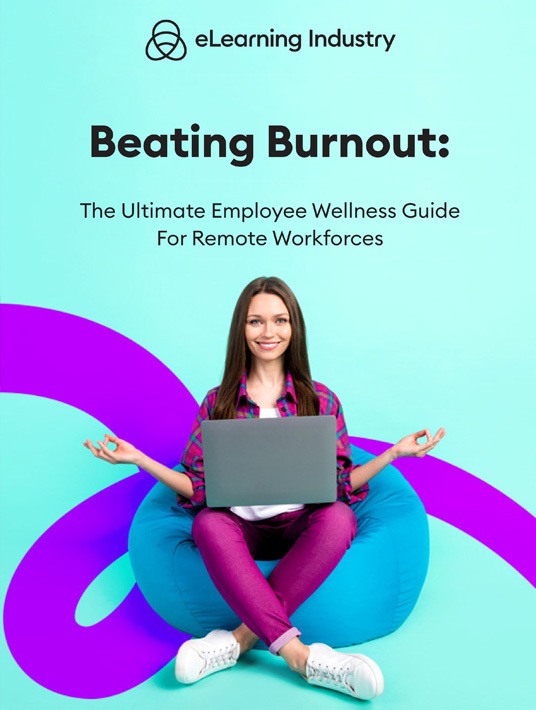 eBook Release
Beating Burnout: The Ultimate Employee Wellness Guide For Remote Workforces
Discover how remote working affects employee well-being as well as tips to beat burnout for your teams!
6 Benefits Of Workforce Wellness
Although employee wellness has been a commonly discussed topic for many years now, it's hard to effectively measure its positive effects. However, what's not hard is imagining how uplifting it is for employees to see their employers support their mental and physical well-being. Read on to discover in what ways workforce wellness can be beneficial for your employees and your company's efficiency levels.
1. Encourages Employees To Create Healthy Habits
The core of any workforce well-being program is to encourage behavior change. Using the right education, tools, motivation, and social support, your team members can improve their behavior and adopt healthy habits. These habits will help them lower their health risks and lead a more fulfilling life personally and professionally. For example, your wellness course can encourage employees to lose weight, exercise, quit smoking, or make healthier dietary options.
2. Cuts Down On Healthcare Costs
As we mentioned above, adopting healthy habits in our everyday lives lowers health risks in the long run. That said, the more organized and effective your wellness program, the greater the impact on the well-being of your workforce. Namely, they will be less likely to fall sick or get injured on the job. This signifies a great financial gain for your business, as healthcare costs decrease significantly. Simultaneously, employees deal with less stress overall since they don't have to worry frequently about medical bills.
3. Decreases Absenteeism
There are many reasons why a well-organized wellness course can decrease the levels of absenteeism in your business. Employees who are physically and mentally fit don't need to take as many days off work during the year. This would be because they are less likely to get sick or suffer from burnout, stress, and anxiety. In addition, when your team members feel that you care about their well-being, they exhibit increased engagement and morale. As a result, they are motivated to come in every day and perform their best.
4. Boosts Productivity
The main perk that comes with a carefully organized workforce well-being program is increased productivity and engagement. It often goes unnoticed, but presenteeism often causes more problems than absenteeism. In other words, having employees who have clocked in but lack the motivation and energy to do any meaningful work can be very harmful to your company's efficiency. On the opposite side of the spectrum, happy employees are more energized, creative, and motivated to make a difference. This attitude then rubs off on the way your organization operates and the goals it can accomplish.
5. Improves Recruitment And Retention
Besides compensation, employees are now also interested in all the other benefits organizations offer. An employee wellness program is one of those benefits, so if you want to attract new talent, you must make it a priority. Showing your employees that you're willing to take all necessary measures to ensure their wellness also creates a sense of loyalty within your organization which promotes employee retention. The recruitment and onboarding process is indisputably costly, especially if your employee turnover rate is high. Therefore, an investment in workforce well-being will quickly prove its profitability.
6. Builds And Sustains High Employee Morale
Apart from the obvious health benefits, participating in an employee wellness program can significantly improve team morale by creating a sense of belonging. Team members take part in these activities together, communicate with each other, and strengthen their interpersonal relationships. In addition, they feel valued by their employers, and supported in their efforts to remain healthy and maintain their work-life balance. Finally, wellness programs can add an element of fun to the employees' daily routine, renewing their enthusiasm for work and keeping their spirits high.
7 Essential Resources To Include In Your Remote Workforce Well-Being Course
Workforce well-being programs can be different for each business, based on its specific needs and requirements. In this article, we share 7 ideas for resources you can add to your wellness course to help your team members feel more fulfilled and perform better in the workspace.
Employee Assistance Program
Employee assistance programs (EAP) have been valuable tools for many years. They are designed to help employees overcome any personal issues that might be affecting their professional performance or overall health and well-being. Such issues include financial challenges, substance misuse, child or elder care, legal issues, traumatic events, etc. The EAP can be part of the comprehensive health insurance plan you offer your employees, and its services can be available to them via phone, email interactions, or video counseling.
Digital Health Resources
Considering that most of your workforce is working remotely, a digital health program is now necessary. Especially if your business offers on-site health services, such as a clinic, it's crucial you figure out a way to extend this service to remote employees too. For example, face-to-face appointments can now become virtual check-ups. This also applies to mental health. Keep in mind that your employees mustn't feel like they've lost access to all their health benefits due to remote working.
Training Courses For Management
Remote working is a new situation for many businesses. It has changed the way coworkers communicate with each other and their daily routines. You can't expect everyone to know how to adapt to this new normal. This is especially true for team managers who also have to guide employees through these changes. Therefore, offer your managers all the resources they need, such as webinars, training courses, articles, etc., to adjust their leadership style to their team members' changing needs.
Afterwork Gatherings
This is a great way to replace lunch time and water cooler conversations and reduce feelings of isolation. Establish a short period of time at the end of the workday, in which everyone can log in and have some virtual fun with their colleagues. It could be a book club, happy hour, or quiz night meeting. Run a survey among your employees to find out which idea could work best.
Videos And Applications
There are great tools online to help your employees remain energized and healthy while working from home. For example, consider giving your employees access to videos showing the most ergonomic desk setup for their needs. Another option is to add to your remote workforce well-being resources applications that encourage your staff to exercise and meditate from the comfort of their home. If you can even subsidize the monthly subscription, they'll be even more motivated to try it out.
Tools For Communication
Communication is crucial to keep employees connected with your company goals and values. For interorganizational collaboration to remain intact throughout the shift to remote working, you must provide your employees with the necessary tools. Apart from effective video conferencing tools that will get them through day-to-day meetings, you should also invest in messaging platforms for instant communication. This way, your employees won't have to deal with an endless stream of emails, and they will feel more connected to their colleagues.
Webinars And Training Material
While working remotely, it's important to keep in mind that your employees still care about expanding their knowledge base and developing their skills. Therefore, make sure to provide them with all the necessary training material to aid their professional and personal development. Add to your resource library material for personal work, such as PDFs, videos, quizzes, or even games, and organize webinars for a more interactive learning experience. This way, employees feel appreciated, and their productivity increases.
Conclusion
The benefits of remote workforce well-being programs are undeniable. They make your employees adopt healthier habits and battle feelings of isolation, disengagement, and frustration. In consequence, your business cuts down on healthcare costs, effectively attracts and retains new talent, and enjoys high productivity. By creating a library with the necessary resources, employees get all the support they need to navigate these times of change while remaining healthy and developing on a personal and professional level.
Download our eBook Beating Burnout: The Ultimate Employee Wellness Guide For Remote Workforces to support and nurture your teams from afar.