How To Select The Best Intelligent Learning Platforms For Hybrid Workforces
Today, intelligent learning platforms (ILPs) are taking over as they are more advanced and combine the functionalities of LMSs and learning experience platforms (LXP). An ILP allows users to create and manage learning content and offers recommendations based on learning goals. Furthermore, it allows access to third-party content providers such as LinkedIn Learning. The focus on skills development makes the ILP the most effective tool for training a hybrid workforce.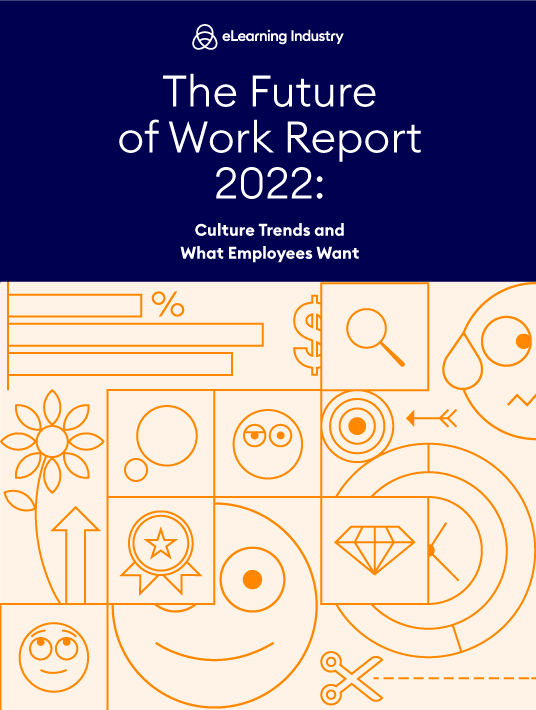 eBook Release
The Future Of Work Report: Culture Trends And What Employees Want
Is your business out of touch with what employees want? Dive into this report and discover how you can create a great workplace!
Costly Mistakes To Avoid When Selecting An Intelligent Learning Platform
Buying a new platform is not an investment to be made lightly. You want a tool best suited to your organization's needs and capable of supporting your training programs for a more extended period of time. Instead of going for what seems like good enough, do your research and avoid these ILP buying pitfalls:
1. Not Vetting Vendors
When it comes to ILPs, the vendor you choose will become a long-term partner. It's not a simple business transaction but the start of a relationship. A careful selection entails looking at the offers, the experience, and their image on the ILP market.
How many years of activity do they have? What do their customers say about them? Do they work with companies that are also active in your industry? All these are essential questions for sifting the offers and ending up with a short list of vendors.
Another important aspect is the type of support offered. You want a company with a team of experts to guide you through the implementation process and be there when you need help with your programs.
2. Not Having A List Of Must-Have Features
Whenever there's a new line of products on the market, companies want to get on board and sometimes advertise something that still has a long way to go before fulfilling the promises. An ILP should have all the valuable features of an LMS, such as course creation and administration, certification, analytics, compliance, and the added value of intelligent features such as advanced automation, setting learning goals, personalized recommendations, and social learning.
You need to look into the list of options and how they work to determine which platform is genuinely intelligent. For instance, if it lacks learning recommendations based on training goals, it's a major giveaway that the platform is more of an LMS.
3. Not Taking The Free Trial
Just because something sounds perfect does not mean it will suit your organization perfectly or even be a good fit, for that matter. Taking the free trial is essential when you are in the market for an ILP. Take time and test all the features you need in your company, some of which will become relevant in the future.
It's the best way to figure out how the ILP will help the L&D department in your organization and to make a list of questions for the vendor. Choosing an ILP that offers specialized support in and beyond the implementation phase is important. Still, you should also be able to inquire about certain features before committing. Furthermore, a free trial will allow the other stakeholders in your organization to test it and give you opinions from various points of view.
4. Not Taking Scaling Into Account
Your ILP should not only be able to grow with your business but help it grow. When you sign on for a new platform, make sure you consider scalability. Whether it's an e-commerce feature that you may need later on, or a matter of being able to deploy content in various languages, depending on where you will open new branches or do business, your ILP should be able to support that.
Skill gaps are now developing faster than ever before, and your company needs the tools to fill them by offering upskilling or reskilling programs. Digital transformation is also an ongoing process, and you want your learning platform to keep up, so look for a vendor dedicated to permanent improvement.
5. Not Taking Extra Skills Development Costs Into Account
How companies deploy training has changed dramatically over the past decade. There are no more one-size-fits-all solutions. Employees require training tailored to their needs and available when they need it. The ILP is an optimal solution as it allows for internal as well as enterprise learning with its many features catering to various needs.
However, training the hybrid workforce can be as costly as necessary, so when deciding on the investment, you need to consider all the potential extra costs. For example, while the ILP will have a good authoring tool, you still need to take into account the costs of content creation. Based on the characteristics of your company, you should consider if you need to invest in having your own team of instructional designers, have specialized partners or choose to pay for access to third-party content such as LinkedIn Learning or Udemy.
6. Not Taking Into Account Different Departments
Implementing a new learning platform can be difficult, especially if not everyone in the company is on board with the solution. The best way to go about it is to implement a pilot program and get feedback from the various departments in your organization.
Your learning specialists are instrumental in figuring out what ILP is optimal for you and ensuring a smooth transition. It's also paramount to get the input of your hybrid employees since they make up so much of the workforce and have specific learning needs. Getting everyone on board before making a final decision will ensure you make the right one for the company.
7. Not Taking The Hybrid Employee Learning Experience Into Account
Training hybrid employees is one of the hot topics in the learning industry today. The shift came swiftly because of the pandemic, and while the learning function has adjusted tremendously fast and impressively well, there are still areas that present some challenges.
The biggest challenge is offering a genuinely engaging learning experience from start to finish. You need to look for an ILP that provides an intuitive design, is easy to access regardless of device or location, has mentorship opportunities and a good video conferencing integration, employs dynamic gamification techniques, and generally aims to provide an excellent learning experience.
Creating High-Impact Skills Development Programs For Your Hybrid Workforce
The ILP you choose will play an important role in training your hybrid workforce. As such, it needs to have features that support the best practices of impactful skills development.
Competency-Based Learning
Competency-based learning models are best for training the hybrid workforce as they focus on individual objectives and finding the best path to achieving them. This concept is instrumental as it helps employees master a specific skill before moving on to a more complicated one. For example, to become a senior designer, the employee has to master specific design tools, understand the industry and have experience in advanced marketing projects.
Automated Recommendations
Automated recommendations are the next logical step toward achieving individual learning goals. The ILP takes skills and competency gaps into account and offers customized training recommendations from internal and external sources. Learners are presented with the most suitable opportunities for completing their development journey effectively and with good results.
Self-Paced Learning
Self-directed learning [1] works best in the hybrid workplace. Employees need to be autonomous and self-reliant when it comes to their development. Your company's ILP must support that by allowing learners to set learning goals (such as becoming a marketing specialist or a team leader), displaying the competencies associated with that goal and the steps to take towards mastering them, and providing multiple self-assessment opportunities. All these ensure that employees can manage and monitor their skill-acquisition process on every level.
Social Learning
The absence of social interaction is one of the most frequently mentioned downsides of online training. The ability to connect and share with peers, managers, coaches, and mentors is especially important in the context of a geographically scattered hybrid workforce. The ILP must offer multiple connection opportunities, such as chats and forums where learners can interact and share ideas.
Conclusion
An ILP is a long-term investment with ramifications in almost every aspect of the business. That's why you need to weigh your options, ask for feedback from all the stakeholders in the organization and avoid other common pitfalls, such as not taking into account the need to scale training in the future.
References
[1] How To Empower Your Learners With Self-Directed Learning – Featuring 7 Strategies