Create Accessible Learning Programs That Are Inclusive And Interactive
Every member of your organization should have access to the skill and knowledge-building tools they need to achieve their full potential. Unfortunately, many organizations fail to meet employees' expectations and needs due to budget or time constraints. Sometimes, they simply don't know how to start reshaping their L&D programs to make them truly inclusive. This eBook has all the essential info to create accessible learning that doesn't just tick the regulatory boxes.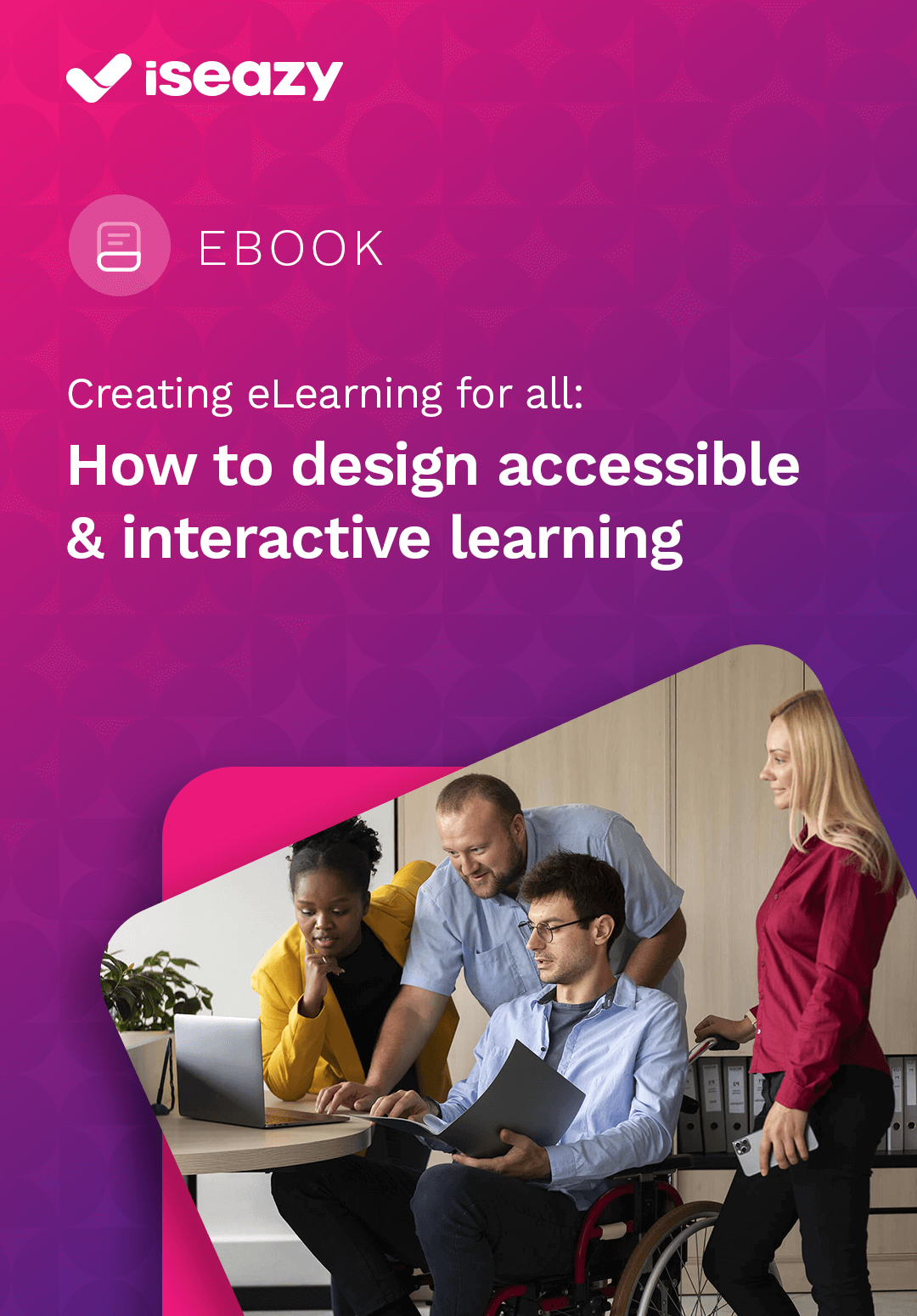 eBook Release
Creating eLearning For All: How To Design Accessible And Interactive Learning
Uncover the knowledge and tools you need to face the challenges of accessible learning.
Why Accessibility Goes Beyond Compliance
While meeting 508 compliance requirements is a valid reason to create accessible learning experiences, it shouldn't be at the top of your list. First and foremost, accessible and interactive training gives everyone the opportunity to bridge gaps and broaden their knowledge base, regardless of their special learning needs. For example, employees with hearing impairments still reap the benefits of your interpersonal skills module because it features subtitles and captions. They don't have to miss out on crucial training courses that help them increase workplace productivity and improve the customer experience because your organization understands that L&D is a right that everyone should be given.
That said, most companies don't have the time or monetary resources to start from scratch and restructure their entire program. That's where this guide steps in to offer actionable tips to create accessible learning content in minutes and find the right authoring tool for the task.
About This eBook
Where do you begin your accessible eLearning design journey? How do you incorporate interactivity to improve engagement without expanding your development timeline? Here's a sneak preview of what you'll find in this guide by isEazy:
Accessibility In eLearning: The Importance Of Creating Equal L&D Opportunities
3 Accessible eLearning Challenges That Organizations Must Face
How To Create Accessible eLearning Content For Every Member Of Your Team
Effortless Engagement: How To Use Accessible Interactive Elements To Create Courses In Minutes
Next-Level Engagement: Accessible Game-Based Learning Experiences
6 Tips To Find The Right Authoring Tool For Your Accessible And Interactive Learning Programs
Common Mistakes To Avoid When Designing Accessible Learning Experiences
Get Your Copy
Download the eBook Creating eLearning For All: How To Design Accessible And Interactive Learning today to discover how to design accessible learning experiences that are engaging, personalized, and memorable for every member of your team.