Creating Soft Skills Training Courses For Sales And Customer Care
One of the primary reasons why consumers choose your company over the competition is your commitment to them. Your employees know how to identify their needs, find the perfect product/service, and help them resolve common issues. It's no coincidence that all these attributes tie into soft skills. Top performers stand apart from the rest because they understand how to communicate, delegate, and empathize with others. But how can you cultivate these abilities through online training and not rely solely on innate talents? Here are 7 steps to develop a soft skills online training course for sales and customer service employees.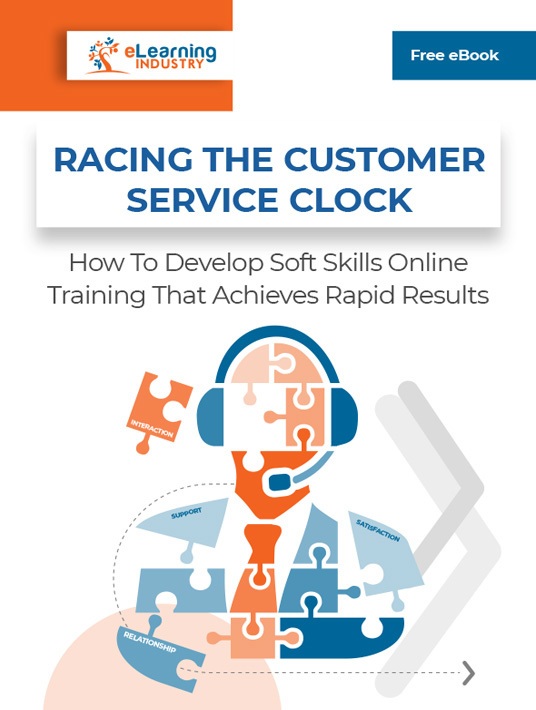 eBook Release
Racing The Customer Service Clock: How To Develop Soft Skills Online Training That Achieves Rapid Results
Discover the benefits of developing soft skills online training and improve employee performance and productivity.
1. Survey Their Skills
Everyone has their strong suits. Survey your employees to identify which skills they've mastered and which they need to cultivate in online training. Of course, skill development is far from black and white. There are some gray areas to consider. For instance, employees may have a basic understanding of communication skills. They know how to interact with customers and identify their needs. But employee training participants can't empathize with their situation or creatively problem solve. On-the-job observations are another effective way to survey their skills and practical know-how.
2. Identify Glaring Gaps
Now that you know the level of skill proficiency to identify glaring skill gaps, you must address in your soft skills online training course. Analyze LMS metrics, assessment scores, and survey findings to spot patterns. For instance, 75% of your staffers lack persuasion or negation skills. They can muster enough to finish a basic sales transaction. However, they struggle with customer reluctance and pitching product add-ons. Everyone has their own gaps, but it's not cost-effective to cover them all individually. Prioritize pain points that hinder the job performance, then work your way down the soft skills list.
3. Inventory Existing Assets
Take stock of the assets you have and evaluate them from a soft skills training perspective. Determine which resources you can repurpose with some minor modifications to cut costs and development time. Like that webinar, you recorded last year, that contains personal anecdotes and skill-building tips from industry experts. This also prevents redundant resources. For example, you've already covered active listening and work ethic in various activities to cater to different styles. Thus, you don't need to devote additional resources and seat time to these competencies.
4. Develop New Content Based On Top Priorities
This is the point where you should break out that prioritization list you created earlier and start creating new content. Use a rapid eLearning authoring tool with an impressive asset library to stretch your budget and expedite development. This also requires an eLearning team to research soft skill essentials and figure out how to impart them through online training. How will they deliver information in a way that's easy to understand? How can they facilitate real-world application? What is the turnaround time for each task?
5. Create JIT Online Training Tools
A soft skills online training course is not merely the modules and activities you incorporate into the design. It's also the additional support tools you provide employees. The JIT online training tools that allow them to bridge gaps in their own time and address their moment of need. For example, microlearning online tutorials or demos to help them improve task performance or avoid common errors. As such, developing JIT support activities is just as important as the structured soft skills curriculum. The library might also consist of self-assessments, infographics, and bite-size simulations.
6. Launch Certification Paths
Develop specific certification paths for the most crucial soft skills in the workplace. Certifications hold employees accountable and help them monitor progress. For example, the path features 10 different stages/activities they must complete to achieve the objectives. It's also paired with an online training library. They're able to peruse it on their own. Some quizzes test their knowledge after each milestone. Another valuable addition to certification online training courses is badges, points, or leaderboards. Particularly if employees are more laid back about skill development and need extra rewards to motivate themselves.
7. Collect Feedback
An eLearning developer's job is never done. Especially regarding soft skills in the workplace. There are always new gaps to fill and competencies to cover based on job roles and duties. Even the content, itself, requires constant upkeep to ensure it's timely and relatable. Collect feedback from employee training participants to identify areas for improvement and under-performing resources in your soft skills training course. Another place to check is your LMS. Analyze reports to find out which activities are popular. Those with high engagement scores probably target a specific need. So, you may want to focus on related skills moving forward. Tie-in competencies that help employees boost productivity and proficiency on the job. Resources with low engagement might need some minor adjustments. Such as adding interactive elements or personal stories that connect with employee training participants.
This step-by-step guide can help you implement a successful soft skills online training course that's personalized and targets notable gaps. The key is to get employees actively involved in every step of the process. From identifying areas for improvement to contributing content. Not simply calling them in once the online course is complete to run a few test rounds. You should also gather feedback periodically to ensure that the online course is still on-point and features soft skills they need today. Instead of competencies that have already been addressed or are no longer pertinent.
If you need to learn more about the importance of honing soft skills in the workplace, read our eBook Racing The Customer Service Clock: How To Develop Soft Skills Online Training That Achieves Rapid Results and find out all the benefits of investing in your employees' soft skills training.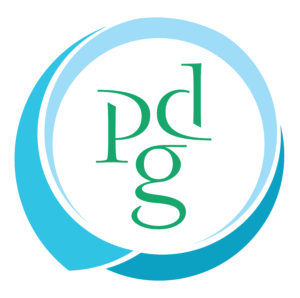 Performance Development Group
We make people better at making their business better.