Supporting Critical Skills: Is Your HR Tech Stack Up To The Challenge?
Are you making the most of your internal talent? One of the things that set successful organizations apart from the rest is resource allocation, and human resources are at the top of the list. This eBook shows you how to support critical skills and launch a talent mobility plan to recruit and retain top performers.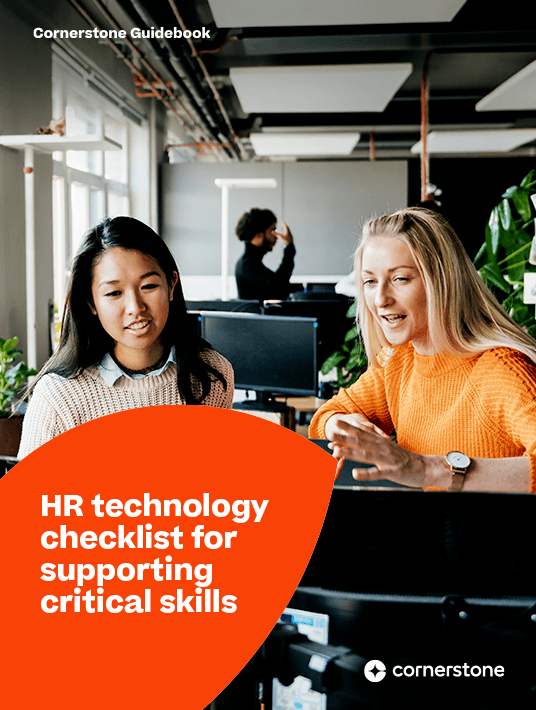 eBook Release
HR Technology Checklist For Supporting Critical Skills
Use this technology checklist as a reference guide to ensure your organization has the tools it needs to plan, facilitate and execute a great internal talent mobility program that supports critical skills.
Why Talent Mobility Should Be A Top Priority For L&D Teams
A talent mobility strategy gives you the opportunity to upskill, reskill, and cross-train team members who want to take on new challenges and accept new responsibilities within your organization. Thus, it should be a crucial part of your L&D program so that you're able to attract top talent and ensure that they keep contributing to your company. Another benefit of launching talent mobility programs is employee empowerment. Everyone has the chance to pursue interests, utilize their skillsets, and broaden their experience because they're in the right place, filling the right role.
About This eBook
How do you equip your team with the skills and real-world experience they need to achieve their full potential? How can you create personal growth plans so that they're ready for new roles? Here's a brief glimpse of what you'll find in this guide:
Building A Talent Mobility Program Plan: It's important to know going into this process that talent mobility programs are not plug-and-play, one-size-fits-all affairs.
Facilitating The Talent Mobility Journey: How to build a personal development plan, execute the development plan, and move into a new role.
Technology To Support Employee Engagement: Understanding how to humanize employee engagement is only the beginning.
How To Get Your Copy
Download the eBook HR Technology Checklist For Supporting Critical Skills by Cornerstone OnDemand today to create a winning talent mobility strategy and choose the best tech for your teams.