Giving Thanks To October's Top Guest Author Posts
In search of tips to organically incorporate voiceovers into your eLearning course? Want to know more about system integrations? This month's guest post showcase covers everything from learner-centered design secrets to toolkit essentials. Here are the best of the best guest author articles published on eLI this month, in no particular order.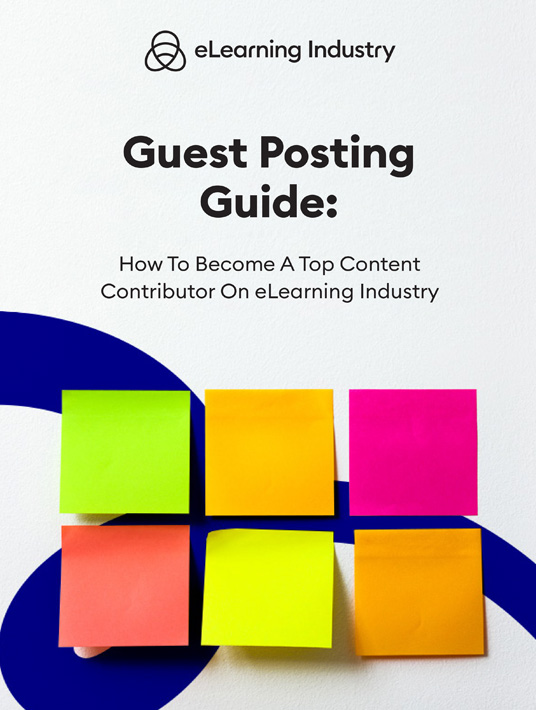 eBook Release
Guest Posting Guide: How To Become A Top Content Contributor On eLearning Industry
Discover what you gain by guest blogging and what are the basics of writing a guest post for eLearning Industry.
5 Top Guest Articles You Won't Want To Miss
Every Learning Management System comes with built-in content authoring capabilities today. Garima Gupta invites you to consider crucial aspects, including User Experience and creator's skills, when deciding whether to use them or choose an industry-standard external authoring app.
When looking for a new LMS, or any other piece of software, we start by checking integration possibilities. Whether it's Zoom, Google Calendar, or Slack, we want our purchase to work with our existing software ecosystem. Katarzyna Kowalik explores if all systems can be integrated easily and why you may want to consider integrations in the first place.
With learner-centered design, participants enjoy learning, and organizations have a better understanding of their needs. Emily Gore discusses how to make the learning experience fun and engaging by creating a positive environment, starting with the end in mind, and staying flexible.
The UX design toolkit is extremely useful for us to analyze and improve our learning systems. Peggy Lim highlights a few ways we can incorporate them, from user persona mapping to affinity clustering.
While reading from text or watching graphics is a great way to learn, someone explaining the concept or telling a story is a different experience altogether. Satyabrata Das explains why classroom training is so effective due to the presence of a teacher who explains the concepts.
Would You Like To Be Included In Our Next Guest Author Showcase?
A big round of virtual applause to all of our featured authors! We'll be highlighting our top guest authors every month in our Guest Post Showcase. If you'd like to be considered for our next list, submit your article to build thought leadership and connect with our eLearning community.
You can also subscribe to our guest author newsletter for tips, hot topics, and exclusive promo opportunities.