What You Need To Know About An eLearning Video On Demand Platform
Video on Demand is the buzz word nowadays. With so many entertainment portals launching VOD platforms, education businesses have also started diving into same. Coursera, Udemy, Khan Academy, BYJU are some of famous eLearning VOD platforms. Video-based learning has ever been rise and the availability of fast cheap internet and streaming servers has led to a boom in launch of video on demand platforms. Now a days, students like to access all the content at a flexible time and location on their mobiles or laptops. Here are some key statistics to look at prior to a discussion on 7 things to consider while launching an eLearning Video on Demand platform. I have given links to external tools and data wherever required.
The Key Points For Consideration For A VOD Platform
So to start with the 7 key points for consideration for a Video on Demand Platform are:
1. VOD Website Setup
For a start, CMS like WordPress have lots of easy to use themes and plugins to roll out a fresh VOD platform. Some of the most popular ones for VOD platform with WordPress and Joomla are mentioned. If you are not even looking to setup a server of your own to host a WordPress website, then the ready to use LMS options can be good for you.
PHP and Javascript are other good languages to build a whole custom backend and frontend solution that gives you more flexibility.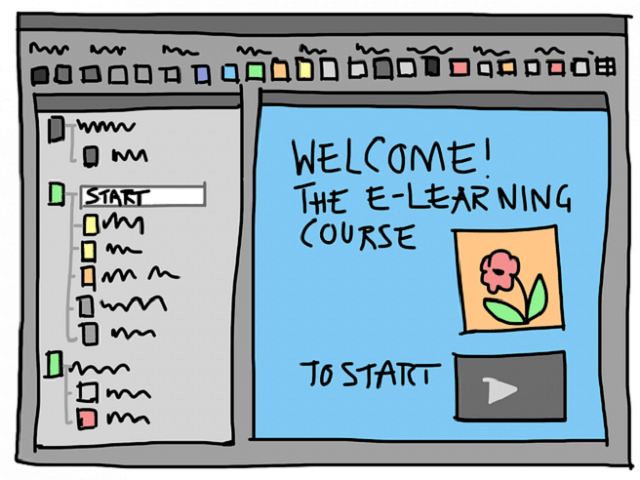 2. User Management And Plans (Free/Subscription/Pay Per View)
The effective way to do this which has become common now is to provide certain content for free and then implement paid  options. Free content allows your user to have a feel of the quality and compatibility of content for their learning experience. While entertainment-based VOD platforms mostly don't rely on pay per view , In my experience both pay per view and subscription works good for eLearning VOD.
3. Video Player And Streaming - Aesthetics And Experience
The streaming player is the key experiential aspect of a Video on Demand platform. The looks of the player should match with your site theme. Some of the key UI/UX aspects of the player are - easy to click seek back and forth, fullscreen on/off from keyboard, subtitles, buffer conservation for smooth playback, device compatible, responsive size, speed change, etc. Speed change is now a key aspect for eLearning courses, as if students can consume same amount of learning content in say 20-40% lesser time, then it saves them lot of time. It is particularly useful in exam days. Here are some more tips to help enhance the student experience.
4. Feedback And Interaction With The Instructor
Unlike movies, teaching is always a two way process. The qualm which many offline instructors have is that there is not much two way interaction in the online VOD space. Thus, there is a definite need of feedback, i.e. comments section, below the videos. Quizzes and short live sessions can also pose an effective mean to gauge the learning paradigms.
5. Security From Piracy
Videos are the key intellectual property and many premium course creators are fearful of the fact that putting the content online can lead to potential piracy and loss of revenues. Most of the videos online can be easily downloaded using freely available tools/plugins. High secure encrypted streaming using a combination of HLS encryption and other technologies, backend authentication, DRM, and watermarking can prevent this.
6. Marketing And Monetization
It is important that you keep a considerable budget for your marketing spends. For most of the eLearning Video on Demand clients I have worked with, digital marketing has been the major source of new user acquisition. Google ads, marketing and ads on relevant content, and social channels like eLearning Industry, social media marketing are good options to generate leads. The landing page should be clear with a quick proceeding to free trial.
As explained by Christopher Pappas here, getting great endorsements and building a brand image are key to increase sales of your course.
7. Personalized Recommendations And A/B Testing
The world's most famous VOD platform, Netflix, spends a major amount of time in building personal recommendations. They also do a lot A/B testing on simple things like video thumbnails to see what is causing effective engagement. For a course Video on Demand platform, this can be done in form of experimenting with different length of courses (whether short or long lectures result in better completion rates), presenting modified content videos for learners at different initial stages (like providing different MBA course videos for engineering and commerce people) etc. Though, these aspects usually come at an advanced stage of business.
5 Things To Avoid Or Be Critical Of While Launching A VOD Startup
Though going for an online elearning Video on Demand platform looks lucrative, there are some common pitfalls & negligences, which I have seen many of new startups falling into. I am mentioning here the primary ones and it is good to give a detailed thought before launching.
1. Over Optimistic Initial Signup Prediction
Many of the teachers and companies presume that they will get some 500-1000 signups within few months of launching VOD platform. This number is usually based on either their survey of the offline market in the same industry or from competitor analyses. One has to understand that the entertainment VOD is easier and cheaper to try, and the viewer is in passive mode and enjoys the content. While the Learning VOD requires the student to have great trust in the course creator, assurance of the learning outcomes and ability to compete with the counterparts (in case of test prep courses). Thus there is certain cynicality in approaching newly launched education video platforms. After initial semester or year, when the results come and people see that some of students gone through your courses are happy and got desired results, the subscription continuously explodes.
2. Investing A Lot On Website Customizations Upfront
This is if you are an individual or group of teacher looking to launch a course video on demand platform. I have seen people putting unnecessary efforts in small customizations and aesthetics like player color, how comments look, etc. Considerable development time is spent sometimes in these customization and it delays the time to launch. Better option is to build a MVP with good user signup and smooth streaming system, and test it amongst initial set of users to build more details in near future.
3. Choosing YouTube Or Similar Free/Cheap Video Hosting Options
Security from piracy, detailed availability of APIs, customizations etc are not there in youtube and similar sites. It is better to use a video streaming provider specially built for premium videos with high level encryption security and customizations to suit your needs. A leakage of all the lecture videos can be hugely detrimental to your potential revenues.
4. Undermining The Value Of Tech Team Or Digital Marketing
Many of the companies either spend very less time & money on the tech for web portal or on marketing. An appropriate balance has to be there in the spendings on tech and marketing. I have seen some great looking eLearning VOD websites not getting any traction and also some video portals getting lot of users but failing to provide a good experience.
5. It Is Good To Learn From Others' Experience
Case Studies, Whitepapers, tools like Builtwith, reports on sites like eLearning Industry etc can be read to see current industry patterns & tools being used by competitors. We have seen newly launched VOD platforms learning from their competitors and making an effective entry to market.
Feedback and queries are welcome in the comments section below.