How To Use Employee Training Software To Enhance Workplace Productivity
Without the right training, employees may want to bring business into the company, but simply don't know how. Online training does not just educate employees; it also improves teamwork and increases profit margins. Unfortunately, some online training methods will never achieve their intended purpose because they are too monotonous or tedious. Instead of focusing on individual needs, organizations take a one-size-fits-all approach. However, the right employee training software can help you personalize the online training process and enhance workplace productivity. If you know how to make the most of its functions and features, that is.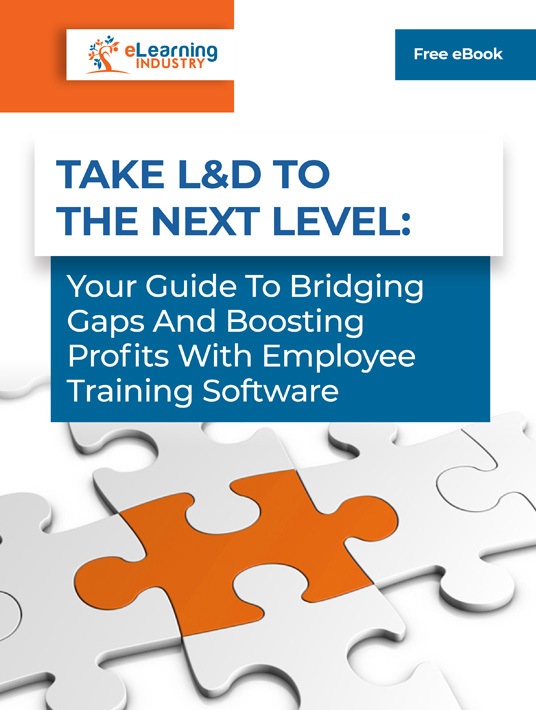 eBook Release
Take L&D To The Next Level: Your Guide To Bridging Gaps And Boosting Profits With Employee Training Software
Learn how to take your L&D to the next level with employee training software.
1. Consider Your Target Demographic
You have to consider the age of your employees, as well as their background and experience level. Millennials may be more open to technology and change than other generations in your workforce while baby boomers prefer a more hands-on approach that involves more traditional and/or collaborative methods. It is necessary to ensure that the employee training software you use caters to your multigenerational workforce. For example, it allows you to incorporate serious games into your online training strategy. The age group and training needs of your employees has an impact on the games you select. Gen-X employees may prefer Augmented Reality games that involve their mobile devices while more mature staff members might enjoy more straightforward drag-and-drop games on their PC. Especially those who aren't necessarily tech-savvy.
2. Evaluate Your Current Approach
Each time you choose employee training software for your corporation, be sure to note it down and how well it is accepted. What online training activities did your employees engage in? Who was involved? How many enjoyed that online training activity or voice their dissatisfaction? This will allow you to have a record of what employee training software is most effective and which ones have had the most impact. It will also prevent online training activities from becoming monotonous and boring over time. Employees need to feel that they are doing something new and exciting in order to truly connect with the online training content. You can also conduct eLearning assessments and a thorough training needs analysis to identify pain points. For example, skill gaps that a majority of your staff has in common can be alleviated by employee training software.
3. Focus On Cross-Training To Enhance Customer Service
Online training programs for businesses allow your customers to have the right information for the products they buy. They're able to get answers rapidly, as your employees are always up to date. Employee training software also gives your staff the opportunity to learn about different aspects of the company. As such, they can aid consumers with every step of the way without having to speak to a manager. Every employee is a brand advocate who can inform and educate potential customers. This saves time and increases satisfaction. When customers are served on time, they will also become your business's most dedicated brand advocates.
4. Plan Ahead
Even businesses that began in a small room with just three people will need to grow to get their share of the market. Having good employee training software allows for expansion into other areas and gives the business better leverage to get more employees. Getting the initial software set up will allow subsequent online training programs to be added with ease. Therefore, even small businesses can set up their employee training software early and plan ahead. When making your selection, think of where your organization is heading and how many employees/departments you expect to have a year from now. Or five years from now. Then find a solution that can scale with your evolving business needs.
5. Consider Sharing Business Resources
Sharing resources is common in businesses. However, it is expensive and inconvenient to have to walk to one office or travel to another branch of your organization for training. The company will have to pay for accommodation and food for both employees and trainers. Employee training software makes it easy for every employee from the company to access the same online training materials from their desk. They also have the freedom to read the online training materials any time they want and from anywhere. If your business is small, such an online training program allows you to invest most of your money in other areas that are much more profitable.
6. Improve Your Recruitment Habits
Much like courtship, your business needs to start by finding employees who fit into the culture of the organization. Ensure that you have properly screened them and found out how well they will fit into the core values of the company. For all intents and purposes, your organization is like a family that requires the ideal dynamics. This ensures that your online training programs will be accepted by most of your employees. Conversely, the online training strategies you choose will be similar to the culture of your entire organization. Online training feels like part of office teamwork activities and not a tedious endeavor.
Hiring the right employees gets you off to a great start. However, you must also personalize your online training resources to retain top talent. Employee training software helps to make this process seamless and ensures that it takes as little time as possible. The trick is to periodically review your online training strategy and analyze LMS metrics. Determine what's working and what needs to be improved so that you can continually improve. You should also gather feedback from employees to disclose their needs and preferences. Only then will you be able to use your new employee training software to boost productivity and profits.
Download our eBook Take L&D To The Next Level: Your Guide To Bridging Gaps And Boosting Profits With Employee Training Software to learn how you can take L&D to the next level by investing in employee training software. We also share tips to customize the platform to incorporate your branding, as well as tips and techniques to monitor employee performance more effectively.