How To Monitor Performance With Employee Training Software
Online training is a critical part of any business venture. It allows you to beat out the competition and retain your top talent. As an employer, you always want to know whether the investments you put in your business are delivering the results you are looking forward to. So how do you know whether your online training program is contributing to the growth of your business? Here are 6 insider secrets to monitor performance with employee training software.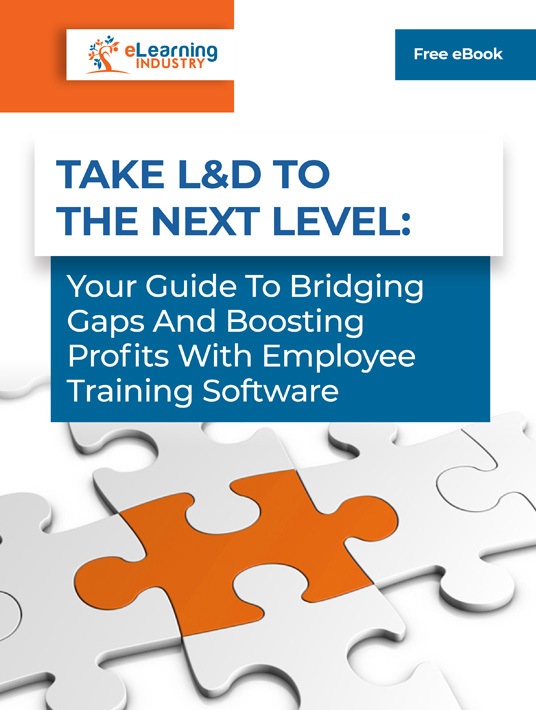 eBook Release
Take L&D To The Next Level: Your Guide To Bridging Gaps And Boosting Profits With Employee Training Software
Learn how to take your L&D to the next level with employee training software.
1. Create A List Of Top Organizational Objectives
Before you can monitor performance you must develop a specific set of criteria to focus your efforts on. Namely, identify the organizational goals and objectives that employee training software will help you achieve. This involves a training needs analysis so that you're able to analyze the shortcomings of your current online training strategy, as well as determine the individual needs of your employees. For example, most of your sales staff is scoring low on customer satisfaction surveys. In response, you can incorporate online training activities that expose them to different workplace situations and customer personas. Then, monitor how they improve their approach as they progress through the online training course.
2. Keep Track Of Individual Performance
The best way to know whether your online training is working is to evaluate training effectiveness at an individual level. In lieu of a traditional paper trail that consists of printed certificates and exam results, employee training software provides detailed metrics. Furthermore, you're able to create data visualizations to make the analysis process less time-consuming. You can identify gaps that need to be filled to improve your online training ROI and personalize the process. Here are a few individual performance indicators to add to your checklist:
Employee performance during simulations and other real-world online training activities
Completion times vs. estimated activity timeframes
How quickly employees bridge personal performance and skill gaps
How employees stack up against their peers to identify top performers, as well as intervene for those who are struggling
3. Test, Test, And Test
Testing employees is another way to track progress and get a complete picture of online training effectiveness. There is a broad range of testing options that organizations can employ. The first is diagnostic testing sessions, which determine how much employees know. In other words, the amount of knowledge they've acquired during the online training session. Qualitative testing, on the other hand, gauges how well they understand the topic and if they are able to apply their knowledge in the workplace.
4. Incorporate Simulations And Branching Scenarios To Diagnose Training Gaps
There are several ways to evaluate employee know-how through qualitative eLearning assessment methods. However, checking employee performance on a practical level is a bit more complicated. Especially when your staff works remotely, and manager observations aren't a viable option. Fortunately, you can use your employee training software to test their experience and comprehension with simulations and branching scenarios.
You can see how they react to emergency situations or even everyday job challenges, such as dealing with an unhappy customer or overcoming a software issue. But they also give you the opportunity to identify areas of your online training strategy that may be lacking. For example, a large portion of the participants is unable to handle the pressure of their everyday work duties. Many of them cannot complete the simulation or choose the wrong paths more often than not. This is a clear indication that your online training approach must be reevaluated. Namely, that you should expose employees to realistic situations regularly so that they are fully prepared.
5. Develop A Reporting Schedule
Most employee training software solutions allow you to choose which reports you would like to see and when, as well as how they will be viewed. For example, you need to evaluate customer service performance scores to ensure that they're progressing as planned. So, you set up an automatic weekly delivery of these reports to your inbox. It's also best to take it a step further and create a weekly or monthly checklist of the most crucial LMS metrics. For instance, the key performance indicators that support your online training objectives and outcomes. You can even delegate this task to another member of your team or relevant department heads who will use the data to follow up with employees.
6. Provide Personalized Online Training Contracts
There are two common personalization approaches you can employ. The first is online training paths that allow employees to choose the most relevant online training activities. The second is online training contracts that hold employees accountable and empower them to take charge of their own L&D. Employee training software helps individual team members achieve their learning objectives and track their progress. However, it also makes it easier for you to monitor performance gaps and step in when required. For instance, the employee takes longer than expected to earn their certification or they're struggling to complete the skill-based online training activities that align with their job duties. The LMS metrics allow you to pinpoint these areas for improvement and customize your online training strategy to meet their needs.
Employee training software can be a relatively costly investment. Thus, you need to ensure that you find the right tool for the task the first time around. Select employee training software that features advanced reporting and analytics capabilities. It should also have a robust assessment engine and feedback system in place to monitor every component of your online training strategy.
Download our eBook Take L&D To The Next Level: Your Guide To Bridging Gaps And Boosting Profits With Employee Training Software to learn how employee training software can take your L&D to the next level. We also offer tips to help you conduct a successful training needs analysis before you make your final decision, as well as explore the most overlooked benefits that a new LMS can bring to your organization.