Top eLearning Authoring Tool Options To Consider
Mandatory eLearning course development tools usually don't come in a neatly bundled package. If you find yourself shopping for separate online training implements, what must you absolutely have on your list? With eLearning vendors pushing USPs, it can be hard to tell which features are crucial and what's just a gimmick. Start with functionality. You have some idea of the kind of online training course you want to create. What do you want it to do? Which skills would you like to impart, and how? Now, what functionality do you need in order to meet these online training goals? Here are the best eLearning authoring tools to consider for your next project.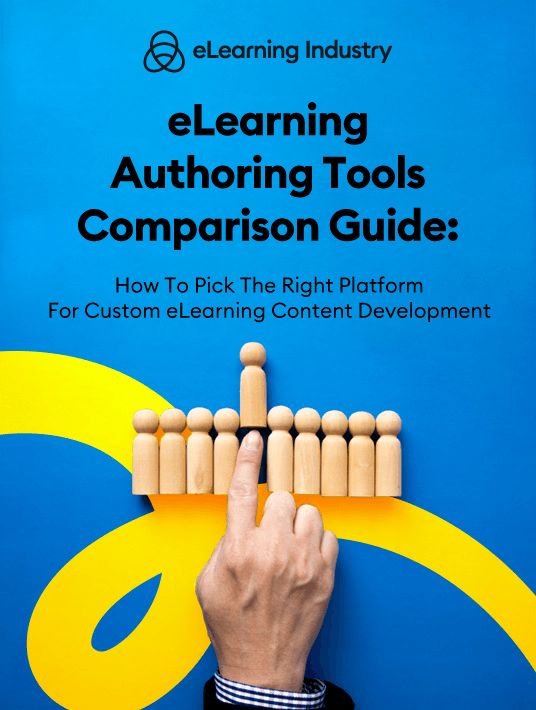 eBook Release
eLearning Authoring Tools Comparison Guide
Explore and discover how you can choose the best platform for custom eLearning content development.
1. Video Editing Tools
Seldom do organizations dive into online training right off the bat. They start with some kind of traditional system which they after digitize. If your company held workshops in the past, that means there's footage of them. These video collections are incredibly rich sources of online training content. Your eLearning authoring tool needs a built-in editor. It should let you manipulate audio and video feeds on existing online training content. As well as allow you to shoot fresh video and record new audio. Ideally, it should be a simplified WYSIWYG system. You don't want to have to bring in a DJ or sound technician—they're expensive.
2. Webcam And Teleconferencing Features
Recording demos and online training sessions are just one part of the equation. You need to share online training content, too. Check that your eLearning authoring tool can facilitate webinars and real-time teleconferencing. It's important for instructor check-ins, eLearning feedback meetings or group classes. Also, confirm your eLearning course creation software has automated notification systems. Employee training participants are used to solo-studies, so they'll need timely reminders to attend synchronized classes. Ideally, video conferencing tools should support social integration. For example, attendees can leave comments or questions, as well as interact with their peers.
3. Screen Capture Functionality
Demos follow different structures. It may be a shoot featuring human models performing the task. It could be an over-the-shoulder recording of someone wrapping up the process. Or it could be a capture of the online training screen itself, using both stills and video. Check that your eLearning authoring tool has the ability to "record itself." It's the fastest, most cost-effective way to create video tours. And it's a great way to show your team the intricacies of new software or machinery. This is especially useful for onboarding systems—invoicing, quotations, order forms, asset management, etc. The best eLearning authoring tools for this purpose also feature editing/effects support. For example, you're able to incorporate background music, audio narrations or text captions to the finished product.
4. Rapid eLearning Authoring Capacity
You may wonder how long it takes to design online training courses. The answer is that it depends. But there are certain eLearning authoring tools and features that can make the process faster. Rapid eLearning authoring tools may include eLearning templates, built-in storyboards, or pre-programmed apps. The structure exists so that all you do is plug in online training content. It could also have a tool for easy import. This is especially helpful when you're creating an online training resource library. It could be pretty basic—a curated list of articles or YouTube videos. Seek an eLearning authoring tool that allows you to gather, analyze and re-use these online training resources en masse. Just make sure you have legal access to whatever you're co-opting.
5. eCommerce Readiness Tools/Add-Ons
You probably don't think you need an online store. In reality, everyone needs an online store. At some point, you'll need to sell something to customers or staff members. Or on a more basic level, you'll have to teach your employee training participants how to sell. Prepare for that eventuality by getting online shopping tools. Start with the basics: shopping cart, PCI compliance, merchant processing integration, and price listing features. You can also consider finding an eLearning authoring tool that can build online shopping apps, just in case.
6. Quiz Creation
Some LMS platforms have built-in online training assessment engines. However, you may still need a quiz authoring software to develop more advanced testing formats. Or even to create qualitative online training assessments that go beyond multiple choice and true/false. An essential feature to look for is eLearning templates so that you don't have to build quizzes from the ground up. This also helps you keep your question formats cohesive to improve the accuracy of your results.
7. Real-World Activity Builders
Ideally, you should have an eLearning authoring tool that produces more advanced online training resources. Such as simulations, scenarios, and serious games. This should also feature a built-in asset repository to make the process easier—and more cost-effective, for example, eLearning templates to help you develop a skill-based serious game with limited coding knowledge or experience. Animation course authoring tools are also essential if you want to produce demo videos, tutorials or other online training resources that involve some degree of risk. For instance, an immersive demonstration on how to repair faulty wiring or emergency preparedness tutorials that are too dangerous to re-enact.
We've all gotten into the habit. Before we buy anything—from televisions to toiletries—we check to see if it's the "best." If the item we're shopping for is an eLearning authoring tool, we need a slightly different tactic. Rather than typing "best eLearning authoring software," focus on the features you need, then find them within your budget. What are the necessary functionalities in an eLearning course creation kit? Video recording, editing and conferencing. Sound and picture editing are also must-haves. Screen capture is essential, for walk-through demos and step-by-step guides. Check that it contains eLearning course creation shortcuts for rapid eLearning authoring and the capacity to build and run online stores—if you're taking the eCommerce route.
eLearning Authoring Tools Comparison Guide: How To Pick The Right Platform For Custom eLearning Content Development is your go-to guide to help you analyze, compare, and contrast all the possible eLearning authoring tools that compliment your organization's goals. Download it to discover how you can choose the best platform for custom eLearning content development.