How Delivering Extended Enterprise Training Can Help You Grow Your Business
It's essential to know how to expand your training reach toward external learners without making the process arbitrary or overwhelming. If you design or plan the process accordingly, you will be able to reap the rewards of your extended enterprise training. In order to be able to implement eLearning across all areas of the business, you need to master a certain amount of business traits. But the real question is: How do you deliver your product training to organizations outside of your own? Extended enterprise training aims to accommodate each one of these groups with the tools, means, and data they need to prosper, and in turn, help your business succeed.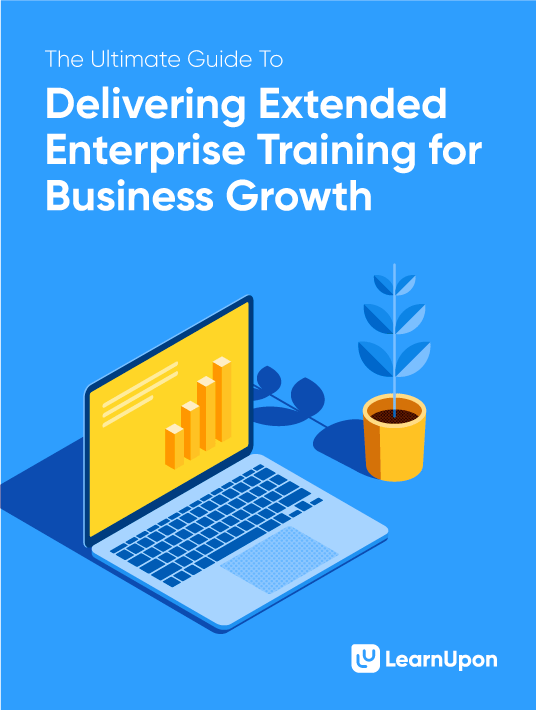 eBook Release
The Ultimate Guide To Delivering Extended Enterprise Training For Business Growth
Discover how you can find the best LMS to help you achieve extended enterprise training success
About The eBook
Because every organization is unique it means that there isn't one communal training that applies to all businesses. Each extended enterprise is comprised of different audiences and each enterprise has its own reasons for wanting to train them. You could make an easier divide where there are two main audiences that businesses commonly train. If employees are trained better they, directly and indirectly, elevate the Customer Experience, produce a higher quality of support, and enhance your business's chances of success.
In the two way distinction, the first audience to focus on is clients. In the last few years, companies have really started to see the value of producing well-balanced, formalized training programs for their customers. The training of the client happens in numerous ways. If the training strategy is of great quality, it provides your customers with support through every stage of the journey. From the moment they start their subscription or pay for a premium feature they should start to receive onboarding training. After the onboarding has been initiated and concluded, the clients should be provided with product training to keep them up-to-date on the evolution of the product, including new features. It is a vital strategy regarding your interaction with clients. It could possibly help with product adoption, create great scenarios for upselling, and overall it's a great incentive to keep customers engaged.
The second audience consists of partner training. Similar to customer training, the difference being that partner training involves the onboarding of new members, sales enablement, and product training to enhance their knowledge on new launches or upcoming updates. Additionally, it often involves a validation method to ensure your partners are authorized. It's a compelling strategy to train your partners as long as your company is providing them with the tools they need to shine. This way you enable them to improve their product knowledge, mindshare, and most significantly, their ability to sell, thus building a stronger network that helps your company grow faster.
At some point early on in the eBook, we realize what the extended enterprise is and the types of training required. As described by LearnUpon:
An extended enterprise LMS, otherwise known as a Learning Management System, is a platform that enables an organization to train all of its audiences through a single resolution.
They proceed by explaining that in order to enable such a single solution you need to facilitate your business to set up learning portals.
These portals are distinct learning environments that one can brand and configure for each one of its audiences. So, when you, as an administrator, log in to your LMS, you're able to manage all of your audiences within one solution. And your learner is able to log in to their specific portal, containing content and courses that are tailored to their training needs.
Furthermore, in the eBook, they dig into the enterprise learning benefits for your business, how to define your strategy, 6 key factors that define a smart, extended enterprise learning solution, how to overcome extended enterprise LMS challenges, and finally, they explore the costs and benefits of extended enterprise learning.
There Is More Than One Reason You Should Use an Extended Enterprise LMS
Along with the standard benefits an LMS brings to your business—reaching remote learners, automating tasks, centralizing your knowledge base—using an extended enterprise LMS helps your organization. By now it should have become clear what the benefits of extended enterprise learning are. They translate to the following outcomes:
Gives rise to faster, more efficient onboarding
It enhances your extended enterprise's chances of success.
Encourages higher product adoption and engagement
It enables your business to deliver a Customer Experience that goes above and beyond your competitors.
Lowers the demand for your support teams
By compiling a list of these common queries and answering them throughout your customer and partner training, your support team's time will be freed up.
Boosts your retention rate
Training strengthens the retention rate of your customers and partners as it helps them overcome pain points that hinder their success throughout their journey. It helps to train them efficiently on the value of your product, the features you offer and enables you to support them better.
Increases your revenue streams
For your partners, through education, they have a clear understanding of your messaging, your product or service and your sales cycle. They've learned the best methods to sell to your end customers and increase their satisfaction, enabling them to sell more for your business. As for your customers, there's an increased chance of upselling. Through training, they can be shown your entire range of products, features, and services.
Scales your growth
Onboarding, product education, relationship-building, all of these need to be planned and nurtured. Luckily, extended enterprise learning, particularly when managed through an LMS, scales this process and enables your business to grow faster.
Looking Back On Your LMS Strategy
If you are having trouble filtering through all the relevant information, then you are running too many LMSs—an extended enterprise or multi-tenancy LMS definitely helps. After all, wouldn't it be nice to have access to a decided amount of platforms where you can train as many different audiences as you need? This would mean that each audience would be in their own unique environment within one LMS. Not only would it be easier for your teams to manage the training being delivered, but there is also a great expense being saved by the organization because it isn't investing in numerous solutions. To learn how to implement an extended enterprise learning strategy, this eBook: "The Ultimate Guide To Delivering Extended Enterprise Training For Business Growth" is a great place to start; especially, if you are looking to dive deep into the content.
To get an even more refined perspective on delivering extended enterprise training in order to help you grow your business, check the Webinar: "Fuel Your Business's Growth With Extended Enterprise Training."