A Survey To Identify The Aspects Of Online Learning In Need Of Improvement
All around the world, millions of people with learning difficulties have to turn to alternative forms of learning in order to develop their knowledge and skillsets because of education systems that do not work for them. Accessibility to learning remains a massive issue in virtually every country, despite these difficulties being commonplace: according to the charity Mencap, approximately 1.5 million people in the UK have some form of learning disability, another 460,000 do likewise in Australia, and in Ireland, there are nearly 157,000 people similarly affected.
Therefore, as part of Learning Disability Week, a joint survey was carried out across the three aforementioned countries, which sought to identify the aspects of online learning that education providers need to improve in order for learning to be more easily accessible and easy to take on board. So as to ensure a diverse range of respondents, the survey was carried out by CoursesOnline, Training.com.au, and Allcourses, and polled 1000 learners in each of their respective nations who considered themselves to have some form of learning disability. Below are the questions asked and what was found: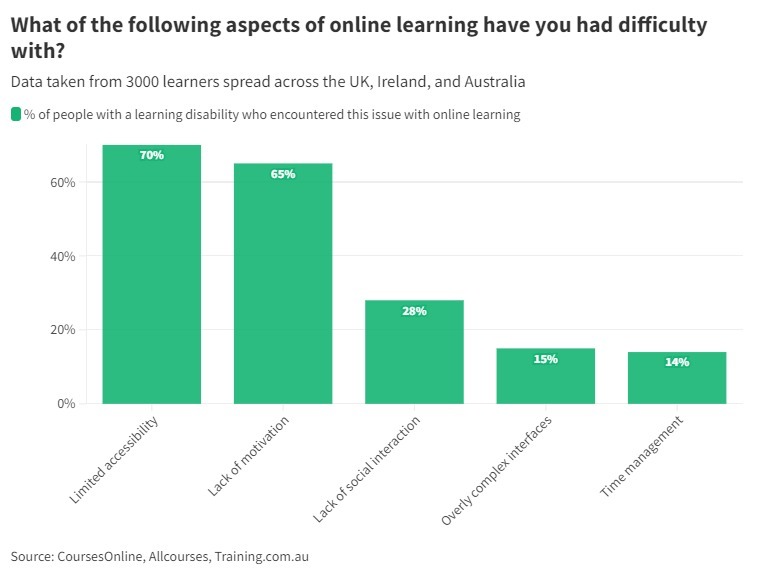 As the chart above shows, the twin issues of accessibility and motivation were by far the two biggest problems highlighted by learners. There is, of course, no way around these barriers, and if, for example, a course lacks audio descriptions for those with hearing impairments or fails to have different color text for those who are colorblind, asking the learner to create their own solution simply can't happen. Furthermore, in terms of motivation, learning completely independently can be a tall order, particularly for those who are not used to it. So more needs to be done on that front to improve the collaborative nature of online learning.
Do you feel like your feedback has been taken on board by course providers to create a learning experience that better suits those with learning difficulties?
Despite the issues highlighted above, 62% of those surveyed believed that their feedback had been taken on board and used to create a better User Experience. Whilst this is a good thing, of course, that the majority feel this way, for the other 38% to feel ignored in such a way tells us that much more has to be done in terms of learner-provider communications. Implementing processes that enable this should therefore be of paramount importance for those who currently do not have an opportunity for users to leave their feedback.
Would you continue to use online learning again in the future?
Ultimately, the majority of respondents are still in favor of learning online, with 59% expressing their preference for blended (online and in-person) learning, 29% opting to continue with solely online learning, and another 12% preferring to return to just in-person learning. So what can be done to win over those who are still skeptical about committing to an online approach to their studies?
What should learning providers do as a result of these findings?
There's evidently a lot of change that is needed. According to Jeremy Dargie, founder and director at the training provider ITonlinlearning:
In today's day and age there's really no excuse for providers to be leaving out anyone and it's really not difficult to implement changes in order to accommodate everyone. We found that putting accessibility at the heart of everything we do a massive plus both for those with some form of disabilities and those without. A few easy-to-implement ideas that providers can use are:

Add subtitles and the option to pause and rewatch webinars on demand
Regular follow-ups and check-ins with certified tutors, mentors, and study coaches to improve motivation and provide an external source of accountability
Liaise with examining bodies to ensure reasonable adjustments are in place where required (e.g., ensure students who need it get extra time to complete their exams)
Implement forums to create an element of engagement and interaction for the student community to discuss potential issues/things to improve
Simplify the navigation and layout of student portals/interfaces
Provide additional services such as personalized timetables to make the study journey easier to slot into an everyday routine
Give learners the opportunity to declare that they may need additional support before they start a course. Before they commit to enrollment, let your potential learners tell you directly what they need so that any needed support can be sourced before it's needed.

Ultimately if you treat those with learning disabilities as you would anyone else, you'll craft the best possible learning experience for everyone.
Image Credits:
The graph within the body of the article has been supplied by the author.