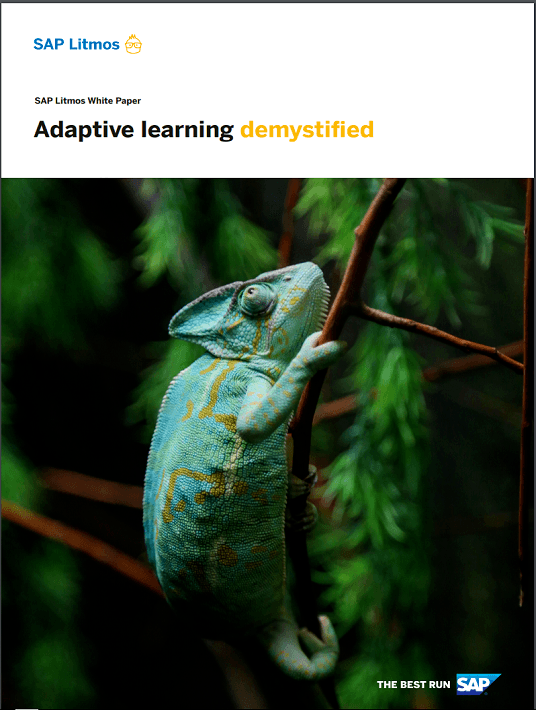 eBook
Adaptive Learning Demystified
eBook
Adaptive Learning Demystified
by SAP Litmos / Published: Jun 18 2020
What it's about
Adaptive learning acknowledges that learners come with different goals, strengths, gaps, and preferences. It's a shift away from the one-size-fits-all approach, using technology and learner data to serve up personalized learning experiences.
Key chapters
The Value Of Adaptive Learning

Adaptive learning offers huge potential for reshaping organizational learning. But what is it, and what value does it offer to organizations?

What Is Adaptive Learning?

Adaptive learning provides individualized learning programs by using technology to gather data from the user during the learning process.

The Next Chapter In eLearning

The success of adaptive learning lies in its core characteristics, which make it distinct from more traditional online learning experiences.

Flexible, Online Learning

Adaptive learning works best when optimized for how we live, work, and learn in the modern world.

Adaptive Learning For Modern Workers

In today's work climate, it's hardly reasonable to expect a group of workers to access training at the same place, at the same time, and about the same topic.

Benefits Of Adaptive Learning

Research into the use of adaptive learning in tertiary education is showing promising results for achievement levels and learner engagement.
---
Recommend this read to your friends and #shareknowledge!
Get your copy now
---
Join other professionals like you, who have downloaded the eBook!
Other resources by SAP Litmos