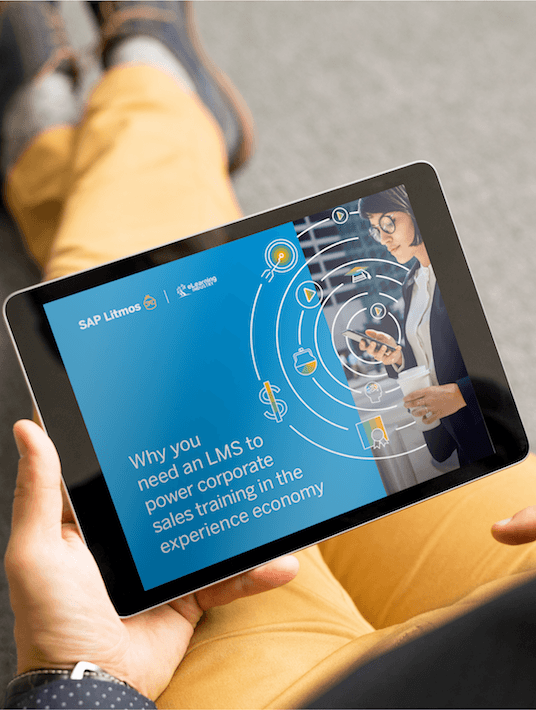 eBook
Why You Need An LMS To Power Corporate Sales Training In The Experience Economy
eBook
Why You Need An LMS To Power Corporate Sales Training In The Experience Economy
by SAP Litmos / Published: Feb 14 2020
What it's about
It's no longer enough to train sales teams once a year at an annual kickoff. Now, they need ongoing training that keeps them up-to-speed on product and process changes as they happen to have them selling at their best.
Key chapters
Introduction: Selling In The Experience Economy

We've entered the Experience Economy and there's no turning back. Brand loyalty is now built primarily on the experiences a company delivers. Today, more than two-thirds of companies compete mostly on the basis of Customer Experience—up from only 36% in 2010.

A Brief History Of The Learning Technology Market

One thing that every successful sales training program has in common is a Learning Management System (LMS). The days of once-yearly, in-person training are over and so are the days of manually managing and reporting on training. Business moves too quickly and changes too frequently for salespeople to keep up without 24/7 access to online learning. Let's take a few steps back and see how we got here.

Four Reasons You Need An LMS For Sales Training

Smart companies today utilize an LMS to centralize and distribute the latest, critical information to salespeople to keep them ahead of customers and confident in their ability to provide guidance, service, and ultimately, to sell. Even for companies with great sales content and engaged salespeople, why is the LMS a critical component to success, rather than the old model of hosting in-person sales training periodically? Here are 4 compelling reasons.

Must-Have Features In An LMS For Sales Training

Although LMS features vary across competing platforms, there are core features that every sales professional should expect. You may choose to add other bells and whistles, but you cannot run an effective online sales training program without these 6 capabilities.

The Top Six Sales Training Best Practices

Your sales team is one of your biggest assets. By training them, you're investing in them and in your company. Training can help give a salesperson the tools they need to do their job well, but training can pose its own set of challenges.

How To Measure The Benefits Of The LMS

Once the LMS is up and running, how can you prove that it's benefiting your salespeople and the company at large? Like nearly any technology initiative, you'll likely be expected to measure the Return On Investment (ROI) of your sales training program.
---
Recommend this read to your friends and #shareknowledge!
Get your copy now
---
Join other professionals like you, who have downloaded the eBook!
Other resources by SAP Litmos