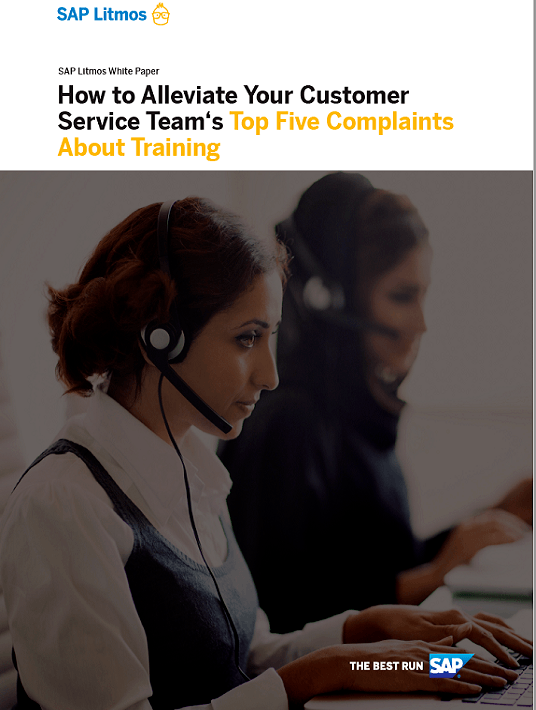 eBook
How To Alleviate Your Customer Service Team's Top 5 Complaints About Training
eBook
How To Alleviate Your Customer Service Team's Top 5 Complaints About Training
by SAP Litmos / Published: Jun 04 2020
What it's about
This eBook addresses common complaints heard from customer service professionals, regarding their resistance to training. It advises on how to overcome these resistances, get your team to engage in learning, and even convince them to like it!
Key chapters
Complaint 1: I'm Easily Distracted And I Don't Have Time

People who switch from one task to another tend to lose time as their brain switches from one set of tasks to another.

Complaint 2: What's In It For Me?

Not everyone on your team is going to be excited about taking training.

Complaint 3: I Thought I Was Doing Ok

A representative might not know that they hadn't been meeting objectives until one day, they get a tap on the shoulder (or an email) and are asked to report to the manager's office.

Complaint 4: I Have To Be Nice To Customers, Too?

It's possible to offer a comprehensive training program but still neglect an important area of your customer service training.

Complaint 5: It's Only My Second Week At This Job

Even though the newbies successfully completed onboarding training, that's often not enough to prepare them for the real demands of customers.
---
Recommend this read to your friends and #shareknowledge!
Get your copy now
---
Join other professionals like you, who have downloaded the eBook!
Other resources by SAP Litmos