What Are Branching Scenarios?: We Know You Know
Branching scenarios in eLearning are like infographics in the workplace. Once novel, branching scenarios are now a staple for Instructional Designers and anyone working in the areas of training and instruction. The low-risk setting they offer allows learners to make their way through realistic scenarios as they are offered choices and the opportunity to see the consequences of those choices.
Scenario-based activities also allow learners to apply their knowledge and gain new experiences, helping to cement concepts that are hard to master through mere conceptualization. In a word, they're: effective. If you're an instructor, it's likely that you've created your fair share of them.
Making Branching Scenarios Just Got Faster
Now that everyone is making them, the question is: Can we cut down on the time and energy it takes to create branching scenarios that are both engaging and effective? Genially, a new tool on the market for creating interactive and animated learning materials, is promising just that. Here's a short and sweet branching scenario created with Genially that forms part of a longer eLearning course: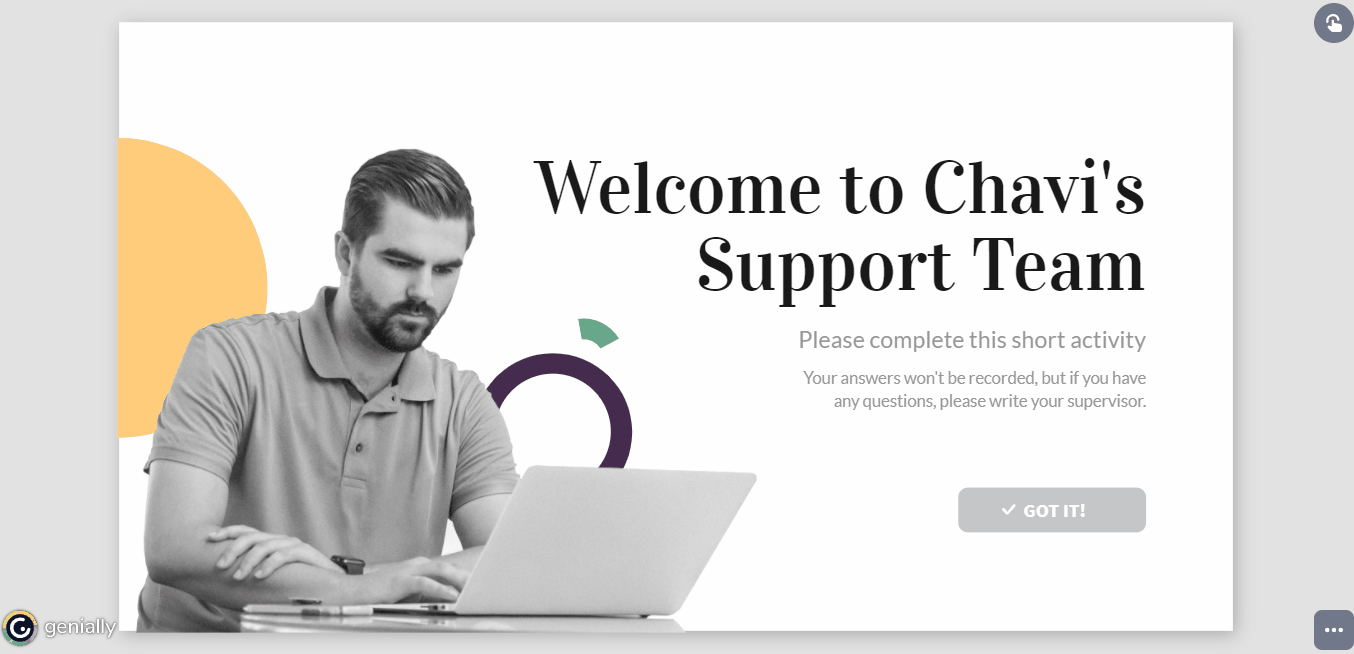 The Author's Process
In this branching scenario, learners on a support team practice replying to clients' tickets. It was put together in less than 20 minutes. The author chose a template from Genially's Dossier and Report category for a formal aesthetic, duplicated the template pages she liked best several times, added text and then buttons from the Genially Editor's Interactive Elements option on the main sidebar. She also added a few animation effects to key buttons to make sure learners would click on them for additional information. Genially allows authors to add animation and interactivity to any element in a creation including text, images, buttons, and more.
You can try out the scenario here and click on the button "Reuse this genially" to get a fully customizable copy. You'll need an account for the copy to be transferred over to.
How Instructors And Other eLearning Professionals Use Genially
Genially is gaining popularity in the eLearning industry largely thanks to newer instructors looking for more intuitive tools with a gentler learning curve, and seasoned instructors are taking notice. The creation of branching scenarios continues to be one of the top uses of Genially by Instructional Designers, and instructors from companies like AON are using the tool to create branching scenarios, video presentations and sliders, interactive modules, presentations, infographics, and publicity for their courses.
Among the all-in-one tool's strengths are its versatility with over 20 creation types and the option of starting from scratch, an extensive template library, the ability to easily insert external tools and content into Genially creations, and a wide variety of share options provided to users.
Seamless Integration With Other eLearning Staples
Depending on your LMS's functionalities, you can upload your Genially creations with the URL or embed them with the iFrame code directly. You can also insert your Genially branching scenarios within a Rise or Storyline course and download them in HTML5 format.
Many instructors also use the iFrame code to insert their creations onto their online portfolio, personal websites, or blog where they highlight their best work. The URL for creations can also be pasted directly onto social media platforms for instructors looking to publicize their latest projects and courses.
What Fits Into A Genially Creation?
Genially's Insert option on its main toolbar allows instructors to quickly add videos, audios, Drive files, and third-party content as well as their own original materials. Branching scenarios may benefit from YouTube or original videos, background audio effects, and even well-chosen GIFs.
The libraries of images, GIFs, backgrounds, buttons, and other resources available in the Editor speed up the creation process.
Get Inspired And Inspire Others
An inspired instructor makes for inspired learners. If you're a new or veteran instructor looking for creative ways to spice up your branching scenarios and could benefit from more branching scenario examples and scenario ideas, check out the Inspiration section of Genially's platform. You can use the search bar to look for creations that best fit your learners. You can also submit your own Genially branching scenarios to be considered for inspiration.
If you're just getting started with Genially, you may want to take a look at its recently launched sister platform, the Genially Academy, where you'll find courses on developing different training materials with the tool. The Academy also offers full courses on graphic design, communication, and Genially's interface as well as tips for each creation type. Now all that's left to do is to get started on your next branching scenario. We hope this article was useful to you and that its information can save you time and energy in your authoring process.