Ways To Effortlessly Change Your Company's Organizational Culture
Many organizations struggle with the idea of how to change organizational culture without putting unnecessary strain on their team. After all, they have enough stress to contend with as it is, thanks to their heavy workload and busy personal lives. So, how do you streamline your cultural transformation and launch a successful online training program minus the L&D headache?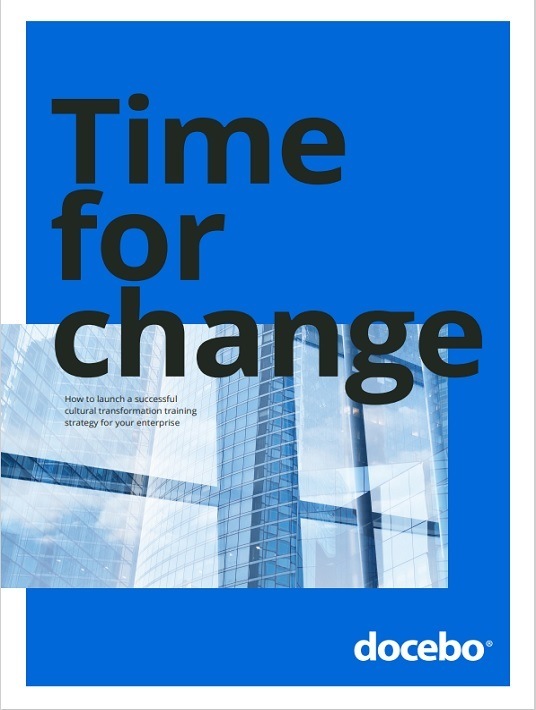 eBook Release
Time For Change: How To Launch A Successful Cultural Transformation Training Strategy For Your Enterprise
Discover how to continually evolve your brand with the right cultural transformation training strategy.
8 Steps To Transform Your Corporate Culture
1. Evaluate Your Current Culture
You need a benchmark to figure out where you stand versus where you need to be in terms of your cultural structure. Evaluate your current infrastructure, values, and objectives. This may involve employee surveys, assessments, learning metrics, and business reports. The point is to analyze every aspect of your culture from
different perspectives.
For instance, how do employees perceive your brand and the workplace, in general? What do customers think of your company and its products or services? Another group to check in with is external partners, such as sales channels who work with your brand but can still offer a third-party perspective.
2. Identify Gaps
Now that you know the current state of things, determine where to go from here. Which gaps do you need to bridge to achieve the new goals and objectives? How do you adapt your existing culture and incorporate the new characteristics or core values? For example, you need to encourage a more collaborative and supportive community. Employees must feel like they're part of something bigger but that their individual talents are still valued. So, how do you open up the lines of communication and encourage them to share their insights?
3. Create An Organizational Change Team
Changing is a big job and it shouldn't fall on one person's shoulders, or even one department, for that matter. Gather a transformation team who can work together to achieve the outcomes and monitor progress. Choose two people from every department who meet once a week to share updates and discuss new ideas. Having a project management tool makes the job easier because all their communications are centralized.
4. Develop A Clear Budget And Schedule
Create a budget and implementation schedule that outlines all the costs and tasks involved. This is yet another reason to have a dedicated team, as you benefit from their insider experience. For instance, one of your HR employees has been involved in culture change transformation before. Thus, they understand the process, hidden fees, and potential delays. Just remember to leave a little room for unexpected costs so that you don't go over budget.
5. Get Employee Buy-In
Some organizations make the mistake of developing their entire transformation strategy behind closed doors, then doing a big reveal and expecting employees to immediately buy in. In reality, changing corporate culture starts with staffer feedback. They need to know why you're making the change and their role in the process, as well as what's expected of them before, during, and after the transition. One of the most effective ways to win them over is to host a live event for full transparency. Tell them about the transition plan and how they can participate.
6. Design Targeted Resources
You can create storyboards, identify key takeaways, and choose the best rapid authoring tool to develop content in-house. Another option is to hire an eLearning content provider to simplify the design process (just make sure their content is compatible with your enterprise LMS). Whatever path you choose, resources need
to be relevant and real-world focused so that employees get the most benefit. For instance, you could develop simulations that teach them how to apply new skills or corporate values in the workplace.
7. Implement A Support Library
Many organizations launch cultural change transformation courses and call it a day, but employees need continual support to apply what they've learned and assign meaning. A JIT library helps reinforce knowledge and prevent on-the-job mistakes. A staffer isn't sure how to follow new company policies after a merger. So, they watch a quick demo video that shows them every step and how to avoid common errors. They don't have to participate in a half-hour course just to get that small bit of information. Then again, they can always access modules, webinars, and long-format courses if they need more details. Finally, it's essential to offer diverse JIT resources for different preferences or training styles.
8. Monitor Results And Offer Follow-Up
Every employee has completed the culture change training program and some time has passed since you made the transition. However, businesses are always evolving and expanding, which means that your training strategy must do the same. Monitor performance, identify areas of improvement, and follow up with staffers. Do a weekly LMS report analysis to look for sticking points and check in with employees who fall behind. You should also incorporate new culture changes based on the results. Maybe the new policies need further clarification or employees need to work on related skills. In short, a successful transformation program is always a work in progress.
Conclusion
These steps for how to change organizational culture can help you get everyone on board and ease the transition for remote teams, but they also reduce the risk of overspending and launch delays because everything is mapped out. You know which costs to consider and how to change company culture at the employee level. An all-in-one learning suite helps you develop engaging content, dive into the analytics, and continually hone your cultural transformation strategy.
Make meaningful change in your organization minus the growing pains. Whether you're handling content development internally or hiring an outsourcing partner, this guide can help you get ahead with the right learning suite solution. You'll be able to launch a cultural transformation program that preps employees for new challenges and builds a stronger corporate identity.
Many organizations overlook the emotional ramifications of change, such as how new team leaders or company protocols affect staffers' stress levels and on-the-job productivity. Download Time For Change: How To Launch A Successful Cultural Transformation Training Strategy For Your Enterprise to ease employees into the transition and retain top performers.