7 Pitfalls To Avoid In LMS Implementation
Learning Management Systems are optional for traditional organizations. They can always launch ILT training and bypass learning technology altogether. However, they also bypass all the benefits. Training companies don't have that luxury. LMS solutions are a given when calculating startup costs. But you must know the perils involved, namely those that can negatively impact your profit margin. These 7 LMS implementation mistakes for training companies can hurt your bottom line and hinder the growth of your business.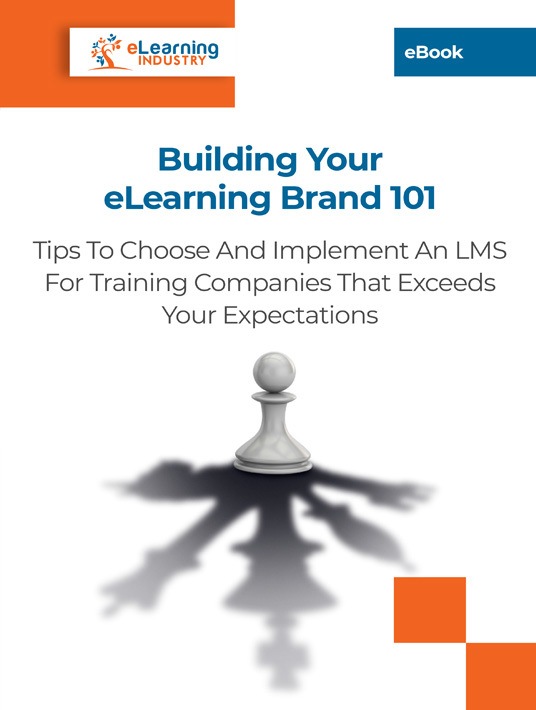 eBook Release
Building Your eLearning Brand 101: Tips To Choose And Implement An LMS For Training Companies That Exceeds Your Expectations
Invest in an LMS that will assist in building your eLearning brand.
1. Investing In Traditional Online Training Software
Selling online training courses adds a whole new dynamic to the LMS selection process. You don't just need an eLearning tool that features reporting, collaboration tools, and video conferencing. You must also consider eCommerce and multi-tenancy. Clients must be able to access the Learning Management System using different portals. Likewise, you need to promote your product online, simplify the checkout process, and offer content bundles. Investing in a "traditional" LMS is bound to limit your sales potential.
2. Only Considering The Needs Of Your Training Company
Organizations generally think about their online training objectives and outcomes when choosing a new LMS. But your training company must also consider the needs and expectations of clients and individual online learners. This can be tricky for startup companies that don't have an established customer base. The solution is to do your market research. Determine what clients expect from their service providers and which LMS features they require. You can also conduct polls to get their eLearning feedback and avoid costly LMS implementation mistakes.
3. Overlooking eLearning Content Creation And Upkeep Costs
Training company software lays the groundwork. It helps you deploy and track training, but you still need to upload online training content and maintain it to stay relevant. Thus, you need to factor these costs into your LMS for the budget of training companies. For example, how much do you need to allocate for creating a new online training course or updating certification programs to account for regulatory changes? Outdated online training content leads to sluggish sales and dissatisfied clients.
4. Not Making LMS Implementation A Group Effort
Some training companies make the mistake of giving all the decision-making power to the accounting department, possibly even to a single team member who is in charge of finding the eLearning tool and developing the LMS implementation timeline. However, launching a new LMS is a team effort. You should pick key members of your company to serve in different capacities. For example, your marketing manager needs to evaluate the eCommerce features and develop the promotional schedule leading up to the roll-out. You should even invite users to test out sample corporate eLearning projects and ensure the LMS is user-friendly for everyone.
5. Skipping Free Trials And Demos
LMS vendors know that investing in their product isn't a decision to be made lightly. As such, many of them offer free trials or demos. You can try out their product for 2 weeks or a month to see if it's right for your training company. One of the biggest mistakes is assuming the platform will be a resounding success and skipping the free trial altogether. Make the most of this free test drive to ensure it meets all your requirements. Once again, get your team involved to verify it meets the expectations. In fact, you should develop evaluation criteria and a trial schedule. Map out the tasks every team member must perform during the trial period and give them a test project.
6. Not Planning For Future Growth
This faux pas extends to every stage of the LMS implementation, from choosing your next LMS to developing your first online training course. The goal is to make your training company successful. Selecting a limited LMS or developing online training courses that don't leave room for growth hinders the sales potential of your company. For instance, the online training course gives online learners a comprehensive overview of the topic to the point that you can't offer add-on courses or activities that explore tie-in tasks or skills. You don't want to leave them disappointed. But you do want to leave them wanting more. This way, they will keep coming back to expand their knowledge base and solve new challenges because they trust your brand.
7. Premature Online Training Course Launches
We've all been there. You sign up for an online training course, excited to learn more about the topic or develop new skills. You overlook the first design glitch, telling yourself that it's an honest mistake. But 5 minutes into the online training course—and 10 "honest mistakes" later—you realize that the course is fatally flawed. As a result, you not only feel cheated out of the signup fee but lose respect for the developer. Premature online training course launches can ruin your training company's reputation and hurt your bottom line. It can also diminish the credibility of the clients who offer your product to their employees. Take time to master your new LMS, develop meaningful online training content, and do some user testing. There should also be some marketing behind your online training course launch so that it gets the attention it deserves. Without making false promises or using under-handed SEO tactics, of course.
Even the most experienced eLearning professionals can fall victim to these LMS implementation pitfalls. The secret to success for your training company is calculating all costs involved and planning for future growth. Don't settle for traditional online training software when your company needs eCommerce features to boost sales. Finally, make the most of free trials so that you know how the platform performs in the real world. You don't want to discover that the software is missing crucial features in the middle of a corporate eLearning project. Or, worse yet, when the client points them out after purchasing your product.
Finding the ideal LMS for your organization is a must when you need to employ an effective online training strategy with maximum ROI. The eBook Building Your eLearning Brand 101: Tips To Choose And Implement An LMS For Training Companies That Exceeds Your Expectations will help you discover everything you need to know when opting for an LMS for training companies in order to achieve your business objectives.