Tap Into The Power Of Immersive Learning
How can you personalize the L&D experience and bring your remote learners together? Is there a way to provide hands-on experience and facilitate mistake-driven learning in virtual training? This eBook sheds light on how organizations can fully leverage immersive learning programs to improve workplace performance and bring even more L&D value to their teams.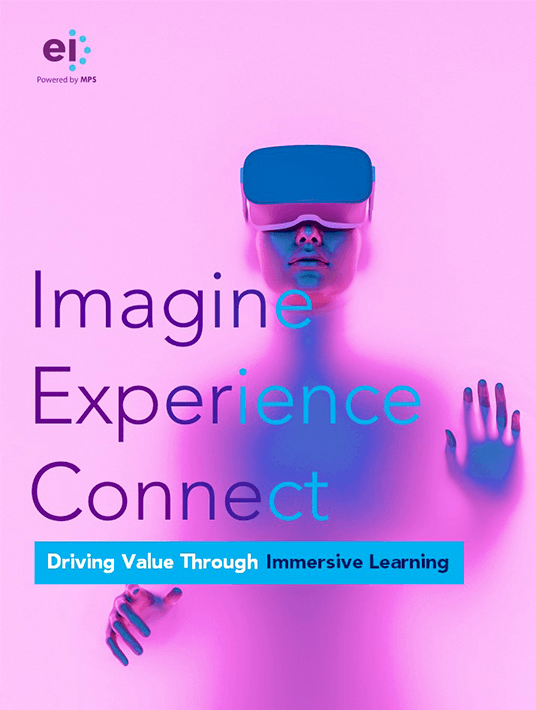 eBook Release
Imagine, Experience, Connect: Driving Value Through Immersive Learning
Uncover a step-by-step methodology for unlocking the value of immersive learning.
What Can Immersive Learning Programs Do For Your Business?
A common misunderstanding about immersive learning programs is that they may be too costly or time-consuming to implement. However, the ROI-boosting benefits are undeniable. Employees are more engaged and emotionally invested in their training because there aren't any external barriers that break the L&D connection, such as tech distractions. For example, they're living through a Virtual Reality simulation that helps them build interpersonal skills and customer service experience. They get to interact with realistic personas that bolster their self-confidence and allow them to try out different sales approaches.
The key is finding the right immersive learning solution for your team. Preferably one with vast experience in this niche who can work with you to create a strategy based on your business goals, performance gaps, and learners' needs.
About This eBook
How does immersive learning fit into your strategy today? How do you create immersive learning environments that foster real-world application? Where do you even begin your immersive design journey? Here's a brief glimpse of what you'll find in this guide:
Defining Immersive Learning In Context Of The Modern Learning Organization
Unlocking Immersive Learning As A Value Driver
Imagining And Implementing Immersive Environments
Elevating The Impact Of Immersive Technology
Experience Through Use Cases
Get Your Copy
Download the eBook Imagine, Experience, Connect: Driving Value Through Immersive Learning today to make an impact and strengthen the connection between your L&D team, online learners, and your organization.