7 Common Misconceptions About Immersive Learning
There's no shortcut when it comes to experience building and life lessons. You simply need to learn from mistakes, take risks, and be ready to reflect on your personal performance. Contrary to popular belief, Mixed Reality training isn't a magic cure for all your online training issues. It is, however, a cost-effective way to expedite online training and give employees a safe space to make errors and continually tune their talents. The key is moving past the misconceptions so that you know the limits of immersive learning and how to blend it with your existing online training strategy. Here are 7 immersive learning myths you should dispel today and tips to help you incorporate AR and VR training into your employee development plan.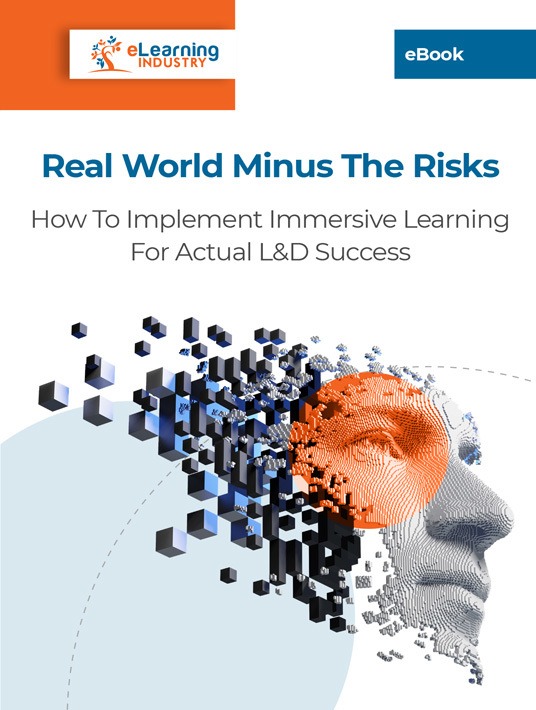 eBook Release
Real World Minus The Risks: How To Implement Immersive Learning For Actual L&D Success
Prepare your workforce for real-world challenges with immersive learning.
1. VR Is The Only Way To Achieve Full Immersion
There are plenty of ways to incorporate immersion into your online training plan without VR technologies. Granted, Virtual Reality is the epitome of immersiveness. But AR serious games, demo videos, and even storytelling can get employees involved in the process. All of these activities capture their imagination and let them sink into the situation. They see things from different perspectives and put the information into context. This is the definition of immersive learning.
2. You Must Develop Interactive Online Training Resources From The Ground Up
No sense in inventorying your current assets because Mixed Reality training requires custom eLearning content development, right? The truth is that you can cut immersive learning costs with existing online training resources. Repurpose webinars, video demos, and online training tutorials for your AR or VR training activities. That said, you may have to use an eLearning authoring tool to make it more interactive. At the very least, you can use the basic storyline, personas, or multimedia to enrich your new VR training assets.
3. You Can't Use Your Current eLearning Tools
This myth gets a bit tricky, so bear with me. Immersive learning development is wholly dependent on your toolbox. You need an LMS and eLearning authoring tools that support interactive online training content. However, you may be able to use the eLearning tools you already own if they feature eLearning templates, themes, and interactions you can incorporate into your VR training design. You may not even realize it has these capabilities because you've been using it for other L&D purposes. So, before you invest in a new platform, assess your current eLearning software suite and see if there any integrations or add-ons to boost functionality.
4. It Is Too Costly For Your Organization
VR training is only for wealthy companies with massive L&D budgets. That couldn't be further from the truth. There are numerous ways to implement immersive learning with limited online training resources. Aside from repurposing assets, you can outsource to an eLearning content provider who already has the essential eLearning tools and experience. Or purchase pre-built solutions that are ready to deploy and don't involve an in-house IT team or eLearning content developers.
5. AR And VR Achieve The Same Goals
This misconception hinges on the idea that AR and VR can be used interchangeably. That you can simply utilize the one or the other regardless of the outcomes or online training objectives. In reality, you should evaluate your Mixed Reality training approach on a case-by-case basis. Do you want to fully immerse employees in VR simulation training and pay for headsets? Do they need something more discreet that they can access on their mobile devices for JIT support? AR and VR training don't suit the same purposes or goals although you can use a combination of them to fulfill different online training needs, preferences, or performance management requirements.
6. Immersive Tech Becomes The Distraction
Employees lose themselves in the moment so much so that they forget about online training objectives. The AR training tech becomes a distraction instead of helping them retain more information. The fact behind this fiction is that it's a matter of eLearning design. If you develop simulations with exaggerated characters and storylines, then employees will lose sight of the outcomes. However, well-planned simulation training that centers on personal gaps and creates an emotional connection will grab their attention. Immersive technology should be a way to encourage real-world application to help employees disclose hidden pain points based on their online training performance so they can improve work habits. Better still, it eliminates many of the distractions that are usually associated with modern technology. For example, they slide on the VR headset and all the emails, social media feeds, and gaming apps disappear.
7. It Is Only For The Tech Experts Of Your Team
The last common immersive learning myth is that it's reserved for your resident tech gurus. Only they can benefit from VR simulations and branching scenarios because they're digital natives. In reality, everyone can bridge gaps, get JIT support, and explore different decision-making paths using immersive learning tech. The catch is that you may have to develop online training tutorials and other online training resources to help them acclimate. For example, to show them how to use the new headsets or how to access the online training apps. It's also helpful to launch live chats or peer support groups for on-the-spot VR training troubleshooting.
Immersive learning isn't about making employees forget about the outside world or asking staffers to lose themselves in fictional storylines. At its core, AR and VR training mimics real-world situations and risks so that employees are ready for any obstacle. Once you overcome these common misconceptions, you can incorporate Mixed Reality training into your online training strategy to build experiential knowledge. This way, you can let your employees make mistakes and see where different paths lead without negatively impacting their co-workers or your bottom line.
A Mixed Reality training strategy doesn't have to drain your organization's resources or make you go over budget. Download the eBook Real World Minus The Risks: How To Implement Immersive Learning For Actual L&D Success, and discover how you can benefit from incorporating immersive learning into your online training program. Provide an engaging training experience and boost your employees' confidence with a Mixed Reality training solution.