Designing An eLearning Course For Adult Learners: 8 Instructional Design Theories To Apply
The Instructional Design theory you choose has the power to make or break your eLearning course. Therefore, it's essential to evaluate your subject matter, learning objectives, and online learners' needs before making your final decision. Here are 8 Instructional Design theories that you may want to consider when designing your next eLearning course for adult learners.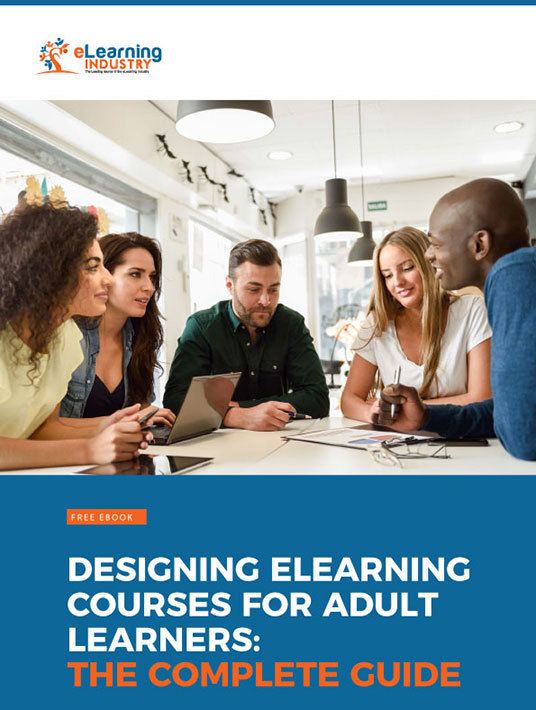 eBook Release
Designing eLearning Courses For Adult Learners: The Complete Guide
This Free eBook can help you design engaging and inspiring eLearning courses for adult learners.
1. Adult Learning Theory (K.P. Cross)
The Adult Learning Theory suggests that situational and personal characteristics are at the heart of adult learning experiences. Furthermore, adult learners tend to have greater intellectual abilities. However, their sensory-motor abilities may be diminished as they age. Thus, Instructional Designers must take these strengths and weaknesses into account when creating eLearning courses. The theory goes on to state that Instructional Designers should tap into the power of learners' past experiences and give more control to the learner. For example, allow them to choose their own online training activities.
2. Cooperative And Collaborative Learning Theory (Mark Arthur May & Leonard William Doob)
The Cooperative and Collaborative Learning Theory was based on the research of social theorists Allport, Watson, Shaw, and Mead. It stipulates that effective learning experiences involve two or more individuals who share a common goal or problem. This theory involves five core elements: collaborative skills, direct interaction, interdependence, personal accountability, and group interaction. As such, adult online learners have the opportunity to benefit from the experience and skills of their peers.
3. Discovery Learning Model (Jerome Bruner)
The five principles of the Discovery Learning Model are: problem solving, learning flexibility, building on pre-existing knowledge, analyzing and interpreting the subject matter, and timely feedback. This theory suggests that learners should be able to build on their personal experiences and seek out information on their own. They should also be encouraged to use their creativity and imagination to come up with alternative solutions or ideas. Some of the most notable benefits of the Discovery Learning Model is that it enhances knowledge retention and allows learners to go at their own pace.
4. Problem-Based Learning (Howard Burrows)
Adult learners are looking for information to help them solve practical problems. The problem-based learning theory suggests that learners build skills and knowledge through collaboration, personal reflection, and real-world challenges. There are five key principles involved in this process:
Problems grab learners' attention and fuel their motivation.
Assessments help gauge learner progress and ensure that they fully comprehend the concepts.
Problems are used to convey the ideas and concepts involved.
Facilitators/instructors rely on problems to evaluate the process and provide meaningful, contextual lessons.
The problem acts as a catalyst, prompting learners to build essential skills in order to overcome the obstacle.
5. ARCS Model Of Motivation (John Keller)
The ARCS Model of Motivation involves four pillars: attention, relevance, confidence, and satisfaction. Hence, the acronym. The first step is grabbing learners' attention so that they engage with the content. The second is encouraging learners to meaningfully connect with the subject matter so that it becomes relevant. This is followed by empowering and motivating learners so that they feel confident in their own abilities. Lastly, learners feel a sense of satisfaction, knowing that they achieved their goal, which usually comes in the form of rewards, feedback, or real-world application.
6. Elaboration Theory (Charles Reigeluth)
Elaboration Theory hinges on the idea that learners should receive information through a more "scaffolded" approach. Meaning that they learn the basics first, then gradually ease into more complicated subject matters. First, learners receive a summary of the information, which offers a general overview of the topics and ideas. Then they are encouraged to examine the first stage of the process or a simplification of the problem at hand. This all culminates in the learner evaluating all of the steps/potential solutions, and then recapping the general overview.
7. Cognitive Flexibility Theory (Spiro, Feltovich, And Coulson)
Based on the Cognitive Flexibility Theory, adult learners must be able to absorb, organize, and manipulate the information they are learning. Furthermore, they have to fully understand the thought processes and learning behaviors involved. The primary principles of this theory are: knowledge is rooted in context, knowledge must be in its purest form, not oversimplified or diluted, learners play an active role in knowledge construction, and everything is connected. Meaning that all of the information learners receive is somehow related and ties into their existing mental schema.
8. Action Learning Model (Reginald Revans)
Adult learners are more motivated by real-world challenges that provide practical experience and skills. The Action Learning Model involves group-based problem solving that allows learners to exchange vital knowledge and skill sets. Learners must be willing participants who are ready to collaborate with their peers in order to come up with a solution. This is generally a long process that can take months. However, learners have the opportunity to build their own knowledge base and that of their peers in the process.
There are a variety of things to consider when designing an eLearning course for adult learners. For example, multimedia integration, eLearning course layout, and choosing eLearning activities that align with learning objectives. However, the Instructional Design theories above will ensure that you have a solid foundation upon which to build your eLearning course material. They can help you deliver eLearning content in a way that's easy to comprehend and retain by adult learners.
Implement the most Impactful Instructional Design Theories with the Best Authoring Tool!
Discover, choose and compare the top eLearning Authoring Tools Providers!
Are you looking for tips to create meaningful eLearning courses for adult learners? Download our free eBook Designing eLearning Courses For Adult Learners: The Complete Guide to learn everything you need to know. From adult learning facts and stats, to the characteristics that play a pivotal role in eLearning course design. The guide also offers tips on how to avoid the most common obstacles associated with adult learning, as well as the key elements that every eLearning course targeting adult learners should have.