eBridge: An Online Review And Collaboration Tool To Optimize eLearning Course Development
In this article, I introduce you to eBridge, a one-of-a-kind online eLearning collaboration tool that will ease off several of the pain areas in your custom eLearning development process. More significantly, it will bring in agility and efficiencies in your development process that will further enhance the value of your customer interactions.
eBridge is not just another issue tracking tool. It is more than an online eLearning review tool. It is an online platform that allows you to review, collaborate, and optimize your eLearning course development process.
Background
While several authoring tools provide an online review link, let me outline how eBridge from EI Design will provide an enhanced value to your eLearning development process.
At EI Design, we have been offering custom eLearning and learning solutions to our customers for over 14 years. Working in a distributed development model, our teams service customers across 16 countries and multiple time zones.
We truly understand the pain areas of the custom eLearning development process and the need for it to be aligned effectively to meet increasing customer expectations.
eBridge has been architected by the EI Design team with 14 years of eLearning development expertise. Not only do we understand the practical dynamics, challenges, and constraints of custom eLearning development; we also know what reviewers and developers need. We are equally cognizant of the business perspective to provide predictability, quality, and increased efficiencies in the eLearning development process.
All of these aspects were part of our blueprint to create eBridge. This unique tool's blueprint was designed by our Innovation team.
Here's why you should evaluate it.
What Is eBridge?
The product is more than an online bug tracking tool. You can use it to collaborate (within your team and with the extended panel of customer Subject Matter Experts and reviewers). You can use its features to optimize your eLearning course development processes. It will bring in the required agility leading to enhanced productivity and first time right quality. All of these would translate to efficiencies in:
What Can You Achieve With eBridge?
eBridge comes with multiple benefits as it:
Includes an online review link that can be integrated into eLearning courses developed using multiple authoring tools.
Provides features such as filters, highlights, notifications, dashboards, and so on that are integrated within an eLearning course enabling you to track the entire development and review process from one link.
Allows you to track the various stages of a project (past and current) through Visual Dashboards.
Facilitates effective collaboration between development and review teams.
Provides you with data to analyze and plan for continuous improvement.
Can be customized to your development and review process.
How Can eBridge Create An Effective Review, Communication, And Collaboration Platform?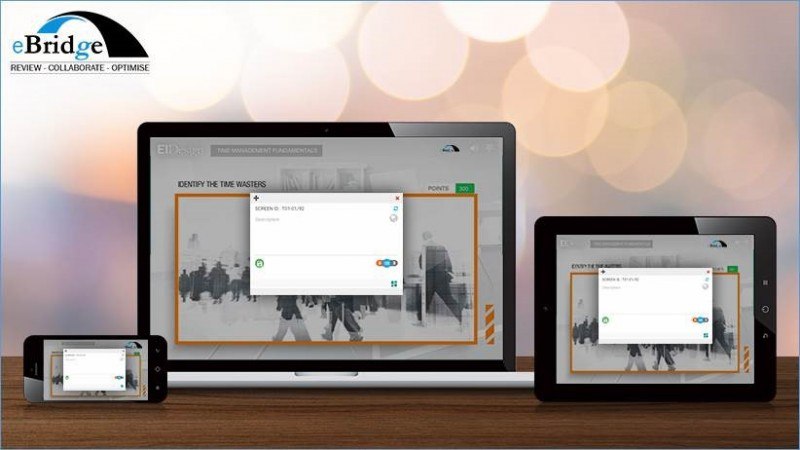 Through eBridge, you can:
Review. 

It provides an online review link for Subject Matter Experts/reviewers. They can add feedback directly into the eLearning course. The tool supports multiple authoring tools so you can provide the same interface to your customers across different tools.
Subject Matter Experts can see each other's comments and self-consolidate the feedback. This is particularly useful when many Subject Matter Experts are involved in a review process.
Open issues can be highlighted at any point of time during the project life cycle.

Discuss and collaborate. 

It helps you avoid any misinterpretation by offering a discussion thread option to clarify feedback (between reviewers or with developers).
It strengthens the collaboration between the development and review teams.
It provides a single platform for direct communication between all stakeholders.

View issues status through Visual Dashboards and action out fixes quick-time. 

It provides the status of edits through Visual Dashboards (open, fixed, closed, or pending queries). 

It makes the fixing process self-organized as feedback classification is mapped to Instructional Design, Visual Design, Programming, and QA teams so that the relevant team can quickly get the feedback, fix, and update the status. We cut down traditional communication from Subject Matter Experts/reviewers > Project Managers > Developers > QA > Next release through a single point of feedback consolidation.

Receive updates. 

It provides online and instant communication and minimizes the impact of time zone barriers.
It provides notifications on clarifications, open, and pending issues and you need not do any follow-ups.

Gain further value-adds. 

It brings in optimization in your team by saving time and increasing productivity.
It encourages team members to communicate using the tool (no detailed communication on emails required anymore).
The tool brings in a structured execution by tracking any clarifications/questions in the early part of the development cycle, minimizing the scope significantly for last minute flags and chaos. This establishes a clear road map towards making timely deliveries of quality products and helping the team avoid possible risks, gaps, escalations, and so on.
The tool brings in accountability among developers and reviewers to track and accomplish tasks and implement feedback efficiently.
It also enables Project Managers to analyze review effectiveness through phase-wise feedback (Prototype > Alpha > Beta > Final). This can provide cues for constant quality improvement.
Want to know more? Do contact us! You can also sign up for a free 30-day demo to see how you can use it. We can customize features that are specific to your business. We can also enhance the tool's features based on your specific requirements.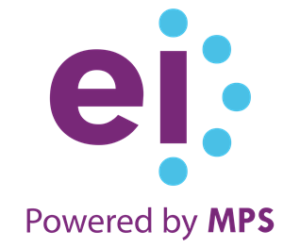 EI
EI is an emotionally intelligent learning experience design company that partners with customers in their Digital Transformation journey.