Increasing Learner Engagement And Motivation In Moodle LMS
Gaining the interest of learners and maintaining it throughout the training experience is one of the main goals of every learning professional. Here are some Moodle key features and functionalities that will help you increase learner engagement in Moodle LMS.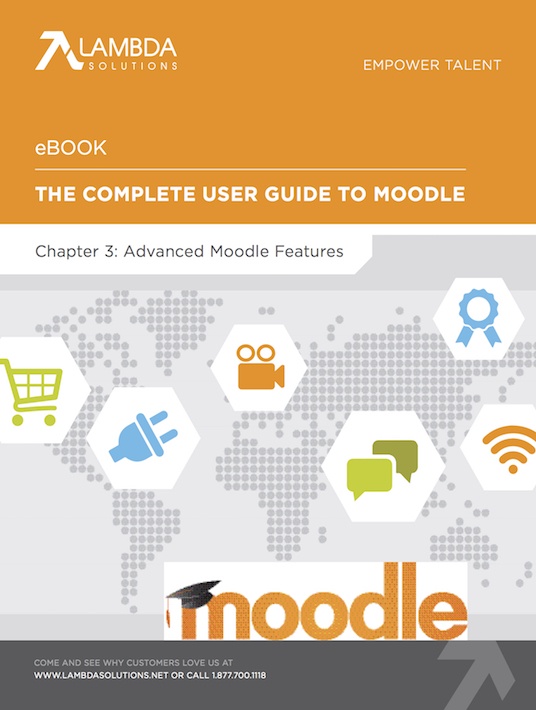 eBook Release
The Complete User Guide to Moodle Chapter 3
Get introduced with the various Moodle plugins, and discover Moodle's functionalities and how to make most out of its features.
1. Badges In Moodle
The Harvard Business Review named eLearning badges as one of the most innovative trends to watch in 2013, and five years later LMS badge functionalities have only gotten better.
A digital Moodle badge is essentially an online recognition of your achievements and skills. If a user has a number of certifications, for example, they can receive and display LMS badges online to recognize their achievement or competency. Moodle badges can be given out based on a number of different achievements or criteria. With the ability to track a recipient's communities of online interaction, a Moodle badge will explain the work completed, and the outcomes learned to achieve said badge.
Moodle Badges are a great motivation and engagement tool to award students for their progress and hard work. It is a simple, yet effective way of accrediting learning. Moodle Badges motivate students who have received them to work hard to gain more, and they motivate other students to work hard to gain their own badges. Badges can be managed at either the course or site level.
Badges come in two varieties. First, there are site badges. These can be used across Moodle, and are offered for activities that are site-wide, such as completing a set of courses. Second, there are course badges, which are awarded for activities within a specific course.
Students can view each other's badges by going to the "Participants" tab on the Navigation bar, and clicking on the user's course profile. Teachers can both add and manage badges in their courses, as long as the administrator has enabled course badges in Administration>Site administration>Badges settings. Teachers can also add their own badges, with a title, issuer (i.e. teacher) detail, badge expiry date, and criteria for receiving the badge.
If you are managing your own Moodle badges, you can do so by going to Navigation>My profile>My badges. You can also view all available course badges at Navigation>Current course>Badges. You can see what badges other students in the course has, by going to Navigation>Participants, and clicking on the user's profile.
Here is a full list of Badges capabilities:
Add "My latest badges" block to the front page
Add "My latest badges block" to the user dashboard
Award a badge (this capability is prevented for the role of student)
Set up the criteria for awarding badges
Set up badges details, with the ability to edit
Configure badges messages
Create or duplicate badges
Delete badges
Earn and award badges
Manage badge site administration settings
View and manage your own earned badges
View users who earned a specific badge
View public badges in other user's profiles
2. Gamification In Moodle
Gamification is used in Moodle to engage and motivate learners using game mechanics and games. Game mechanics are common gaming tactics used to ignite competition and the desire for learners to 'win'. The Moodle Games Plugin allows you to utilize glossaries, short answer questions, multiple choice questions, and true/false questions to quiz learners with the following games:
Hangman
Crossword
Cryptex
Millionaire
Sudoku
The Hidden Picture
Snakes and Ladders
Book with Questions
Popular gamification mechanics that Instructional Designers can make use of are:
Points
These are awarded to learners to motivate them throughout courses and activities. They can be used to drive desired behaviors, signify status in a course, and even unlock new learning stages or rewards.
Challenges, Badges, And Achievements
These help motivate learners to do more, innovate faster, and work smarter than others. Challenges that are a bit difficult and meaningful for your learners with visible recognition will motivate them to reach higher and work harder.
Leaderboards
These are essentially scoreboards that display progress and ranking of learners to help them gauge their performance against their peers. Rankings motivate learners to excel past their peers in addition to boosting repeat visits. The Moodle gamification plugin, Ranking Block, makes this easy to implement by assigning points to activities completed in Moodle. Rankings are then displayed in a scoreboard block.
Levels
Levels help learners understand when they have reached a milestone or accomplishment. Many also use levels as an opportunity to provide meaningful feedback and highlight areas for improvement.
Time-Based Activities
Adding artificial time pressures, like countdowns or quizzes, can be used to motivate learners to work faster, as well as teaching them to work better under pressure.
Continual And Immediate Feedback
Games are fun, but losing isn't. In order for gamification to be successful, learners have to want to play the games, which means that winning has to seem like a possibility. It is essential that users are given feedback when they lose – this not only helps solidify learning, but it also motivates learners when there is a clear direction for improvement.
Stories And Characters
Creating stories and characters around learning challenges will help to immerse learners in your eLearning course – this is a great tool to use with dry or dull course material.
Freedom To Fail
Giving learners the freedom to fail by giving them multiple lives, second chances, or alternative methods to succeed is an engaging tactic, as it will keep learners motivated to work through a challenge for points or rewards.
3. Moodle Mobile
Mobile Moodle learning can refer to two things – mobility of learning (i.e. learning on the go) and learning directly from your mobile device. Not surprisingly, the two definitions are interdependently related. Learning on your mobile phone allows increased collaboration, and it acts as an extra channel for communication in a course. The key to mobile Moodle learning is to use it as a supplementary method to your standard eLearning method, or even in-class.
To fully benefit from mobile learning, you can download the Moodle Mobile app. The Moodle Mobile app is an HTML5 application that works on Android and Apple devices. With the app, users have a few more multimedia capabilities, including uploading smartphone pictures, recorded audio, and videos into Moodle. Users can also use the mobile platform as an added channel of communication with peers and teachers. Additionally, with the new release of Moodle Mobile 2.0, users now benefit from the following new features and improvements:
Improved user interface for speed and smooth functioning
Intuitive functionality including pull to refresh and infinite scrolling
A simplified experience with filters, easier settings, and access to user profiles
Access to many more Moodle features including Activity Completion, Choice, Notes, Book, IMS CP and Chat
Large increase in storage space within the app
Offline access to your Moodle calendar
Intelligent push notifications that support multiple Moodle sites per app
And more!
4. Multimedia Capabilities
One of the greatest benefits of eLearning is the ability to incorporate multimedia. The multimedia capabilities in Moodle are available through multimedia plugins. By enabling your Multimedia plugins filter in Moodle, multimedia will be transformed from a link that points to a multimedia resource, to the appropriate multimedia player. An example of this is if a teacher places a video file as a resource in a course, or includes a URL link to an external video file. When the multimedia plugin is turned on, students will then be able to play video files from a screen within their Moodle interface.
Video
Currently, video accounts for 47% of global internet traffic. By 2016, this number is expected to reach to 86%. Video can be used to provide students with lectures they missed or to deliver learning videos (e.g. "How to"). For video in Moodle, you have a couple of options. You can upload a video right into Moodle. This works if you have an original video (e.g. a recording of a class lecture). You also have the option to embed a video from an external site, such as YouTube or Vimeo.
Audio Clips
Using audio in a Moodle course allows students to catch up on lectures (by listening to recorded lectures). This can include podcasts which is possible through the Podcast plugin.
Animation
Animations can be uploaded to Moodle, just as you would upload a video. Depending on your animation file, you can also upload it as you would an image. Within Moodle, you have the capability to add additional file types to Moodle that may not have previously existed.
Communicating In Moodle
A steady stream of communication is an essential component in online learning environments. There are a few common tools available for communication in Moodle.
Forum Module
The forum module allows communication in Moodle between students and teachers. There are 5 forum types, each for a different purpose and for a different setting.
Single Simple Discussion
In this format, a single topic discussion is developed on one page. This is useful for short, focused discussions, as it is only available within one group, not throughout separate groups.
Standard Forum For General Use
This type of forum is open, so anyone can make posts, or start new topics at any time. For general forums, this is the recommended format.
Each Person Posts One Discussion
This is a useful format if you'd like each student to start a weekly discussion, for example. Even though each student can only post one new discussion topic, everyone can reply to them.
Q&A Forum
Instead of an open discussion, here participants post questions as the initial discussion starter. Students can post their answers, and they will not be able to see other responses until they have done so.
Standard Forum
Posts in this type of forum are displayed in a blog-like format.
Blogs
The term blog is short for "web log." In Moodle, each user has their own blog, but users can also register their external blogs (e.g. Blogger, WordPress) so that entries can automatically be posted in their Moodle blog. In Moodle blogs, you can include files with your blog posts, you can go back and edit posts, and again, you can include register external blogs so that any posts made there will also show up on your Moodle blog.
Messaging
There are two different forms of messaging in Moodle.

First, instant messaging can be enabled to allow users to communicate instantly with one another, in real time. This isn't always the most efficient form of communication (especially if there is much to discuss, if there needs to be more than 2 people involved, etc.), but it is the quickest way to communicate through Moodle. Note that this is a new feature in Moodle 2.9, so it will only be available to those who have upgraded.
Second, Message alerts can be enabled so that users can receive notifications when things are happening in Moodle. For example, if someone writes a new forum post, if a new assignment is submitted, if a message is received, users (both teachers and students) will be notified.

Attendance
This module allows teachers to take attendance during class, and it allows students to access and view their own attendance records (If the Moodle admin has made this visible to them). The default attendance statuses are "present", "absent", "late", or "excused", but it is to add more or different statuses as you wish. Attendance reports can be run either individually or for an entire class.
If you want to learn more about Moodle advanced features and functionalities, download the eBook The Complete User Guide To Moodle Chapter 3.