Learning Interactions: A One-Stop Solution
Learning outcomes lay out the broad scope of what a learner stands to gain from a particular topic. They are also a great way to ideate how the topic should be approached and act as a guiding tool, both from an educator's perspective as well as for a student. It is thus important to ensure that the planned outcomes achieve the desired results.
A good way to know if the proposed learning outcomes cover the necessary aspects is by referring to Bloom's Taxonomy [1]. The much-popular taxonomy explains the process of learning and has proved to be a powerful tool to help develop learning outcomes. The core concept in this theory is very simple and is a good guiding method. It talks about analyzing and evaluating concepts, processes, procedures, and principles, rather than just remembering facts or rote learning. The reason I am bringing up this is that the ideal learning interactions use this very approach. Learning interactions can prove to be a game-changer to help you achieve the learning outcomes in an effective way. For instance, well-crafted interactions:
Offer clarity and introduce facts and key information in a manner that provides awareness or understanding of the subject;
Facilitate knowledge sharing through cognitive skill development; and,
Are practical and make information comprehension easy in an engaging way.
Hence, if you notice, a thorough interaction design can help you cover the very essentials needed to achieve learning outcomes.
Right Tools Make All The Difference
The year 2020 made it imperative that education incorporated faster and effective techniques to reach out to students, whether online, in a blended format, or even for in-person classes, as everything underwent a transformation. There is an increased use of technology in classrooms nowadays since it showed greater student engagement—a top learning need. Not surprisingly then, "How to make eLearning effective" became a trending topic as the months passed by. Though instructional tools have been around for a while now, educators are now relying on them even more.
Research shows that digital instructional tools are beneficial for teachers/trainers for mainly 6 purposes [2]:
Delivering instruction directly to students
Diagnosing student learning needs
Varying the delivery method of instruction
Tailoring the learning experience to meet individual student needs
Supporting student collaboration and providing interactive experiences
Fostering independent practice of specific skills
As I mentioned, in the new normal that we are a part of now, these purposes have become all-important. It is necessary that learning interactions cover these needs reasonably well.
Another reason why eLearning interactions matter is that this transition to digital teaching methods hasn't been too simple for educators. A recent survey claims that 57% of administrators acknowledge that workloads for educators are high, and 30% believe that streamlined digital processes would help in reducing stress on teachers and trainers [3].
Then, there is always a possibility of educators lacking the required skills for designing templates. Many teachers and educators have the knowledge and basic understanding of what goes in an eLearning interaction. However, it is reasonable enough to believe that not everyone is sufficiently skilled in designing and developing technically superior course content. In such circumstances, educators rather want to focus on the course content more than designing it.
Thankfully, there are instructional tools that not only fill in these gaps to assist educators in creating quality content but are truly generating new-age learning experiences.
How A Responsive Learning Interaction Adds Value
Now that we agree that learning interactions play an important role in achieving the learning objectives, I think it is crucial to identify the key features that define an interactive eLearning tool. One good way to do so will be analyzing a tool which has proven its worth with the features it offers.
Raptivity is one such award-winning, time-tested tool offering everything it takes to create interactive experiences. It has ready-to-use interactions to save educators' precious time, a growing library of templates to engage any kind of audience, and an intuitive and user-friendly interface that enables you to customize your interactions rapidly. One of its much-appreciated features is the responsive and preconfigured interactions for various devices and layouts which can be used without any programming. Raptivity also comes with SCORM and xAPI tracking capabilities. This makes it easier for teachers and trainers to track experience completion and learner performance at the click of a button, a very important consideration when their learners are logged in remotely and cannot be evaluated face-to-face.
So, as you see, there are elements that make an interaction comprehensive and more importantly, outcome-oriented. On a side note, this holds true not just to create experiences for students but for corporate learners alike. Learning outcomes are about empowering a learner with the right skills and knowledge and hence, the secret to making it effective remains the same irrespective of the end user.
Designing Learning Experiences With Great Interactions
Responsive interactions make it possible for educators to quickly build interactive elements into every course and increase learner engagement. It just simplifies the entire process and makes the end result satisfactory. For example, our game-based activities, feedback, and assessment quizzes add the perfect excitement for learners of all ages. In case you are wondering, with such templates, customizing eLearning content isn't time-consuming either.
In fact, here's one trick shared by some educators we are in touch with. Now, they have no prior authoring experience, so what they do instead is make use of an interaction template, by selecting from the interactions library Raptivity has, say like the Horizontal Parallax, and creating a great microlearning experience. Isn't that the quickest way to keep up with the modern-day learning style! It means that even without access to an authoring tool or an LMS, you can still go ahead and create visually stimulating content. The authoring tool-agnostic templates are already created keeping learner needs in mind, ensuring that the educator's or trainer's goal is successful and delivers on learning objectives. That is the strength Raptivity's versatile interactions carry and make them the most sought-after in the industry.
If we have realized the secret to add value to learning outcomes, and if we are seeing educators take efforts to create interactive eLearning content, the onus lies on us to provide a comprehensive end-to-end solution to enhance the learning experience.
Do share your thoughts with me on how you believe learning outcomes can be made relevant. I will be looking forward to your comments.
References:
[3] The Impact of Digital Technology on Education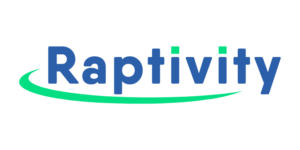 Raptivity
Raptivity® is a new-age tool to design enthralling learning experiences. It lets you create visually stimulating eLearning content without any programming.