7 JIT Training Support Tips On A Budget
Failed microlearning attempts usually boil down to a lack of planning or common misconceptions. Unfortunately, you can't just dice up your current resources, upload them to your LMS, and hope for the best. There are a few unspoken rules to consider when using short bursts of information for moment-of-need training; from ensuring that every tool has a practical purpose to organizing the content so it's quick and convenient. Follow these microlearning best practices for JIT training support to avoid cognitive overload and address performance gaps.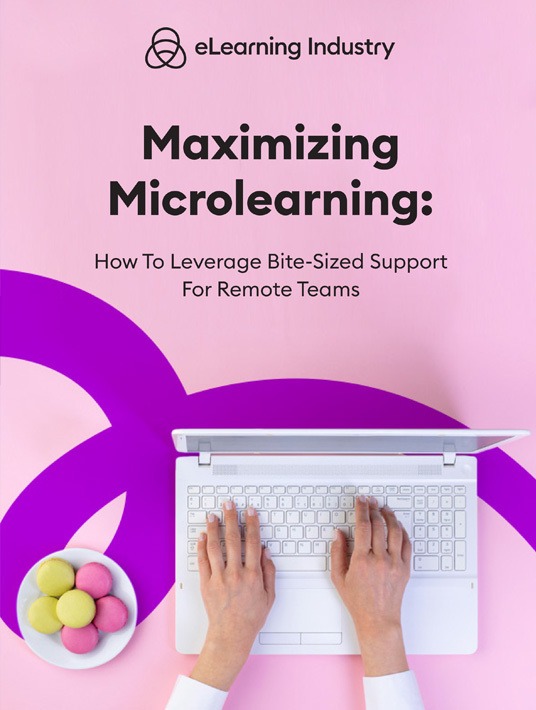 eBook Release
Maximizing Microlearning: How To Leverage Bite-Sized Support For Remote Teams
Actionable tips to deploy your own microlearning training program to stretch available resources!
1. Concentrate On Performance Behaviors And Habits
Microlearning JIT training is, first and foremost, practical and actionable. Every resource should relate to real-world challenges, behaviors, and habits employees should develop (or avoid). Focus on performance as opposed to theoretical application. For example, a video demo or tutorial shows trainees how to carry out the task step by step. Then they mimic these behaviors in the workplace to improve productivity and avoid common mistakes. They might even reflect on past on-the-job situations to identify undisclosed areas for improvement as the microlearning training activity has opened their eyes and set the prime example.
2. Pair It With Personalized Feedback
Many organizations make the mistake of treating bite-sized training as a passive activity. They expect employees to read a cheat sheet and apply their newfound knowledge. But they're missing a golden L&D opportunity. One of the most crucial microlearning best practices is to pair it with feedback; for instance, a simulation or scenario followed by a performance recap. Tell them what they did wrong, highlight their strengths, then provide a list of resource recommendations.
3. Keep It Organized And Centralized
You can't have microlearning support resources scattered around the LMS. There's usually a sense of urgency, so they must be centralized and organized by task, challenge, or department. Employees should be able to conduct a quick search by keyword to find what they're looking for. The microlearning assets themselves must follow the same rule. Ensure that every activity logically organizes the information in a way that's easy to understand. Building on pre-existing knowledge and moving on to more complex ideas as learners progress. Lastly, include resource links after each activity so employees know where to go for more info. For instance, there are five different demos and simulations they can use to build communication skills. Include a brief explanation beside the links so they know which activities align with personal preferences.
4. Survey The Team To Identify Hidden Gaps
JIT training is personal. Everyone has different pain points they need to deal with to fulfill their potential. So, survey your team to identify overlooked gaps that you should address in your microlearning strategy. You can even hire microlearning content providers to do audience research and training needs analysis. They can offer an unbiased perspective of what your employees need to work on and flaws in your training plan.
5. Use A Responsive LMS For Mobile-Friendly Content
Employees need micro, mobile-friendly resources that makes training convenient and quick to consume. Thus, JIT training is best on a responsive LMS that automatically displays the most suitable version of the content based on their device of choice, from laptops to smartphones. You should also take it a step further and make content mobile-friendly at the design stage. Compress files and optimize multimedia. Make buttons and links large enough to click on the small screen. Then preview the bite-sized training activity to ensure it's legible and interactive for every member of the team.
6. Repurpose Existing Resources
Many organizations steer clear of microlearning JIT training because they think it's too expensive or that it requires too much time to develop and implement. The simple truth is that you can reuse assets you already have to stretch your L&D budget. Why let those outdated tutorials and webinars go to waste when you can recycle them for JIT support? Of course, it will require some minor edits and modernization. For example, that half-hour workshop you held last month is transformed into six bite-sized sessions. Each unit centers on a subtopic or skill that employees must master. Jazz it up with voiceovers, background music, and visual aids to enrich the experience.
7. Simplify Updates With Templates And Rapid Authoring Tools
The last of the microlearning best practices will save you a great deal of stress in the long run. Use templates to develop activities so that you can quickly modify existing content and add new rules or policies. Rapid authoring tools are another way to avoid headaches because you can incorporate images, audio clips, and other assets using their built-in library. A perfect example of this tip in action is changes in task protocols. You suddenly realize there's a better way to perform the task that's more intuitive or cost-efficient. Simply use the rapid authoring software and template to make the necessary modifications and upload it to the system. Just make sure that the new tool is compatible with your system to avoid formatting delays.
Conclusion
These microlearning best practices can help you re-evaluate your existing JIT library and develop new content that's on point. Repurpose what you have to save money and simplify the process with templates and authoring tools. Incorporate follow-up feedback to point employees in the right direction and keep everything organized for easy access. You should also get your team involved. Ask about their current work-related challenges and how you can remedy them with microlearning training.
Microlearning doesn't have to be time-consuming or resource-draining. Not if you hire microlearning content providers to help you develop bite-sized training on a tight budget. Our online directory is a great place to start your search and choose the right partner for your online training program.
Download our eBook Maximizing Microlearning: How To Leverage Bite-Sized Support For Remote Teams to improve engagement and reduce on-the-job mistakes.