What Are The Roles And Responsibilities Of A Modern Trainer
Traditional Roles Of A Trainer
Let's take a look at trainer's competency model based on the traditional approach. Below you will find a summary of standards which had been created and implemented in House of Skills - the biggest soft-skills training company in Poland. These standards are divided into 8 roles and define behaviors in each of them. The following summary is only a brief overview of them.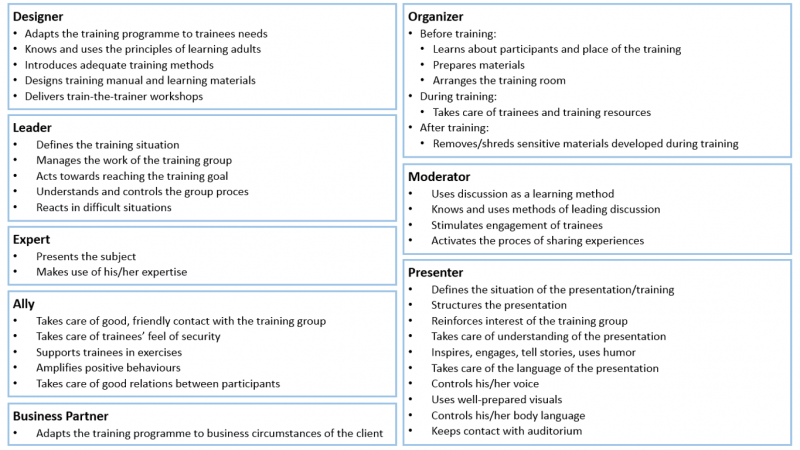 There is nothing wrong with these roles and responsibilities. But new training methods, new technologies, new ways of building competencies and new expectations of trainees create the gap between what is perceived as a good set of trainer's competencies and what is demanded by the market.
The Gap
Of course, every trainer is free to deliver the training based on traditional roles and responsibilities. The Internet revolution brought, however, many additional possibilities of influencing learners. These should be taken into consideration by a modern trainer while thinking about one's own development and role in the industry.
Let's take a look at the map below.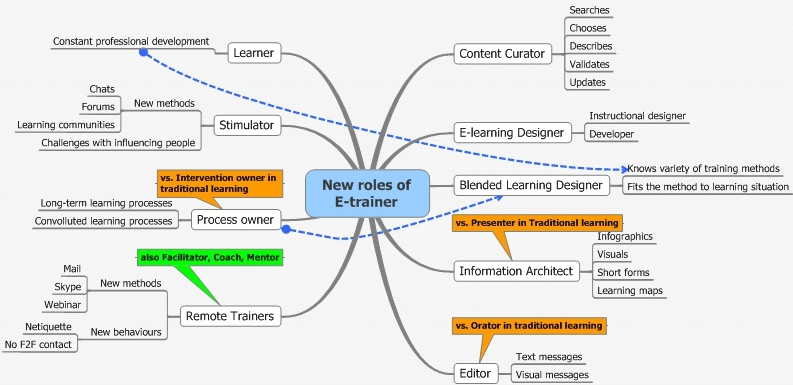 Every modern trainer should be ready to enter into the role of Content Curator. There are many pieces of valuable content available - some of them could be used by trainees as a pre-work, stimulus for a reflection, implementation tool, etc. To curate content a trainer should be ready to search, choose, describe, validate and update his/her selection. Such activities require good understanding of Internet space in terms of search engines usage, IP issues,  communities of practice which are available, spaces of open content, etc.
A modern trainer should understand at least the basics of eLearning. Having such a knowledge is important during designing learning intervention. By understanding eLearning pros and cons modern trainers can choose the best methods of training. eLearning instructional design competency and even basic knowledge of eLearning content development tools and techniques will help him/her for valuable engagement in the design and delivery process of eLearning courses.
It is also very important for a modern trainer to see the whole picture of training methods and tools. Such a competence will help to find the best way of delivering training taking into account not only one's own preferred methods but also time, cost, efficiency, needs of trainees and organization, etc. Only good understanding of all available methods lets to design optimal blended learning process.
Traditional trainer is usually a master of personal presentation supported by visuals. Nowadays, however, visuals themselves start to play a very important role during learning intervention. A modern trainer should know the principles of information architecture - should be able to create visuals, infographics, knowledge pills, learning maps, etc. Even if they are not artistic - they should be good enough to effectively transfer knowledge.
A modern trainer should be also prepared to communicate with trainees in written and visual form.  His/her editing competency (in terms of building statements, grammar and spelling as well as using authoring tools to create messages) should be much higher than traditional trainer's who uses mostly one's voice and body language.
A modern trainer understands also that the training sometimes is being delivered remotely. Knows the remote learning tools (from the most primitive ones like e-mail to the most sophisticated like virtual presence solutions) and knows how to effectively use them in the training function. He/she can manage the challenge with lack of face-to-face contact with trainees. It is also important for such a trainer to know the etiquette and rules of remote communication.
Blended learning processes are usually much more complicated than traditional ones. They utilize numerous tools and methods, they use to be longer, and they use to engage more educators. A modern trainer is ready to take care of the whole training process - not only for the very small part of delivering a workshop or a seminar. Such a trainer also understands the whole process and endeavors to the goal even if he/she is engaged and responsible only for a small part.
Remote learning of people requires constant stimulation. Learners should be motivated and supported. A modern trainer should be ready to enter into the role of a Stimulator - a person who understands the challenges of trainees and who takes care of them with proper engagement and competencies.
And, last but not least, rapid changes in the training industry force a modern trainer to constant development. Traditional training has been performed on a basis of the same principles from ages but new training and working environment requires frequent updates of trainers competencies.