The Extended Enterprise LMS Features You Can't Train Without
Not all Learning Management Systems are created equal. Overall, they serve the same function (store, manage and deliver training). But if you look under the hood, there are some significant differences.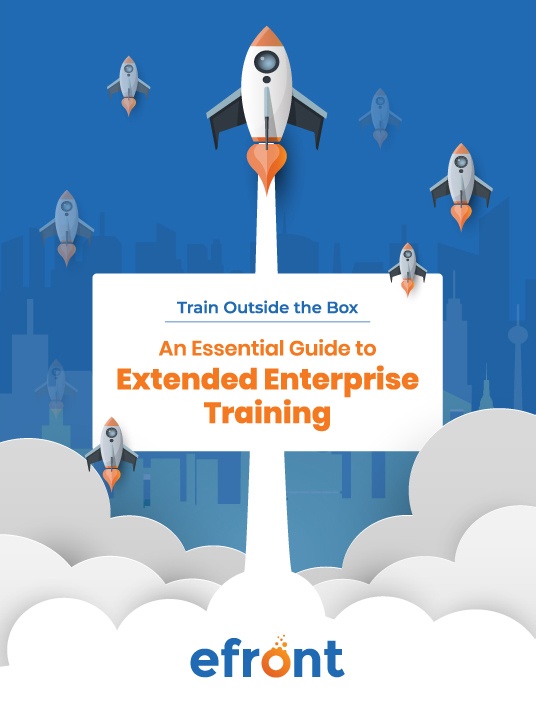 eBook Release
Train Outside The Box: An Essential Guide To Extended Enterprise Training
Discover why training your extended workforce will give your organization a competitive edge.
For effective extended enterprise training, you'll need a Learning Management System that is robust and secure with fast and reliable support. On top of those requirements, an LMS for training partners and customers will need a few key features.
By the end of this article, you'll know the exact features to look for when you're shopping around for a Learning Management System to use to implement your extended enterprise training. Let's start.
The essential extended enterprise LMS features list:
1. Multi-Tenancy
Look out for the word "multi-tenant", "multi-tenancy", or "extended enterprise". Multi-tenancy is a key LMS feature you'll need for training anyone outside the four walls of your organization.
What does multi-tenancy mean? It's the software architecture that allows you (as a company) to use a single LMS to serve multiple groups.
In eFront, we optimize multi-tenancy with a feature we call "Branches". Branches allow you to customize your learning audiences into as many targeted and isolated segments you need. It also allows you to link other elements to each group you create, like giving different permissions, serving difference courses, and customizing almost everything else.
For example, this is the way you'll divide your employee training from your channel partner training from your customer training. Within those audiences, you can further segment by rich custom fields you assign yourself.
2. Scalable
Another extended enterprise LMS feature you'll need is scalability. You'll see this referred to as scalable by design or in some cases—flexible.
Both descriptions mean that the LMS can grow to accommodate the number of learners you add at any given time—without any change in its performance.
eFront is scalable by design. It's as flexible as a yogi. Add as many users as you need and the platform won't crack under the pressure—but continue to run smoothly. So, as your training audiences grow, you can stop asking yourself, "Can my LMS handle these extra learners?". It can.
3. Strong reporting tools
We've obsessed about reports in this series, haven't we? That's because, for extended enterprise training to work well, you'll need to track and monitor all types of learner activity. The LMS feature that addresses this is the reporting function.
There is nothing more frustrating to get reports with data that does not apply to your needs. To stay sane, look out for LMS reporting features like custom reports and audit logs.
In eFront, you can produce custom reports on any user, object, or action within your portal. And you can also access and review all kinds of archived system activity via audit logs. These audit logs are essential for any compliance or regulatory training you offer your channel partners.
4. Integrations
Integrations take an LMS from "Good" to "Holy moly, I can do that too?". Many are nice-to-have as they simplify your workflows and give you extra insights. But there are a few that are must-haves.
SSO (Single sign-on)
The more user-friendly your training portal is, the more likely your partners and customers are to use your training. Single sign-on makes it easier for them to use your training portal because they won't need a separate login name and password. Instead, they can use the same one they use to enter any of your other systems.
REST API
This feature gives you the power to integrate your LMS with third-party software so you can automate specific tasks and minimize administrative busywork. (You're welcome.)
For example, REST API is the dynamic feature that allows your Customer Relationship Management (CRM) tool to "talk" to your LMS. So, when you add new partners or customers in your CRM, they will be added automatically to your LMS.
Conferencing
As we mentioned in our previous articles, one of the challenges of extended enterprise training is that audiences are spread around the world. To increase engagement with your partners and customers, you'll want to have the ability to make your training more human—and less machine-driven. Put a face to the brand, if you will.
So, one of the extended enterprise LMS features you'll want to keep an eye out for is teleconferencing integration for some real-time, face-to-face learning.
With eFront, you can promote interactive group learning and real-time collaboration with applications like Web-ex, BigBlueButton, and GoToMeeting.
5. Certifications
One of the essential extended enterprise LMS features you must look for is certification capabilities. Certification management is vital for partner training, specifically for organizations who want to certify partners to ensure consistent standards.
With eFront's customizable certification management feature, you can issue multi-purpose certifications with different expiration policies. You can also design certificates with the look and information you want.
6. Skills assessment
As you begin onboarding new users to your training portal, you'll want to know what kind of skills they already have and which skills they're lacking. This insight lets you assign courses and curriculums based on each trainee's skills creating personalized learning pathways.
You'll also want a way to keep close track of their development to keep assigning the right courses. In this way, your training becomes more valuable.
The extended enterprise LMS features you'll need for this are assessment tools, like surveys and skill gap tests.
Tests are particularly used for partner training. For example, if you would like to test whether your partners have the necessary knowledge about your product or service to be qualified partners, you can test them on a variety of topics. Those who pass can be certified (through the certifications feature we mentioned previously). Those who fail will be prompted to take further courses to close their knowledge gaps.
Surveys, on the other hand, are used for customer training in particular to get feedback that you can then use to improve your training, and in turn, your product or service.
eFront comes with a robust assessment engine that supports multiple types of questions, quizzes, surveys, and skill gap tests.
7. Multilingual
One of the challenges of delivering extended enterprise training is that audiences will often speak different languages. It's vital to choose an LMS, like TalentLMS, that can support different languages.
eFront is available in 22 different languages including English, Spanish, French, and German. You can easily change language settings for each user. So, they'll feel comfortable using the platform in the language they know best.
Conclusion
Sure, choosing an LMS is one of the most far-reaching decisions you'll make when implementing extended enterprise training. Delivering multiple types of training to multiple types of audiences has its challenges.
But you don't have to go into it blindly. And you don't want to be halfway through designing your courses only to realize your LMS doesn't have a specific feature you need.
This list will help you avoid a disaster like that. So, be sure to compare your learning management software choices with our seven must-have extended enterprise LMS features before making your decision.
If you want to be an A-plus student:
For an easy A, just bookmark, save or print this page. You can use our list to find an LMS with the right features. Or visit our website to discover all the other features that make eFront a high-performing, highly-adaptable enterprise LMS.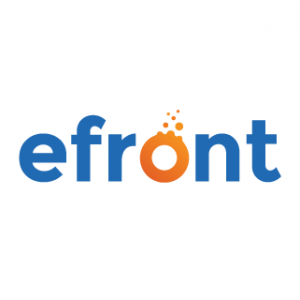 eFront
Train your employees, partners and customers with eFront, the powerful learning management system that shapes to fit your needs.