Gamification Techniques To Add To Your Business Training
There's still some mystery shrouding training gamification. Most organizations have a general idea of the benefits it brings but aren't sure how to use it to their advantage. How do you incorporate rewards, levels, and other gaming elements into your current course? Is there a way to use incentives to monitor employee proficiency in certification training? Which activities are ideally suited for your busy staff members? Motivating employees and keeping them fully engaged is music to your ears. However, you aren't sure how to apply the GBL principles for your use case. So, here are some concrete gamification eLearning examples that you can add to your certification training design.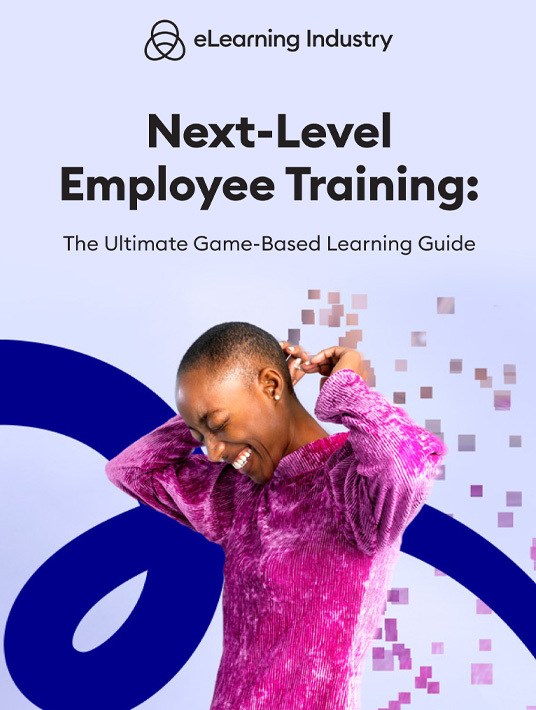 eBook Release
Next-Level Employee Training: The Ultimate Game-Based Learning Guide
This guide covers all of the game-based learning essentials to enhance your employee training program!
6 Top Gamification eLearning Examples For Your Certification Course
1. Retro Game Show Quiz
Add a vintage flair to your certification training with a retro game show that tests employee knowledge and proficiency. They earn points for each correct answer and the top performers advance to the final round. The mere act of accruing points is enough to motivate staffers. They don't need gift cards or monetary rewards as the grand prize. However, you can award badges to the top scorer or give them exclusive access to the VIP training library. A word of warning: don't let the retro vibes distract employees from the task at hand. The ambiance should add a dose of entertainment and humor without overshadowing the desired outcomes.
2. Badge-Backed Scenario
Another way to incorporate badges is to develop training scenarios that build real-world experience, as well as evaluate employees' ability to make decisions and experience the consequences of their actions in a supportive setting. At certain intervals, they're able to unlock badges based on how well they display skill or task mastery. For example, they successfully negotiate a deal with the client and avoid the COI hurdles, which earns them a training badge. They must rack up enough badges to get their certification and move on to the next topic.
3. Timed Simulation
How well do your employees perform under pressure? Timed simulations are more stress-inducing, but they also mimic real-world conditions. Employees must usually wrap up a task within the time allotted. Or else customers grow impatient, the conflict escalates, or lives are put in danger (in the case of safety training certification). Start the clock and ask them to carry out the task before the buzzer sounds. Just bear in mind that there's a limit to how much employees can handle. Don't throw them into the fire with far-fetched hypothetical situations or cram too many challenges into the short time span. Nor should you push them too far out of their comfort zone. For instance, don't include new tasks that aren't part of their job roles or exaggerated ethical dilemmas.
4. Compliance Adventure
The best way to look at obstacles is to see them as opportunities; a chance to expand your experience and knowledge base. So, thrust your employees into a compliance adventure that's fraught with real-world perils. Such as an emergency preparedness scenario, complete with fires or earthquakes, or a situation that deals with safe handling procedures. Frame it with a gamification eLearning adventure that lightens the tone while still emphasizing the importance of compliance. For instance, they need to make their way through the building and help coworkers evacuate from various rooms or departments. It seems simple enough, but safe egress requires in-depth knowledge of company policy, safety regulations, and the evacuation plan. You can also use this approach for non-emergency situations, like how to handle a bribe from a client or what to do when a coworker harasses them.
5. Team Collabs With Points
Break employees into teams and ask them to create a project based on the certification topic. They can develop podcasts, presentations, or any other support tool that covers the basics. The point is that they must summarize the main discussion points in their own words to reinforce their knowledge and improve comprehension. The teams then upload their content to the library for instructor and/or peer review. There is also a point system involved. Instead of comments, the reviewers must complete a survey to rate the activity. During the project, coworkers learn from each other and broaden their skills. After the fact, they gather valuable feedback in the form of rewards (points) that highlight areas for improvement.
6. JIT Serious Games With Leaderboards
The dynamic duo approach combines serious games with gamification eLearning. Invite employees to participate in serious games that build experiential knowledge and identify skill gaps. The top performers move up the group leaderboard, which taps into their competitive nature. It's best to create different boards for each skillset, certification topic, or job title so that it's an even playing field. For example, everyone in the customer service department vies for the top spot due to the fact that they must possess similar talents, abilities, and performance behaviors while members of the sales team require other competencies. That said, there are some training niches that overlap. Everyone must know the ins and outs of safety training or company policy. In this case, a shared leaderboard might motivate them to do better and dedicate more time to training.
Conclusion
These gamification eLearning examples are suitable for any training topic. Simply customize the scenario based on your organizational gaps and goals. You should also consider a rapid authoring tool to help you quickly modify content based on current rules and protocols. Compliance certifications usually require periodic updates to account for new regulations, task procedures, and company policies. Finally, evaluate your existing assets to see if anything can be repurposed to cut costs and development time.
Find an eLearning content provider who stands a cut above the rest and specializes in certification gamification design. Our online directory features the leading vendors in the industry. You can also read reviews to see how they compare and evaluate their list of solutions.
Download our eBook Next-Level Employee Training: The Ultimate Game-Based Learning Guide to target specific goals, challenges, and key takeaways with a GBL strategy.