Top Online Compliance Training Activities To Build Real-World Experience
Remote work teams have unique challenges, which calls for unique online compliance training activities that build practical experience. They must be able to put their knowledge into practice from afar. As well as learn from their mistakes in a supportive environment so that they don't repeat them on the job. The key is to encourage them to break bad habits and reflect on their performance without applying too much pressure. Staffers need to understand the consequences of their actions, but that shouldn't cause undue stress or emotional strain. How do you fuel mistake-driven learning and build real-world experience remotely?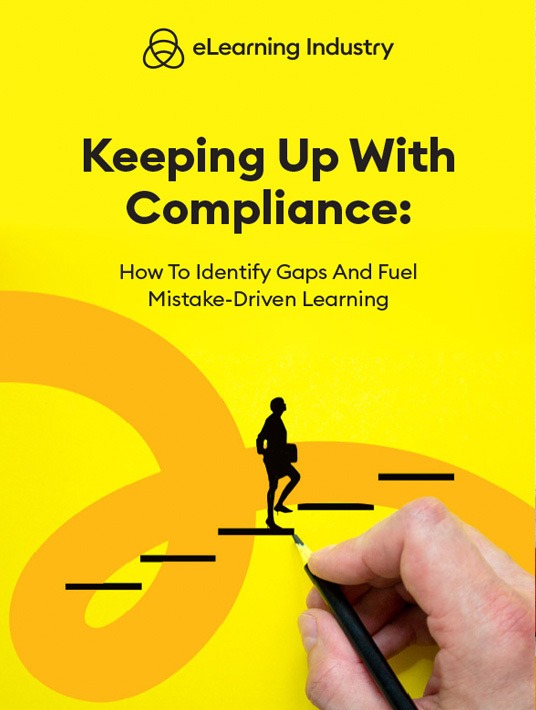 eBook Release
Keeping Up With Compliance: How To Identify Gaps And Fuel Mistake-Driven Learning
This guide will help you leverage mistake-driven learning for compliance, spot hidden gaps in your strategy, and choose the right solution.
8 Experiential Compliance Training Resources
1. Task Simulations
Employees go through all the motions. But they also have the opportunity to learn from mistakes and approach the problem from different angles. Every run-through reveals another potential outcome and allows them to retrace their steps. The secret is to follow up with feedback so that they know what to work on. As well as where they excel. For instance, recommend these resources to help them bridge related skills gaps. Then highlight all their strengths and positive performance behaviors.
2. Video Demos With Follow-Up
Show employees how to perform tasks or abide by the rules, then encourage them to reflect on the video. You can even use the "do and don't" format and ask them to pick the right approach and why the other was incorrect. For instance, the employee missed a crucial step in the first clip. Or they should have declined the client's gift to avoid a COI violation. Invite them to go into detail about how they might handle a similar situation. You can even pair it with group discussions so that they can talk through their thought process.
3. Policy-Based Serious Games
Who can pass up a serious game? Especially when they're expect a boring compliance course with slideshows and manuals. These gaming experiences center on company policies. For instance, employees must sort policies by department or job role. Or interact with memorable characters (customer personas) without violating the rules. At the end of the game, they earn points or badges based on their performance. You can even launch a leaderboard to track their progress.
4. Core Competency Live Events
Live events are next-level compliance training resources because they're interactive and collaborative. The guest speaker or team leader kicks things off with a question or prompt. Then they present all the guidelines and regulations using visual representations, such as graphs. They also field questions from the crowd and let them voice their opinions. Every event should focus on a specific competency that relates to your compliance training course. To illustrate, this week you discuss communication and interpersonal skills as part of your anti-harassment strategy.
5. Decision-Making Branching Scenarios
Every path leads them to a different outcome. This allows employees to evaluate how decisions negatively or positively impact their work performance. Best of all, it's in a safe and risk-free training environment. One idea for a decision-making scenario is a co-worker conflict. Employees must navigate their way through an argument without violating protocols or letting it spill onto the sales floor. Conclude with detailed feedback and resource recommendations. Keep in mind that feedback should also be built into the activity. As every decision path fuels mistake-driven learning and allows them to broaden their practical experience.
6. Real World Examples
There are two common approaches: examples and stories. While examples are more straightforward and often include stats and facts, stories are emotionally-driven. For instance, personal anecdotes that teach them a valuable compliance lesson in the context of past mistakes. How did you handle the situation to achieve the best outcomes and what should you have done differently?
7. Peer Mentoring Groups
Peer mentoring or coaching groups are yet another great way to foster mistake-driven learning cost-effectively. It's a more private setting than live events, which makes it ideal for sensitive compliance topics. Employees are also more comfortable sharing their thoughts and assumptions. The mentor/coach should be an experienced staffer who knows the ins and outs of the compliance topic. They offer advice and help others bridge existing gaps. For example, the coach asks everyone to share a recent that didn't go as planned. Then they encourage everyone to collectively brainstorm solutions and ways to avoid those risks in the future.
8. Problem-Solving Projects
Another compliance training activity that lets employees collaborate with peers and collectively explore work-related challenges. These projects involve small groups so that everyone can contribute and voice their opinions or ideas. Assign a specific problem or obstacle to each team and ask them to develop a presentation. It can also be a podcast, simulation, or serious game. It all depends on their tech skills and the available time. On completion, host a live event so that everyone can present their findings and share their activity. An added benefit is being able to get peer feedback. Since the attendees can point out areas of improvement and offer personalized praise.
Conclusion
These real-world online compliance training activities give employees the chance to apply what they've learned and take calculated risks. Without upsetting real-world customers and hurting your bottom line. They can see where different decision paths lead and find new approaches. If you want to reduce development time and get your compliance program off the ground quickly, you might consider off-the-shelf solutions. Our exclusive directory features compliance training vendors for every industry and customer type. You can also see which providers offer bespoke content if you need more customization.
Download the eBook Keeping Up With Compliance: How To Identify Gaps And Fuel Mistake-Driven Learning to leverage mistake-driven learning for compliance and spot hidden gaps in your strategy.