Tips To Find The Right VR Training Vendor For Your Needs
Making a successful business case gives you the green light. It's time to start vetting vendors to get max value for money, which is usually the most dreaded part of the process because there are so many steps involved. Where do you even begin? Especially if you don't want to wander aimlessly around the web and visit countless landing pages. Fortunately, there are ways to qualify outsourcing partners without taking a bite out of your budget. Better still, you can spend more time comparing your top choices and less on preliminary research. These 8 free resources can help you find the best VR training solutions provider for your next project.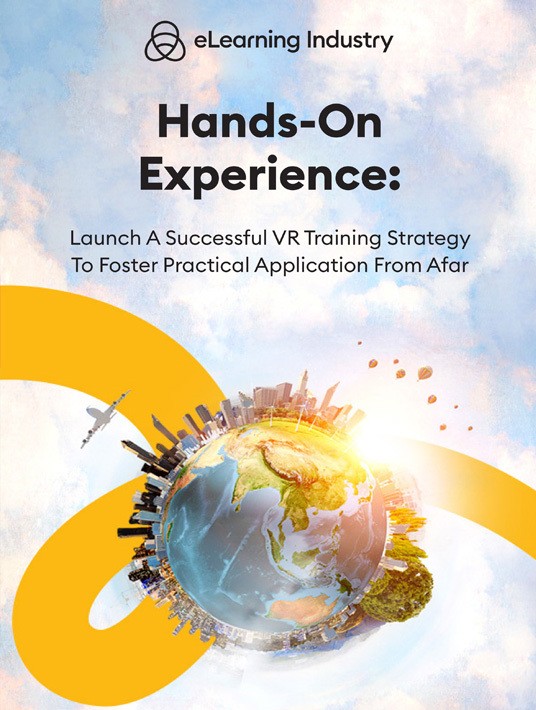 eBook Release
Hands-On Experience: Launch A Successful VR Training Strategy To Foster Practical Application From Afar
Let's explore how you can implement successful VR training strategies for experiential learning!
8 Resources To Find The Best VR Training Outsourcing Partner
1. Exclusive Directories
Online directories are a great place to start your vendor search. The key is to look for sites that specialize in eLearning content providers instead of generalized directories that cover a broad range of services. Exclusive directories understand what you're looking for. They know which selling points to focus on. For example, companies are able to post a brief bio that includes background experience, as well as outline all the training solutions they provide. Above all, the directory should make it easy to filter results by use case, customer type, etc.
2. Rating Sites
Ratings give you an inside look at the VR training solutions' quality of work and responsiveness. It also covers their customer service, communication, deadlines, and value for money. Basically, a high-level overview of things you need to consider when hiring a third-party provider. Another crucial rating is the likelihood-to-recommend percentage. Top-notch VR training companies get referrals because they value CX. Last, but not least, sort directory listings by rating to speed up the search.
3. Social Media Groups
I know what you're probably thinking: social media groups aren't the most reliable source. After all, isn't that where everybody goes to drag vendors through the mud or leave sponsored reviews? The trick is to find social media groups and pages that are dedicated to training outsourcing. Members share recommendations and post helpful resource links. Everyone is there to optimize their training strategy and/or provide support because they've been there before. They know how challenging it is to find the right third-party provider. Plus, they may pick up a few pointers along the way to benefit their own L&D program.
4. Online Portfolios
Every VR training solutions provider should have an online portfolio. It showcases all their best work so that you can make a well-informed buying decision. Furthermore, every example must have objectives, outcomes, and challenges so that you can evaluate their work practices and techniques. For example, this is how they dealt with skills application on the sales floor or reduced compliance breaches by 25%.
5. Top Vendor Lists
Top vendor lists feature the leading VR training outsourcing partners and their main service highlights. You can also check out user reviews via links and evaluate their industry achievements. Once again, these lists should be from a reliable source. Preferably, an industry thought leader that is known for helpful guides and tip sheets. Not a site that sells the top spot to the highest bidder. In fact, rankings should be based on criteria that are explained up front.
6. Landing Pages
It's true, landing pages are probably the most biased vendor vetting tool. Companies that provide VR training in the workplace aren't going to point out their faults. Ultimately, their site must make a great first impression and win you over. But landing pages are still worth considering. Vendors highlight USPs, real-world benefits, and solutions, which gives you the opportunity to explore their brand image on your own. They should also include a list of virtual reality training software they use to avoid compatibility issues.
7. Review Platforms
Review platforms are yet another valuable source of information because they expand on star ratings. Most clients who leave a review have something to say. Maybe they had a negative experience with the vendor. On the other hand, the outsourcing partner could've achieved all their virtual reality in the workplace goals under budget. Reviews contain a summary statement, followed by the pros and cons; essentially, what clients liked best and least about working with the VR training solutions provider. They must also provide some basic background info, such as industry and staff size, which puts the performance overview into context.
8. Proposals
The best way to find the right VR training provider for your project is to submit RFPs. These requests contain all the project details, including budget, training obstacles, objectives, and deadlines. They respond with personalized proposals featuring estimates and standout services. In other words, what sets them apart from the competition. You can also follow up with interviews or questionnaires to break the tie or even hire them for a test project if you have the extra funds. Bear in mind that you can use these samples for VR training—once they've passed the QA check, of course.
Conclusion
These free resources give you a head start because all the vendor info is centralized. While directories showcase their training solutions and company bios, ratings give you the inside scoop. Submitting RFPs is more time-consuming, but the payoff is personalized estimates. Vendors have the opportunity to evaluate your project specs and see if they're a good match. Finally, review online portfolios to assess their design skills and work practices firsthand, or consider test projects to see how they handle customer support and gauge their quality of work.
Are you looking for reliable VR training solutions listings, ratings, and reviews? Our online directory takes the stress out of vendor qualification. Search by use case, industry, solutions, and specializations to find the best outsourcing partner in your price range.
Download the eBook Hands-On Experience: Launch A Successful VR Training Strategy To Foster Practical Application From Afar for insider tips to launch an experiential learning program.