VR Training Solutions To Increase Training ROI
It's easy to understand the benefits of Virtual Reality, or VR, training. Learning & Development professionals all agree it's the most immersive and practical way to teach learners how to perform actual tasks in a safe environment. Countless companies have released demos and proofs-of-concept showing the potential of VR. But, is anyone actually using it? Have any corporations purchased VR headsets and paid developers to create custom training? The answer is yes, and the results are as positive as we all hoped. Here are 5 fresh case studies of companies implementing VR training solutions.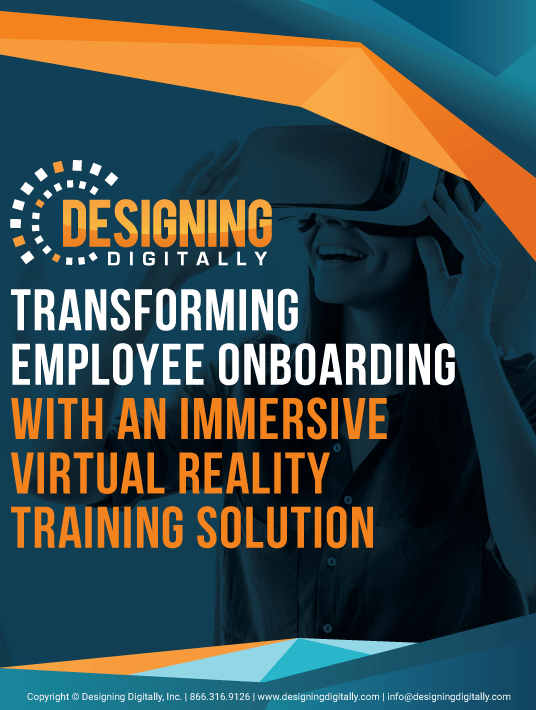 eBook Release
Transforming Employee Onboarding With An Immersive Virtual Reality Training Solution
Read the key takeaways on how to deliver the most effective virtual training
1. American Airlines Cabin Crew Training
American Airlines created a VR experience for new cabin crew members. At their training center, employees put on a wireless headset inside a small, private room and are then told to explore the aircraft at their own pace. One trainee said, "It's like, a movie almost, but you're inside the movie. It's super, super realistic." The training program teaches employees how to perform tasks they'll encounter on each flight, such as how to open and close the cabin door. A unique aspect of American Airlines' setup is that twelve trainees can work at the same time. One instructor sits at a control center where they can observe each trainee on a closed-circuit camera. The instructor can talk with each trainee to give compliments or constructive feedback on their performance. In addition to tangible training, like locating emergency equipment, the VR training solution includes passenger scenarios. The crew members choose what to say and then see the outcome of their actions, all in the immersive environment of the aircraft. The developer, Quantified Design Solutions, reported, "The application led to an improvement of first-trial passing scores during initial door arming/disarming evaluations from 73% to 97%."
2. Intel Electrical Safety Training
Intel, a leader in manufacturing for technology, has to deliver regulatory training on electrical safety. They decided to take their training to the next level by partnering with SkillReal to create VR scenarios. The scenarios place learners in a manufacturing plant where they have to complete specific tasks. In one scenario, they complete a work plan by assessing the checklist, putting on the appropriate Personal Protective Equipment (PPE), gathering and testing supplies, then checking an electrical panel. Learners receive a grade on their performance in the scenario. The VR scenarios integrate into Intel's pre-test and post-test activities. The VR program also tracks analytics such as how long it takes learners to complete tasks and which objects they interact with. According to SkillReal's case study, "94% of trainees who went through this training asked that more VR courses be made available". They also say, "Intel estimates a 300% Return On Investment potential on the Virtual Reality course created by SkillReal".
3. United Rentals Sales Training
We often picture VR as a platform to deliver hard skills training. However, United Rentals is proving its effectiveness in the soft skill of sales training. The company rents construction equipment and their outside sales reps travel to construction sites on a daily basis to assess the needs and recommend equipment. United Rentals worked with STRIVR to "bring construction sites into the classroom". United Rentals highly values the conversations and interactions that transpire in classroom training. Therefore, instead of replacing classroom training, they set up a VR system in the training room to enhance the sessions. One person wears the headset to explore the job site. What they're seeing is projected on the screen for the rest of the group to observe. The trainer challenges everyone to look for clues of what's happening in the job site. They ask questions such as, "What would you say to that worker?" and "What are the safety concerns?". This allows the entire group to learn and participate with the VR experience even when they're not wearing the headset. The addition of VR training solutions has reduced the time spent on training by 40%.
4. Lowe's Holoroom Experiences
The home improvement retailer, Lowe's, has an entire branch dedicated to innovating technology called Lowe's Innovation Labs. One of their first ventures into VR was Holoroom How To, which teaches customers how to install the tile. They also piloted Holoroom Test Drive, which lets customers try out a specific model of a hedge clipper. The VR experience teaches users how to operate the clippers as well as how to shape hedges. Lowe's Innovation Labs reports users have a "36% better recall of project steps for do-it-yourself projects than through video alone" and that VR, "helped customers increase their product confidence by 127%". After these customer experiences proved successful, Lowe's began to develop VR training solutions for associates. Holoroom How To Red Vest currently teaches associates how to use the machine that cuts window blinds. Associates practice accurately measuring a window, entering the information in the machine, and making the cut. Lowe's Innovation Labs says the blind cutting systems can be intimidating for associates. Employees who completed the VR session "reported 24% higher satisfaction, 127% increase in confidence and 76% lower level of hesitation versus traditional employee training methods used within Lowe's".
5. Airbus Maintenance Operations
Airbus supplies planes to airline companies around the globe. They have several VR software tools in their portfolio, both for employees and customers. This year, Airbus is deploying a new VR system for its engineers. This is incredibly innovative because it does not train employees on how to perform a task. Instead, the VR system is a tool that allows engineers to efficiently complete a task. When Airbus develops a new aircraft or modifies an existing model, engineers must confirm it will be feasible for their customers to conduct routine maintenance. The new VR system they developed "puts you in the place of an airline mechanic". The Airbus engineers interact with a virtual model of the new aircraft which is a plane that doesn't even exist yet. If they try to remove a component that isn't designed to be removable, the VR system prevents the engineer from taking it off. This validation process allows the engineers to confirm the design is good, or if necessary, make revisions that ensure customers will be able to perform maintenance after purchasing the aircraft. The VR solution "enables users to perform verification and validation activities in just 25% of the time needed for [our previous methods]".
Conclusion
These examples show VR training solutions are not only viable but are proving to be successful in corporate training and even engineering. Notice most of these companies partnered with a development company to make their visions become a reality. Don't let the daunting idea of VR stop you from unleashing its potential. Find a development partner who can guide you through the process and help you achieve your training goals. Before you know it, your employees will be raving about your incredible training opportunities. Download the eBook Transforming Employee Onboarding With An Immersive Virtual Reality Training Solution to discover a method of perfect implementation and how to deliver the most effective virtual training. Learn why it is amongst the most innovative teaching tools and how it can help you transcend your business objectives.