Why Your Company Should Outsource VR Training
You may not own the necessary software or your L&D team already has a heavy workload. Then again, it might boil down to a lack of tech expertise or design skills. There are many reasons why organizations purchase VR training solutions. But you must weigh all the pros and cons to find the best approach for your SMB. For example, it might be more cost-effective to design immersive content on your own. That way, you retain full creative control and have better financial oversight. Is an eLearning content provider a wise investment for your organization? Here are 8 top reasons to outsource VR training versus developing in-house.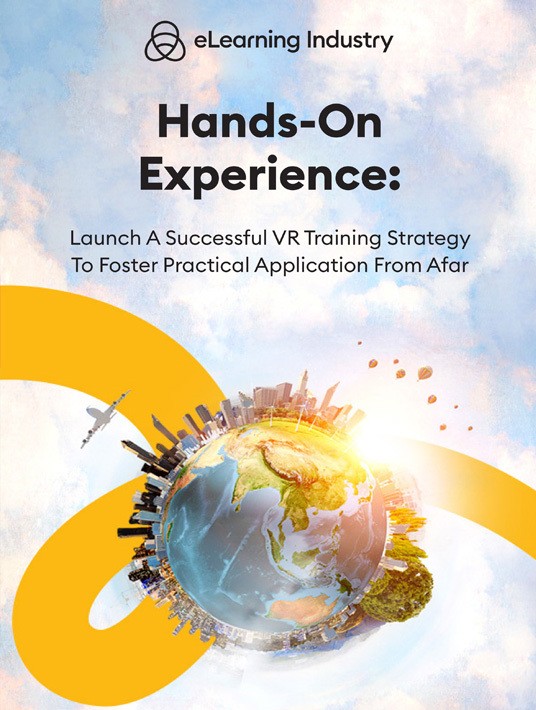 eBook Release
Hands-On Experience: Launch A Successful VR Training Strategy To Foster Practical Application From Afar
Let's explore how you can implement successful VR training strategies for experiential learning!
8 Top Reasons To Hand VR Training Over To A Professional
1. Make The Most Of External Expertise
VR training programs require industry expertise. Developers must know how to design immersive experiences that focus on the subject matter instead of letting technology become a distraction. In many cases, they have SMEs who can summarize the key takeaways and prevent cognitive overload. Thus, they tackle both sides of the VR equation: tech and knowledge transfer. This is why it's so crucial to find a vendor that specializes in your niche; a partner who understands the challenges your employees face and how VR job aids can improve workplace performance.
2. Reduce VR Development Risks
Experienced virtual reality training providers are familiar with the design process. They also know which common mistakes to avoid and how to mitigate development risks. The alternative is creating content in-house and navigating challenges on your own. Purchasing VR training solutions eliminates trial and error. The vendor is responsible for troubleshooting. Of course, they can reach out to your organization for suggestions. But they're the ones who, ultimately, must find a solution. As an example, the authoring tool isn't cooperating, or content needs to be reformatted.
3. Cut Software Costs
Software usually takes up a sizable portion of your budget. VR training programs are more interactive and immersive, which calls for specialized tools. One of the top outsourcing benefits is that vendors have a well-stocked toolbox. You don't have to pay for advanced authoring software or worry about compatibility issues. However, you may want to invest in your own tools for content upkeep, especially if the vendor is unavailable for future revisions or updates. Just bear in mind that ongoing maintenance requires some VR training tech know-how.
4. Enhance Employee Immersion
Successful VR training programs put employees into the middle of the action. They're able to walk through the virtual workplace and interact with equipment, as well as engage with co-workers and customers to build interpersonal skills. Hiring a VR training content provider enhances immersion and engagement, particularly if you choose a vendor with a proven track record. For example, they have a high value for money and quality of work rating. Evaluate their portfolio and landing page to ensure their design skills are up to par. You can also contract a test project to gauge their tech talents firsthand.
5. Repurpose Existing Assets
You may already have assets you can repurpose for VR training solutions. The trick is knowing how they fit into the current design and if they align with your objectives. A virtual reality content provider can review your library with a fresh perspective. Are there resources you've overlooked? Can they use their multimedia repository to spruce up demo videos and convert them into VR experiences? Of course, repurposing existing assets cuts costs and development time, which is a win-win situation. The vendor delivers on schedule and you stretch available resources.
6. Eliminate The Tech Learning Curve
Organizations usually schedule a week or two for the software learning curve. This gives employees time to adjust to the new system. However, VR training tools may require a longer learning curve, especially if they're more complex and feature-rich. Unless, of course, you hire a virtual reality training company. They're already familiar with the technology. It's their job to keep up with trends and improve tool functionality.
7. Minimize L&D Stress
Many L&D teams already have enough on their plate. Thus, they may not be able to develop VR training content from scratch even if they possess the necessary expertise. Outsourcing allows them to focus on other job duties and responsibilities instead of spreading themselves too thin and risking burnout. As a result, you retain top L&D talent and reduce new hire training costs. They stay with your organization and use all their skills to enrich your training program.
8. Maximize Vendor Support
Most vendors include support ranging from online FAQs and live chats to phone calls with a trained specialist. You can reach out whenever there's a problem to quickly resolve the issue instead of trying to figure out why employees can't access the VR training tutorial on their headset, for example. However, you need to include a support clause in your contract. Clarify what's involved and how often you can contact them for help. Also, who's your point of contact for each obstacle? For example, there's a separate email for billing questions versus tech support. Finally, don't forget to check out their online knowledge base and user communities.
Conclusion
Are eLearning content providers the right choice for your company? Just like any other L&D initiative, VR training outsourcing must make financial sense. So, find out if your team has the skills, software, and schedule to develop content before hiring a vendor. You can also create an expense sheet to compare both options. Then determine which is best for your bottom line. Keep in mind there are other factors to consider as well, like turnaround time and vendor experience.
Finding the right virtual reality training solutions shouldn't be a chore. In fact, our online directory makes it easy to compile a shortlist and qualify VR training vendors, complete with performance overviews and company bios.
Download the eBook Hands-On Experience: Launch A Successful VR Training Strategy To Foster Practical Application From Afar for insider tips to launch an experiential learning program.