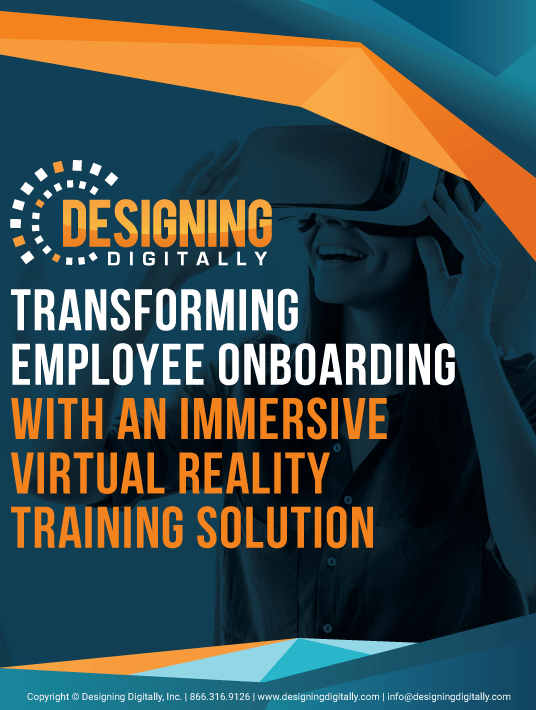 eBook
Transforming Employee Onboarding With An Immersive Virtual Reality Training Solution
eBook
Transforming Employee Onboarding With An Immersive Virtual Reality Training Solution
by Designing Digitally President, Andrew Hughes / Published: May 20 2019
What it's about
Are you considering a Virtual Reality training program for your employee onboarding? Download this eBook by Designing Digitally President, Andrew Hughes, to learn the benefits that are gained with this learning approach, what you should consider before implementation and how to deliver the most effective virtual training.
Key chapters
5 Virtual Reality Training Benefits HR Managers Should Know

Learn 5 ways that VR training can improve your HR endeavors.

Ultimate Trends in VR Training: Application in Employee Onboarding

Discover how VR can be applied to your onboarding strategy and the impact it can have on your company.

How to Leverage VR Training to Create Better Onboarding Experiences

Learn 6 tips on how to leverage this technology in your onboarding strategy

What to Consider before Implementing VR Training for Employee Onboarding

Learn the top considerations for you to think about before you implement your Virtual Reality onboarding plan.


7 Key Elements Of VR Training To Boost Employee Engagement & Retention

Discover 7 key elements of VR and reveal how it can be used to improve the employee engagement and retention seen at your company.

5 Criteria to Choose the Ideal Vendor for your Vr Training Program

Learn 5 criteria to help you select the ideal vendor for your Virtual Reality training program.

5 Examples of Immersive VR Training Solutions to Increase Training ROI

Review 5 examples of companies that have already implemented this learning tool and share the success they have seen.
---
Recommend this read to your friends and #shareknowledge!
Get your copy now
---
Join other professionals like you, who have downloaded the eBook!