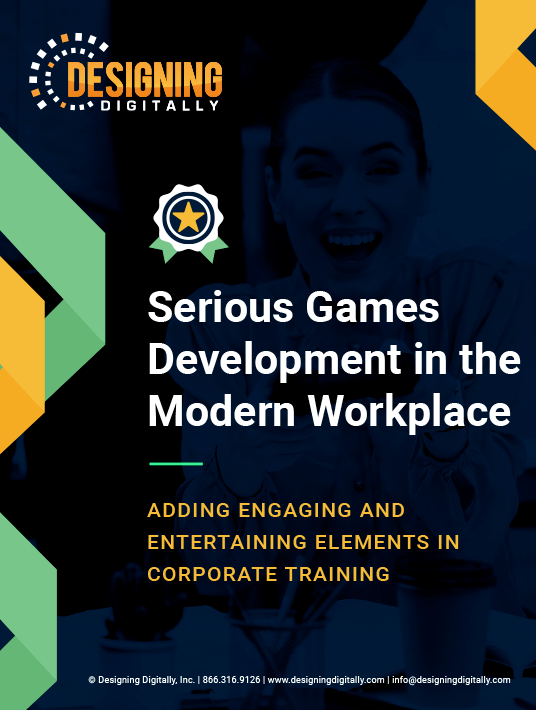 eBook
Serious Games Development In The Modern Workplace
eBook
Serious Games Development In The Modern Workplace
by Designing Digitally, Inc. / Published: Oct 21 2019
What it's about
Are you considering Serious Games for your employee training? Download this eBook by Designing Digitally to learn more about the benefits that are gained with game-based learning and what to consider to deliver the most effective Serious Game.
Key chapters
8 Reasons To Develop Serious Games In Corporate Training

Learn 8 reasons to develop Serious Games for your employee training.

5 Trends In Serious Games And How To Leverage Them Today

Uncover 5 Serious Games trends and learn how to leverage them for training success.

7 Steps Towards Successful Serious Game Implementation

Explore 7 steps that will guide you to successful Serious Game implementation.

7 Essential Serious Games Design Elements To Increase Engagement & Knowledge Retention

Unlock 7 design elements that you should consider for your Serious Games to increase engagement and knowledge retention.

How Serious Games Lead To A Higher Corporate Training ROI

Discover how to increase your training ROI through Serious Games.

11 Common Challenges You May Face During Serious Games Development

Learn 11 challenges that are often faced with Serious Games to be sure you can overcome them.

9 Great Serious Game Mechanics To Use In The Modern Workplace

Unlock 9 mechanics that are perfect to use for Serious Games and will empower your employees.

9 Tips To Vet A Specialized Vendor For Outsourcing Serious Games Development

Learn how to find the perfect vendor to outsource your Serious Games development.
---
Recommend this read to your friends and #shareknowledge!
Get your copy now
---
Join other professionals like you, who have downloaded the eBook!