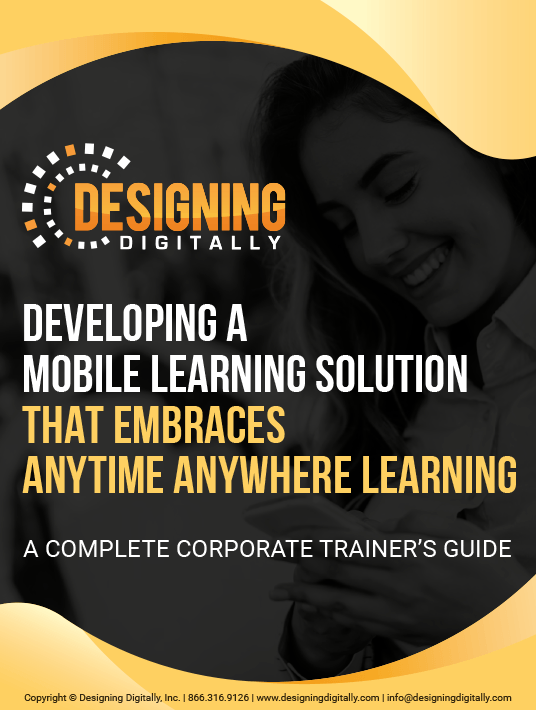 eBook
Developing A Mobile Learning Solution That Embraces Anytime Anywhere Learning
eBook
Developing A Mobile Learning Solution That Embraces Anytime Anywhere Learning
by Designing Digitally President, Andrew Hughes / Published: Jul 16 2019
What it's about
This eBook discusses the many benefits of a mobile learning solution and reviews some of the key factors of this training approach, ensuring you can provide the most effective delivery to your workforce and see positive ROI.
Key chapters
The Importance of Anytime Anywhere Learning in the Modern Workplace

Review Anytime Anywhere Learning and the importance of delivering training to your learners at the moment they want it, using the technology they prefer.

Benefits of Creating a Mobile Learning App for Corporate Training

Learn the benefits of creating a mobile learning app for your employee training strategy and see the impact it can have on your company.

7 Ways a Mobile Learning Solution can Empower a Remote Workforce

Find out about 7 ways a custom mobile learning solution can better prepare a remote workforce.

6 Do's and Don'ts for Creating a Learning on the Go Strategy in the Workplace

Learn 6 do's and don'ts in this article that will help you prepare a successful mobile training strategy for your company.

How to Measure the Effectiveness of Mobile Training

Review how you can use Kirkpatrick's Evaluation Model to evaluate the effectiveness of your mobile training.

6 Tips to Track the Learning on the Go in Corporate Training

Gain 6 tips to track your learning on the go to ensure your learners are effectively performing.

How to Boost Corporate Training ROI with a Custom Mobile Learning App

Read about different ways that a custom mobile learning app can increase your training ROI.

Case Study: Maximizing the Value of Your Mobile Learning App

Review the mobile training program designed for Bridgestone Americas Tire Operations, LLC and learn tips that can be used to maximize the value of your mobile training solutions.
---
Recommend this read to your friends and #shareknowledge!
Get your copy now
---
Join other professionals like you, who have downloaded the eBook!