The All-In-One Guide To Launch Employee Time Tracker Software
Most SMBs prepare for a whole lot of stress and long learning curves when implementing time tracker software. Especially if they've never used a virtual hour keeper before and don't have a full-time IT team to help. Much less, the wiggle room in their budget to handle unexpected costs. Where do you even begin? How do you qualify vendors and pick the perfect time tracking platform for your telecommuting staffers? That's why we created this step-by-step walkthrough to guide you through the process from start to finish. Including tasks that organizations often overlook.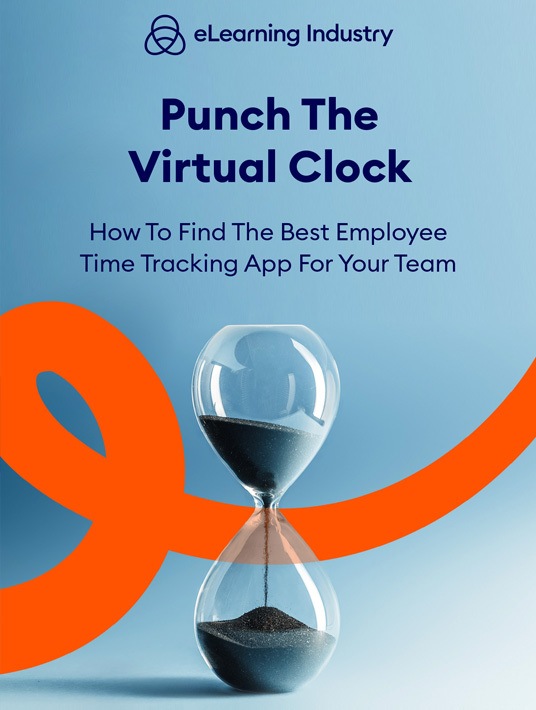 eBook Release
Punch The Virtual Clock: How To Find The Best Employee Time Tracking App For Your Team
Discover all about time tracking software.
8 Steps To Job Time Tracker Software Success
1. Set A Realistic Budget
How much can you allocate for your new time tracking software? Is there a spending cap you can't go over without having to 'borrow' from other aspects of your business? You need to calculate the expenses involved and analyze your current needs. For example, you already have PM and collaboration tools. So, you should look for hour keeper solutions that fill the gaps instead of offering redundant features. Like project calendars that are already covered by your PM platform. This will help you not only create a targeted shopping list, but fine tune your budget.
2. Use An Online Directory To Vet Vendors
An exclusive directory has the top time tracking apps for your industry and use case. As such, you can qualify vendors and see who delivers all the key features you need to improve ROI. You also get to scope out their support services and pricing options. Or compare your top 3 choices side by side to determine which vendor offers the best value for money. Just make sure you go with a credible directory with a solid online reputation.
3. Verify Social Proof
Ratings, reviews, and social media presence are some of the most popular ways to establish social proof for the best time tracker app. The catch is that you must be able to verify the information. For example, the site should have fraud prevention measures so that you know all the reviews are genuine. Users must also provide some background details and log in to rate the platform. If you visit their social media page, pay attention to how they interact with the public. Do they quickly answer questions and maintain a level of professionalism? Do they invite people to leave comments and share their experiences?
4. Submit RFPs
Once you've visited the online directory and verified their reputation, it's time to submit RFPs. So, check out the time tracking software vendor's site for more information and contact details. Then draft a request that covers everything from budget to current business challenges. Don't forget to include follow-up instructions, evaluation criteria, and deadlines so that vendors know what to expect. Then review proposals with your team to narrow your shortlist.
5. Test Drive Tools
Some organizations prefer to actually switch step 4 and 5 so that they can test drive BEFORE submitting RFPs. It's all a matter of personal preference. Regardless of the order, it's essential to sign up for free trials and demos so that you can gauge functionality. Namely, how the features benefit your SMB and if it's easy for your team to use. You should also have evaluation criteria to focus on your business priorities. Then use all the data to pick the right tool for your remote workforce.
6. Promote Time Tracking App Benefits To Your Team
Even before launching your new time tracking app, you need a solid marketing strategy. First and foremost, software implementation success relies on employee buy-in. They need to understand the benefits and how all the features tie into their work duties. For instance, every employee must use the time tracking tool to clock in and out. But it also helps them take more frequent breaks and mentally recharge. In fact, you might host a launch event to address all their questions and concerns.
7. Provide Software Support
Not everyone is familiar with time tracking tools. Some employees might be perfectly content sticking with the traditional way of doing things, such as using physical time clocks. Or maybe they're used to an honor system that doesn't involve time clocks at all. Then again, many of your staffers might be worried about the tech skills required. As such, you need to provide software support and training. Send them videos and tutorials on how to use the tool. You can also set up an in-house live chat where they can reach out to co-workers for assistance.
8. Evaluate Time Tracker Analytics
The time tracker tool doesn't just show employees how much they've worked this week. It can also help your organization make the most of in-house talent and improve resource allocation. But you need to know how to use the built-in metrics. For example, evaluate reports to determine which tasks take the longest and why. Or take a closer look at team performance and project efficiency to improve work practices. The analytics give you the opportunity to widen profit margins and make the most of your human resources.
Conclusion
These steps can help you compare the top time tracker software and make the right buying decision for your SMB. It's also crucial to analyze your needs before kicking of your search. Why do you need a new job time tracker to begin with and how will it benefit your remote team? What's missing from your current payroll processing strategy? Can you quickly bill clients and track employee productivity? These are all things to consider if you want to invest wisely and fill existing gaps.
Another resource at your disposal is our latest eBook, which features all the info you need to make the right choice. From budgeting tips to common pitfalls you should avoid. Get your copy of Punch The Virtual Clock: How To Find The Best Employee Time Tracking App For Your Team right now!