How To Launch A Learning Maturity Model For Long-Term Business Growth
In the previous article, we discussed how organizations fall into one of four 'learning maturity' stages in their approach to learning and development culture and continuous business development. These are:
Chalk & Talk
Brilliant Basics
Investors in People
Future Gazers
Where each organization currently lands on the continuum is determined by a host of factors, which we'll explore in this part of our series.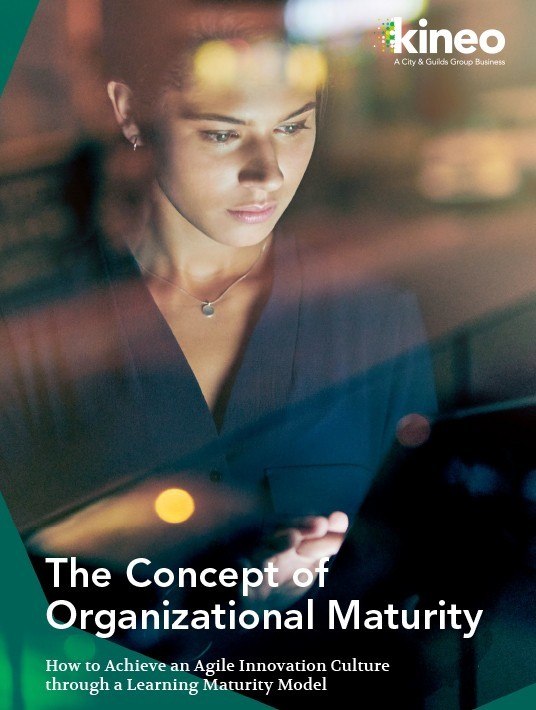 eBook Release
The Concept of Organizational Maturity: How To Achieve An Agile Innovation Culture Through A Learning Maturity Model
Discover how to grow your L&D strategy by leaps and bounds and move to the next stage of corporate learning maturity.
Determining An Organization's Learning Maturity Level To Fuel Continuous Business Development
Types of training needed and used
Training types include onboarding, product and services knowledge, compliance training needed to satisfy legal or regulatory requirements or maintain certifications for employees in specific roles, or skills training to improve safety or performance.
Purpose of training
Organizations train employees to increase skills and knowledge, facilitate their professional growth or personal development, or prepare them to take on a new role or move into leadership positions.
Training and learning goals
When organizations develop learning goals, they might follow a recognized format, such as developing lower- versus higher order thinking skills according to Bloom's Taxonomy; they could also set performance- or outcome-based learning goals that are tied to specific business goals.
Training modalities employed
Conventional and digital training takes place via face-to-face instruction; text-based learning materials; online training modalities including synchronous means, such as virtual classrooms, or asynchronous means, such as eLearning, microlearning, self-directed searches; and more.
Platforms and technologies deployed for training
Learning management systems (LMSs), content management systems, learning experience platforms (LXPs), or social and collaborative learning platforms are all options for hosting and managing training.
Measurement and assessment
Assessing the effectiveness of training requires choosing which tools are used to measure learning and performance and examining whether training correlates to changes in key business metrics.
3 Steps To Assess And Progress
Interested in adopting the Learning Maturity Model in your organization? Follow these stress-free steps to assessing and progressing.
1. Assess your current learning maturity level
This can be determined by a number of factors, including but not limited to the list above. Once you've determined where your current culture sits.
2. Plan a route to progress to the next stage
If you're moving straight out of face to face training into online, what steps can you take now, soon, and in the future to move your learning culture forward? Plan your immediate goals (moving current training into a VILT model, for instance), what you can do in the next six months (invest in appropriate tech, for example), and where you want to be in the future (your learning roadmap – this could include elements like social learning, blends, even VR/AR if appropriate for your industry. You can work with partners – like Kineo -who can help you get to this point).
3. Then – implement, and test test test!
Some things will work – and some won't. Mature organizations only get that way by trialing new approaches and taking a fail first, fail fast attitude. If you don't know where to start, we'd be happy to help plan your roadmap with you.
How Mature Organizations Make Learning Technology the Core of Their Business Transformation Strategy
While learning technology is just one of multiple factors that influence and support learning maturity, it's a crucial one that underpins how your learning is accessed, interacted with and assessed. It creates a learning experience and investing in the right technology for you ensures that experience is a positive one.
Brilliant Basics organizations tend to have an LMS to host and track online training including conventional eLearning courses and tutorials, featuring libraries of content that include interactive eBooks, documents, courses, and videos. They haven't yet expanded into social learning, performance management tools or effective integration with other systems like HRIS.
Investors in People fully exploit the capabilities of their LMS and may overlay a Learning Experience Platform (LXP) for greater learner engagement and personalization. They encourage self-directed learning and perhaps host a knowledge base, extensive curated content, and performance development tools in addition to more conventional synchronous and asynchronous learning tools like eLearning courses, microlearning, documents, and videos. They may host webinars, virtual classroom-based courses, and collaborative learning platforms and opportunities.
Future Gazers have a mature learning culture and actively encourage learners to engage with self- and professional development as part of their workday routine. These organizations likely have (or are planning to implement) an integrated talent development ecosystem that includes a robust, full-featured LMS, an LXP, a performance management platform and other tools that track, manage, and expand learning opportunities.
They may be early adopters of AI technologies and immersive training platforms, for example, that take learning in new and innovative directions. Digital learning is deeply ingrained in their learning culture alongside — or supplanting — much face-to-face learning as their organizations grow and become more globally focused.
How Mature Organizations Leverage Learning
Hire the cream of the crop
Attract top tier talent
Onboard them into your organization
Train and develop their technical skills
Engage them through continuous collaboration and social learning
Boost performance by aligning employee ambition with company goals
Exit at a mutually beneficial
Looking For More Tips To Assess Your Maturity And Foster Continuous Business Development?
Download the eBook The Concept of Organizational Maturity: How To Achieve An Agile Innovation Culture Through A Learning Maturity Model to accelerate your online training program and move to the next stage. Also, join the webinar to learn what drives L&D impact and find your breakthrough moment.