The Learning Maturity Journey Focuses On Long-Term Success
In a previous article, we outlined 4 learning maturity archetypes. Moving to the next level of the learning maturity continuum is an investment in the long-term success of your organization. Partnering with the right provider makes the journey smoother, helping you map your progress through reachable, cost-effective milestones. No organization charts the same path; each has unique needs and capabilities. Advance your learning maturity with a solutions provider who can inspire you to grow while keeping pace with what's just right for you and your learners now.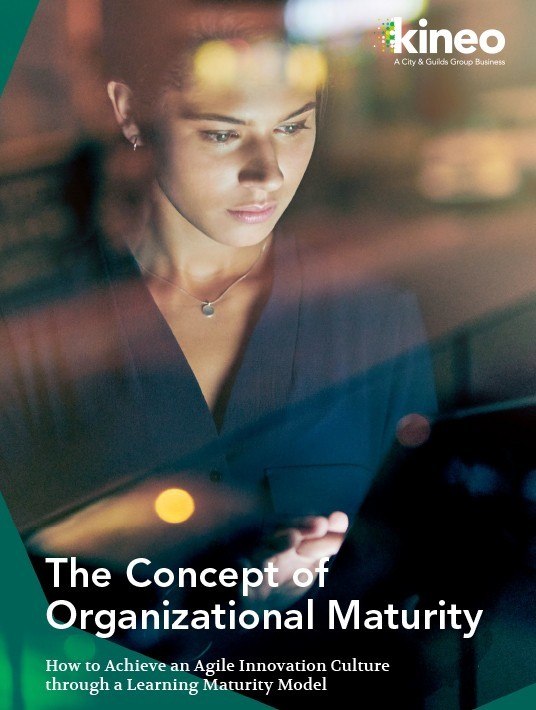 eBook Release
The Concept of Organizational Maturity: How To Achieve An Agile Innovation Culture Through A Learning Maturity Model
Discover how to grow your L&D strategy by leaps and bounds and move to the next stage of corporate learning maturity.
The People, Processes, And Technologies That Define Learning Maturity
Chalk & Talk (Team size 1-3)
No specialization within the team.
Basic processes to load events and track attendance.
Microsoft Office, LMS, standalone (if present) Network File System.
Brilliant Basics (Team size 3-5)
May include roles like LMS Admin and Instructional Designer (responsive to other function's needs).
Light intake process focused on "getting the order right".
Increased use of "consumption" data from LMS to identify weak courses/programs.
LMS - integrated feeds from HRIS systems, Zoom, Teams and Intranet portal.
Investors in People (Team size 5-10)
Increase specialization and structure to serve the needs of internal clients. Possibly add data person, technical resources to support integrations and talent development specialist.
Robust intake processes to surface points of failure and opportunities for improvement.
Increasing instructional support to extend "events" to journeys with LMS functionality.
Starting to proactively engage with internal clients to improve outcomes.
Building out of role-based skills development plans.
LMS, Performance Management System, LXP, Intranet Portal, MS Teams for Collaboration, Zoom, 3rd party content collections.
Future Gazers (Team size 8-15)
Continued increased specialization - social learning.
R&D skills added to the team.
Experimentation and innovation become more systematic.
Learning analytics drive continuous improvement.
Enterprise visibility into skills and competencies to fully identify the leverage existing capability.
Embracing of "gig" mentality with internal talent.
LMS, LXP, Performance Management, Mobile Tech, AR/VR, Knowledge Management Systems, MS Teams/Zoom, Intranet with
group discussion forums.
The Elusive "Future Gazers" Level Of The Learning Maturity Stages
The achievement of Future Gazer status may be a rather utopian vision, a unicorn, if you will, compared to earlier stages on the journey. In certain organizations, there are departments that have come close; but becoming a true Future Gazer organization requires buy-in and adoption by the collective enterprise. The key characteristic of organizations growing beyond Investors in People is the openness to new learning concepts, strategies, and technologies – championed by L&D leaders who constantly pursue knowledge of leading-edge ideas. It is these organizations who today are experimenting with virtual reality, augmented reality, interactive video, and user-generated content. They view the technology landscape as an environment of integrated competency, performance, business, and learning applications with the employee experience as the central connector.
Case In Point: From Chalk & Talk To Brilliant Basics With Blended Learning
This is just one example of how organizations can take their maturity to the next level. Download the eBook to discover more case studies that show the power of personalized learning experiences.
Baptist Care is a nationally respected organization that provides care for aged and disadvantaged citizens in Australia. Seeking to streamline and standardize training across their 160 facilities, Baptist Care realized it was time to move from a conventional face-to-face instruction paradigm to a blended model that included some digital training. Working with Kineo to implement a Totara Learn solution with Kineo courseware, the organization was able to meet its diverse needs with a single platform.
Baptist Care is able to meet a variety of training and learning needs, including:
Employee onboarding and ongoing training
Volunteer onboarding and training
Compliance training, tracking, and reporting
The Totara Learn LMS platform provided a robust learning platform that offered Baptist Care flexible course design, state-of-the-art data and system security, and easy integrations with their existing recordkeeping tools, including their HR management system. The ability to maintain up-to-date data records in a single secure location resolved a significant pain point for training administrators and ensured accurate compliance recordkeeping and reporting.
Baptist Care has adopted a 70/30 blended learning solution that incorporates a robust eLearning content library along with short, targeted microlearning content. Now in the Brilliant Basics phase, Baptist Care is confident that their learning solution will grow with their organization and enable them to strategically plan employee growth and development into the future.
How You Can Reach The Next Learning Maturity Stage
Download the eBook The Concept of Organizational Maturity: How To Achieve An Agile Innovation Culture Through A Learning Maturity Model to accelerate your online training program and take it to the next maturity level. Also, join the webinar to learn what drives L&D impact and find your breakthrough moment.