How To Apply The Outcomes Of A Skills Gap Analysis
Today, almost every company is facing disruptive change and rapid technological advancement, and yet only 30% of CEOs say their employees have the skills to adapt [1].
Which means more and more workforce skills gaps appear.
The solution? Many companies are turning to the skills gap analysis, a process of identifying which skills employees must develop in order to meet business objectives. But you already know how to identify workforce skills gaps. The real question is, what happens next? So, without further delay, let's talk about the steps you should take after your analysis is complete.
1. Measure And Adapt
After you define the skills gap in your company, you need to close it, right? But closing the employee skills gap requires learning, learning requires resources and training, and the whole procedure requires a financial investment. And as with any business expenditure, every investment needs a return. Enter, training evaluation.
Training evaluation helps you track the results of your training against the objectives it set out to achieve. In other words, have employees developed the skills that training was intended to teach them, and are they actively practicing those new skills in the workplace?
Use methods like employee skills assessments to test performance before and after training, and then measure the improvement. If the results aren't sufficient, it might be necessary to return to the drawing board and adapt your strategy. As technology and skill requirements evolve, continue to evaluate the effectiveness of training programs to ensure that they're achieving their goals.
2. Train Employees In Soft Skills They're Missing
Initially, while deciding on your skills gap analysis methods, make sure to use an approach that considers softer skills, like empathy and problem-solving. Then, use the outcomes of the analysis to identify the soft (or human) skills that are lacking, and plan training for their improvement.
The training you put into place after a skills gap analysis should focus less on highly specialized skills for a job that may soon no longer exist, and more on essential soft skills that are applicable to a variety of possible roles and situations. Because with the rise of automation, robotics and Artificial Intelligence, essential soft skills will become your company's chief differentiator. Identify them in your skills gap analysis, make sure to remedy the problem, and you'll be one step ahead.
3. Hire Better Potential Based On What Your Company Needs
Continuous Learning and Development will always play a key role in tackling skills gaps. Still, there will come a time (well, many times) when you need to hire new staff. And when you do, the results of your skills gap analysis should be carefully considered.
Be intentional about hiring the skills you know the company lacks. For example, use skills assessments and case studies to test candidates' performance on the skills you need most. Then, prioritize those skills over other selection criteria, like experience or industry knowledge. You can always train new hires in these areas later on.
4. Leverage Technology To Close Skills Gaps
Keeping a handle on skills gaps means that you need to provide continuous learning opportunities for employees. But with so many employees, and so few hours in a day, ongoing training for all can seem like an impossible feat. While technological advancement has brought a scary amount of change, it has also provided ways for companies to offer more meaningful and convenient training. So, why not use them?
Leverage eLearning technologies, like enterprise LMS features, to provide engaging training content that closes the skills gap. Multimedia, like videos and infographics, cater for employees who learn visually. Branching scenarios and simulations contextualize learning for real-world application. And microlearning allows employees to access the knowledge they need in bite-sized chunks when they need it.
Once you've paired online courses with a learning culture and leaders who invest in their team's development, employees will be empowered and motivated to direct their own learning and close their own skills gaps.
5. Create A Culture Of Continuous Learning
One of the best things that a skills gap analysis can do is help you create a learning culture. Conducting a skills gap analysis on a regular basis, use the results to create continuous education for all your employees.
The responsibility then falls to all leaders to foster a culture of continuous learning, and ensure that every employee is receiving the training they need to meet the skill requirements of the company.
Conclusion
Today, there aren't nearly enough skilled employees to fill every unique job. And as new jobs emerge, the gap only grows bigger. Fortunately, with the right planning, culture and learning technologies in place, you can stay on top of the skills gap in your company.
References:
[1] Aligning the organization for its digital future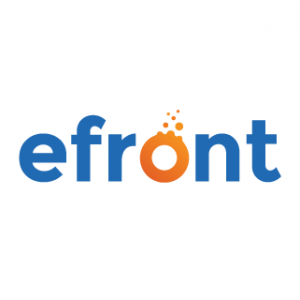 eFront
Train your employees, partners and customers with eFront, the powerful learning management system that shapes to fit your needs.