How To Choose The Best Employee Onboarding Software From An Online Directory
Many organizations put off replacing their existing LMS or making the switch from ILT because they know the process is time-consuming. They would rather stick to their current system, even if it isn't optimal. But this usually comes at a cost. Namely, plummeting employee engagement stats and online training ROI. What if there was a way to simplify the entire process and create a shortlist in a fraction of the time? Here are some top tips for choosing the best employee onboarding software for your organization using an exclusive online LMS directory.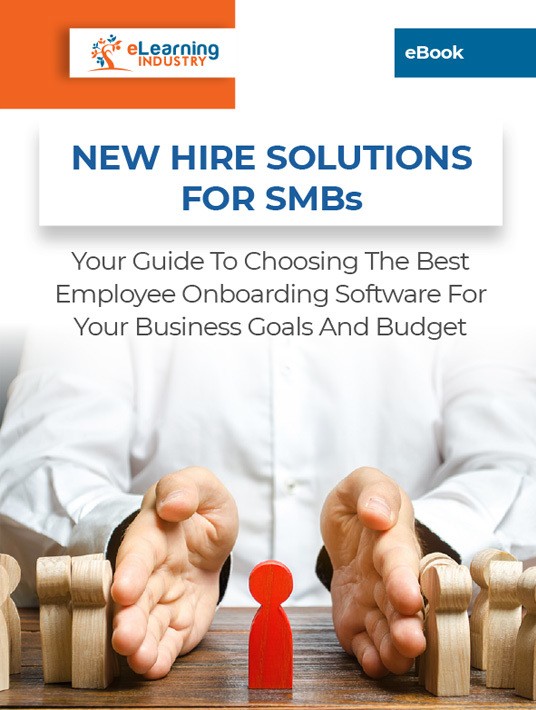 eBook Release
New Hire Solutions For SMBs
Discover the essential steps to implement a successful employee onboarding program for your diverse workforce.
1. Develop Search Criteria To Save Time
It's best to start with a list of must-haves to speed up the search and quickly whittle down your options. Do you need an online training tool with customizable reporting? Are you looking for a cloud-based platform? You should also already have a number in mind so that you don't end up with results out of your price range, as every directory listing includes a pricing section that outlines their payment model, if they offer free trials, etc. Get your team involved in this stage so that they can offer their feedback based on their job duties or tasks. For instance, which features do they need to monitor performance and quickly update content?
2. Filter Results To Streamline The Process
The employee onboarding software directory also has a built-in filter so that you can narrow your search parameters. You can select the licensing option, pricing model, deployment type, features, integration, spec support, and customer type. This gives you the ability to omit results that don't align with your needs or lack the key functions you're looking for. This is yet another reason why you should have clear criteria before you start your search. As you can quickly select essential features that improve your ROI and omit others that are simply 'luxury' items.
3. Evaluate LMS Vendors' Support Services
Take a closer look at which support services the LMS vendor provides to see if they will meet your expectations. Do they offer 24/7 toll-free support for your inexperienced team who needs round the clock troubleshooting? Is there an active online user community that allows you to tap into a broadened knowledge base? Is there an online FAQ that covers the basics? The directory also features a summary of which online training resources the LMS vendor provides. For example, in-person training, online documentation, and webinars.
4. Weigh The Reviews And Ratings
Thanks to busy schedules and limited resources, it's impossible to test drive every online training tool on the list. But you can rely on other's experiences with the tool to point you in the right direction. The LMS directory includes reviews and ratings so that you can evaluate the product from a firsthand perspective. Was the UX up-to-par? Did the LMS vendor provide sufficient customer support? Was the platform easy to use? There's also a section that covers the pros and cons you can expect. Every user who leaves their reviews must log in through LinkedIn, which means that you can view their stats. Such as which industry they're involved in, how long they have been using the online training tool, and their use case. Thus, you're able to weigh their opinions fairly based on your specific needs.
Ensure Success From The Start With The Right Onboarding Solution!
Discover, choose and compare the top Employee Onboarding Software!
5. Compare Your Top 3 Choices To See How They Stack Up
Another perk of using an online LMS directory to vet employee onboarding software is comparing your top options. You're able to pick up to 3 platforms to review side-by-side. This covers everything from user satisfaction ratings to features. Then you can visit their websites directly or request a quote. This is a valuable tool if you're on the fence about which solution is best for your business. As you can get a detailed overview of the product's perks and shortcomings vs. the competition.
6. Visit The LMS Vendor's Site To Delve Deeper Into Their Background
Every directory listing features a link to the LMS vendor's site so that you can find more info if the summary has piqued your interest. In fact, once you've compiled a list of top contenders, you should consider a rapid round of vetting. This involves visiting their site, reviewing the company history, and possibly even reaching out. Contact them to see how quickly they respond and how they articulate themselves. A simple question will give you insight into their level of customer care and if they're willing to clarify your concerns. For instance, ask them about their pricing packages and how often they update the system. Or if their online training tool can integrate with your existing CRM and eLearning authoring tools.
7. Get A Free LMS Quote
You can also request a free LMS consultation to receive a shortlist of top solutions based on your requirements. It just takes a few minutes to fill out your basic information. Such as your estimated budget and industry. Then an LMS expert will create a targeted list of recommendations you can use to guide your directory search. For example, research the LMS suggestions to see if they check all your boxes, offer free trials, or offer the best pricing options.
The primary perk of using an online LMS directory to find the best employee onboarding software is digging deeper into the product's offerings. You get a general overview of their pricing options, support services, and other key factors, which saves you the time of having to conduct all the research on your own. You can even take it a step further by requesting a free LMS consultation to have a list compiled for you.
Learn the most common onboarding errors that may cost you your top talent, and tips to avoid this. Download the eBook New Hire Solutions For SMBs: Your Guide To Choosing The Best Employee Onboarding Software For Your Business Goals And Budget to check on the onboarding best practices when using a new employee training LMS, and much more.