The Whys And Hows Of Outsourcing Employee Wellness Programs
Businesses have been focusing on workplace wellness more and more in recent years, guided by the wants of their employees. As a result, employers are now investing in employee wellness programs to support their employees through everyday challenges and help them maintain their physical and mental health. However, designing, creating, and implementing a wellness course can be challenging. That said, should you consider outsourcing the whole project? In this article, we discuss what makes outsourcing a valid choice for your organization, and which steps you need to follow to find the right outsourcing partner for your business.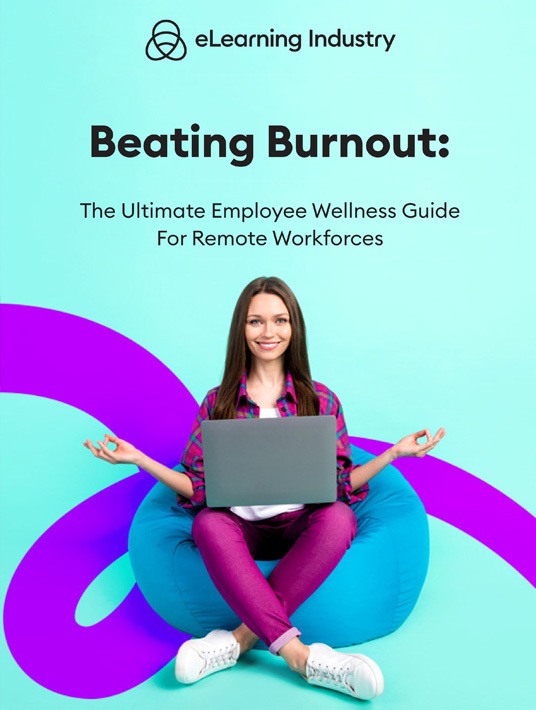 eBook Release
Beating Burnout: The Ultimate Employee Wellness Guide For Remote Workforces
Discover how remote working affects employee well-being as well as tips to beat burnout for your teams!
Why Outsource Your Employee Well-Being Course?
Many businesses worldwide choose to hire third-party vendors to handle various business procedures and, recently, employee benefits. But how do you know if that's the right choice for your business? Outsourcing versus creating a project in-house is a choice that each business approaches differently.
Consider the following points to decide which choice best meets the needs of your employees; firstly, if you run an SMB, you might find that you would have to use many of your internal resources to create a wellness program. However, outsourcing is significantly more cost-effective than hiring and training new staff. Additionally, many businesses turn to outsourcing partners for their unmatched expertise, which leads to faster and more long-lasting results. Finally, employees seem to trust outside providers more with their sensitive personal data. As a result, they are more likely to use their services and enjoy health benefits. In turn, this decreases healthcare costs for your company and increases ROI.
6 Steps To Choose The Right Vendor For Your Employee Wellness Program
In the dynamic market of today, it's crucial that you offer your employees benefits that promote their overall well-being on a personal and professional level. And as long as you find a good provider, it might be more beneficial for your business to outsource your employee wellness program instead of developing it in-house. Follow these 5 best practices that will help you hire the best outsourcing partner for your specific needs:
1. Define Your Goals
Before you contact or even search for any vendors, you must have a clear vision of your goals. What is lacking in your business in terms of employee well-being? What are you hoping to achieve through a collaboration with an outsourcing partner? Answering these questions will help you identify your gaps and expectations. This way, you'll know what specific services you're looking for in a potential vendor.
2. Consider Subject Matter Expertise
This is an important step in the hiring process, as it will help you narrow down your list. There are many sides to employee wellness, and you need someone who can cover those that are important to your business. For example, you might have already covered ergonomics and digital wellness, but now you need someone to create a mental health benefits program for your remote employees. Research potential vendor websites to gauge their technical expertise and experience in the matter to avoid paying for services you don't need.
3. Check Their Market Reputation
Even if outsourcing is a cost-effective solution, that is only true if you make the right choice. Although you can never know until you work with someone, it's very easy to check someone's reputation on the internet. You can use online directories, social media groups, or reviewing platforms to see their ratings and reviews from previous clients regarding their quality of work, communication skills, speed, etc. In any case, you should only hire an outsourcing partner if you're sure they are reliable.
4. Communicate Clearly About Τhe Budget
Cost is an issue that can make or break a collaboration, and as such, it should be discussed early on. In fact, before you approach a vendor, you must know how much you are willing to invest in your employee wellness program. Then, when you ask for an offer early in your communication, you'll know if they fit your budget or you need to look somewhere else. Bonus tip: always be prepared for extraordinary costs that may come up along the implementation process.
5. Choose A Flexible Partner
Flexibility is very important when choosing an outsourcing partner for your employee well-being program. Your needs might change after a few months, or an urgent issue might arise. Therefore, you want a vendor who can easily adapt to your requirements by adding or modifying services. In addition, you want them to be available to your employees at all times, even if they are in different time zones. This way, your staff will feel that they are getting the support they need to overcome any challenge.
Conclusion
With the needs of employees constantly evolving, well-being programs have become rather challenging for businesses. A way to reap all the benefits of an employee wellness program while keeping costs down and productivity high is outsourcing it to a third-party provider. Hopefully, the tips we have shared in this article helped you realize how outsourcing can benefit your company, as well as which steps to follow to hire the right outsourcing partner for your employee wellness program.
Download our eBook Beating Burnout: The Ultimate Employee Wellness Guide For Remote Workforces to support and nurture your teams from afar.