Using Mobile Apps For Text Analysis  
The latest report from Flurry says users spend much time with mobile apps while looking for some info or functions, trying to avoid a long search through mobile web browsers. And, in general, within the latest years we have witnessed an incredible increase in native apps usage. Taking into account this information, IT companies try to be in the swim, delivering top-notch custom apps, among which mobile apps for text analysis.
Indeed, this sort of apps is becoming more and more popular, as any person deals with great amounts of information, lacking time to read really long articles or 100-page documents. And such text analyzers seem to be the right hand, for example, for businessmen or students who certainly have to look through piles of papers.
Thus, let's highlight the top 8 mobile apps for text analysis, featuring their peculiarities.
1. Linguakit
Linguakit is an android app that gives a possibility not only to extract info, but to translate, conjugate, and analyze texts. Furthermore, the app supports a variety of languages and deals easily with hand-written documents. The developer offers to try full analysis for each module: Corrector, summarizer, sentiment analyzer, word frequency, keyword extractor, and others.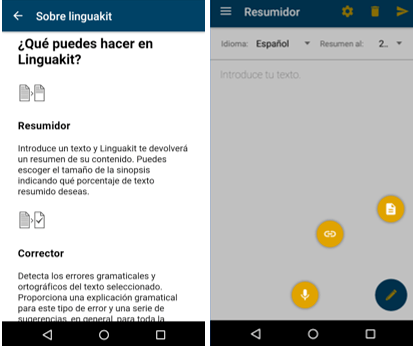 2. Conceptmeister 
Conceptmeister is the right fit for students who have to read large amounts of information, as this free app allows seizing core ideas from textual documents. To get a summary, you just need to upload a document, a webpage URL, or a picture. The high-quality analysis is guaranteed by linguistic API Intellexer. Among other features are language recognition and search history. Got interested and want to test the app for free without downloads? Try this demo version.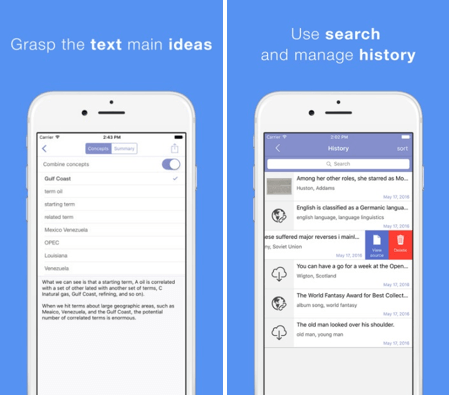 3. Quill 
The Quill app is available on Android and iPhone. It's an ideal match for those who are obliged to look thorough an array of texts. To save much time, suffice it to take a book page photo to make Quill summarize, analyze, and deliver all the main ideas and concepts.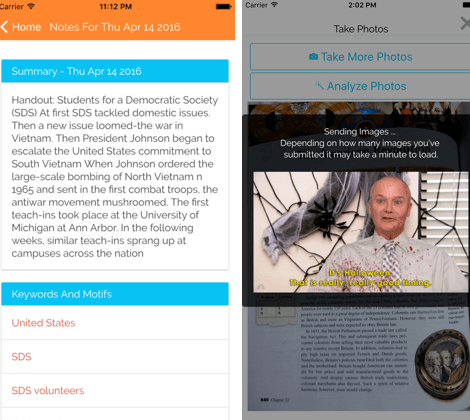 4. Textal 
Textal is a free app for analyzing websites documents and social networks streams. The app allows defining relationships between words via a cloud interface. The analysis results can be exported, shared via social media. Textal supports English, French, German, Italian, and Spanish. To check some users' reviews and learn more, visit iTunes store.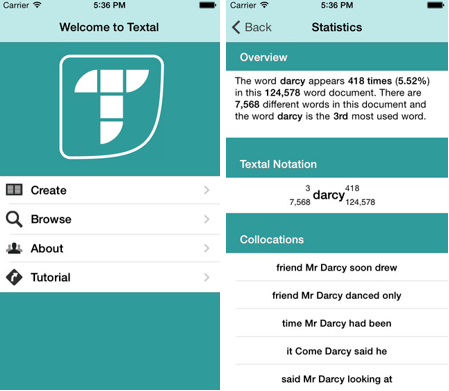 5. Squash 
Squash can be used for analyzing and recapping web pages, news pieces or scientific articles, social media and blog posts, emails. The app gets the main idea and comes up with an abstract the length of which you determine yourself (it may be 4 or 8 sentences). The obtained info can be sent via email or social networks. Squash carries out text analysis thanks to a combination of multivariate statistics and natural language processing. Other app's features are outlined here.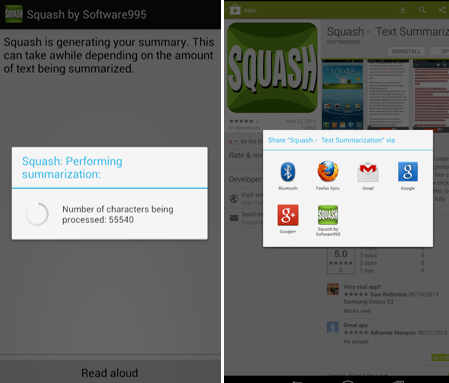 6. Laconic-Summary Maker
Laconic-Summary Maker shortens the relevant text and provides the general idea and key points thanks to extractive and abstractive summarization methods. With this app you will also obtain fast access to news and surveys summaries. The text for analysis can be copy-pasted from any web page or downloaded from your device. Moreover, the user will have a chance to share the generated synopsis.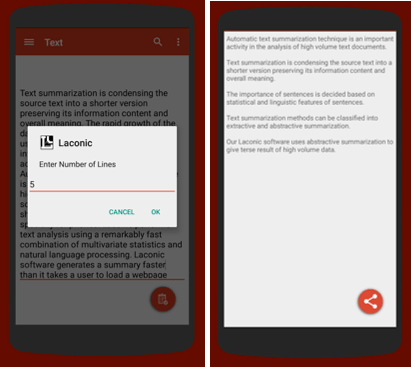 7. Smart OCR: Text Miner Pro
Smart OCR: Text Miner Pro is another app, concerned with text analysis. The program provides info recaps via processing images and pdf files, extracts the needed data from unstructured texts and web pages. To get use of Text Miner Pro, check the Google Play.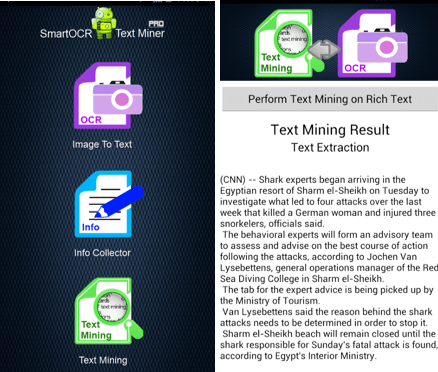 8. SumIt!
SumIt! is a free app for Android, perfect for students or somewhat lazy people who hate reading long articles or research pieces. It is easy in usage: Just adjust the necessary settings, get extracts, and share your run-downs with friends and colleagues.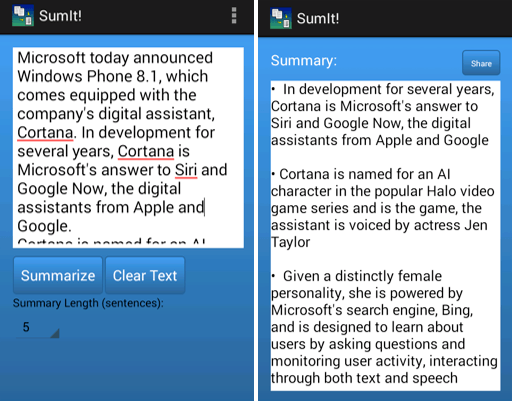 Conclusion
Each of the above mentioned apps has its distinguishing features, which will allow users to make the right choice based on his/her needs and objectives. But one thing is clear: Such mobile apps for text analysis will help get rid of a necessity to spend time in vain while reading and auditing enormous amounts of documents, reviews, news pieces, finance articles, etc.
Editor's Note: Are you looking for more mobile eLearning solutions and want to stay ahead of the curve? Everything you need is in our detailed list of Top Mobile Learning Platforms. There's a need for flexible learning options, and mobile platforms are becoming more popular than ever. But with so many choices out there, it's difficult to know which is best for you. That's why we've compiled a list of the best mobile learning platforms to help you find the one with your must-have features, compare user reviews, and gather other insights on the best platforms. Check out our top list now and take your learning to the next level.