Interactive PDFs: Can We Use Them As An eLearning Solution?
With an addition of 'i' factor to our favorite document format, iPDFs are gaining popularity as a quick and handy eLearning solution these days. A few years back, PDFs were used more for documentation purposes. However, with interactive PDFs in picture, eLearning industry is witnessing a remarkable increase in demand for this innovative learning solution. How and why should you use an interactive PDF as an eLearning solution? Which type of interactions are possible? When do you create an interactive PDF? Where do you deploy it? Which eLearning requirement is suitable for iPDFs? Let's explore answers to these questions.
What Is An Interactive PDF?
Interactive PDFs are a power-packed version that have evolved from the Portable Document Format. Earlier versions of PDFs only allowed you to bookmark pages and jump to a particular section in the document using a table of contents. However, interactive PDFs provide a basic level of interactivities that allow Instructional Designers to chunk content in a meaningful way and provide learning guidance to learners.
iPDFs are adaptive in nature and hence are mobile and iPad friendly. You can use them as just-in-time learning or circulate them as communication segments. In fact, interactive PDFs are quite in demand these days instead of basic level 1 WBT (Web-Based Training). They score above basic WBTs as they are a great medium to:
Create awareness about content and provide basic information about it.
Provide sufficient interactivity for a better learning experience than traditional PDFs.
Provide ease of access from a portal or in email, thus minimizing the pain of uploading and maintaining WBTs.
Interactions Within Interactive PDFs
You can create all types of click and learn interactivities within an iPDF. Here is a list of interactive elements that can be build:
Click and reveal.
Pop-ups.
Tabs.
Tooltips.
Type-in textboxes.
Dropdowns.
Animations.
It is all up to your creativity and ability to use these optimally and in a variety of ways.
Embedding video clips or GIFs to your interactive PDF, adds a sense of movement and an element of spice. Ability to insert knowledge check questions with generic feedback adds to the learning appeal of interactive PDFs.
Instructional Design And Interactive PDFs
Developers can use a combination of various Instructional Design theories and models to chunk and present the content in an instructional and engaging way.
A good study of the audience and the exact requirement, helps Instructional Designers to design an interactive PDF that matches its objectives. Just like in Web-Based-Training, one can devise various strategies to catch the learners' attention, establish relevance, build confidence, and provide learning satisfaction to the learners.
Similarly, you can experiment with possible content design layouts. Here are a couple of examples.
1. WBT-Style.
With "back" and "next" buttons, the overall feel is closer to a WBT.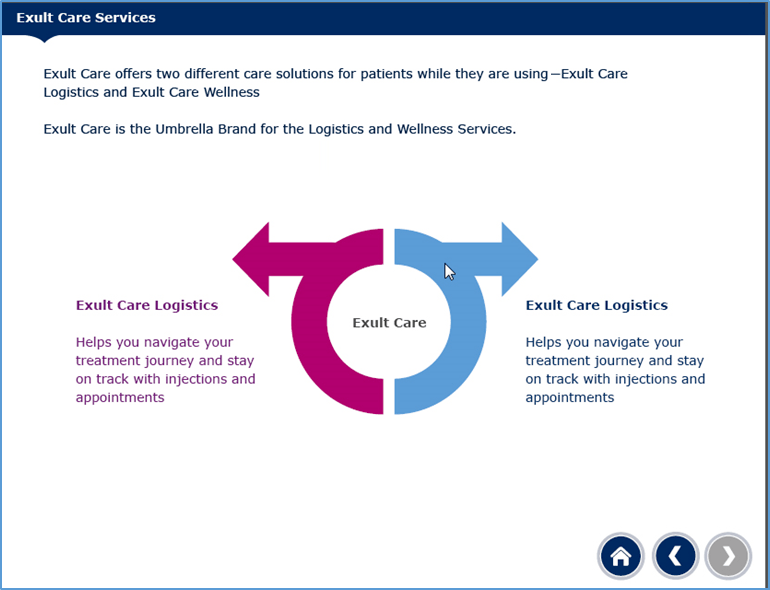 WBT Style
2. Menu-Driven.
A full-fledged interactive PDF probably without "back" and "next" buttons, where all interactivity is menu-driven.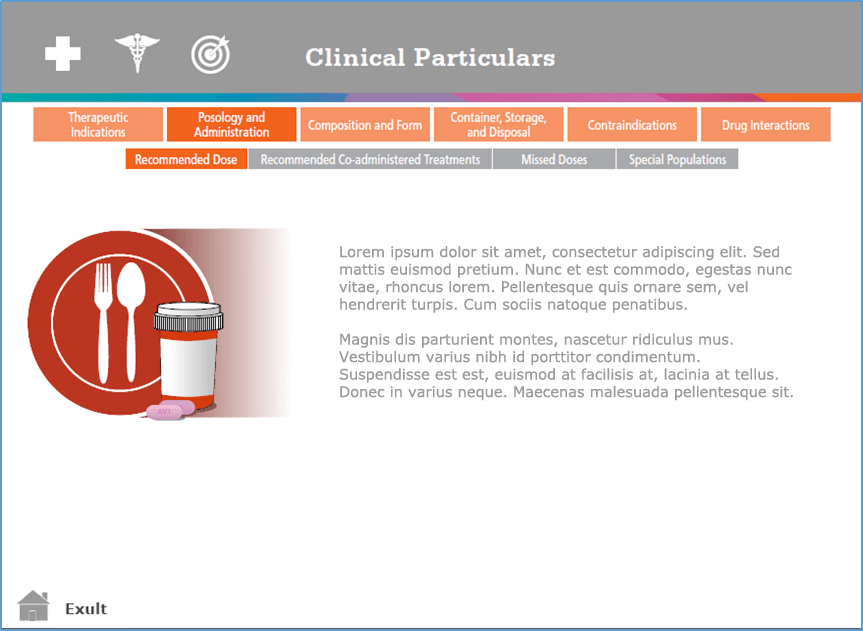 Menu-driven iPDF
Are Basic WBTs And iPDFs Just The Same?
The most prominent difference between a page-turner WBT and interactive PDF is the freedom from dependency on a Learning Management System or SharePoint. Of course, if you have a SharePoint portal, you can use it to share interactive PDFs. However, an iPDF can also be easily circulated over mail.
On the flip side, you cannot achieve VO-syncing and special animation effects, which provide an enhanced learning experience to address a variety of learning needs.
Tracking learner progress and assessment score also does not fit within the scope of interactive PDFs; however, you can always host a separate assessment module on the Learning Management System, depending on your requirement.
The strength of an interactive PDF lies in chunking content effectively and presenting it using the right interactivities and graphics.
When To Use Interactive PDFs As A Learning Solution?
There are a number of reasons why one would want to create an iPDF as a eLearning solution. Here are a few instances:
When your objective is to create awareness and not to build skills and competency.
When you don't want any LMS-dependency and have not requirement for scored assessment.
When you looking for a refresher training and not a detailed one.
When you want to share crisp information with senior leadership who are busy round the clock.
When you have a highly motivated group of learners who are interested in learning the new thing.
When you need a quick communication slice within a short timeframe.
Summary
Successful deployment of iPDFs on various available platforms demands accurate settings and thorough testing. Moreover, it is also important that the content is presented keeping in mind the exact learning needs. With all these requirements addressed and tested appropriately, interactive PDFs can prove to be quick, handy, and engaging medium to share information and facilitate learning.