How Cost-Effective Is Virtual Training?
Most of you must be wondering if your training department is ready for VILT. Before training departments can make the move from traditional, in-person training to Virtual Instructor-Led Training (VILT), they need to understand the virtual classroom. It is vital that they learn the value of virtual training and how this type of training actually works.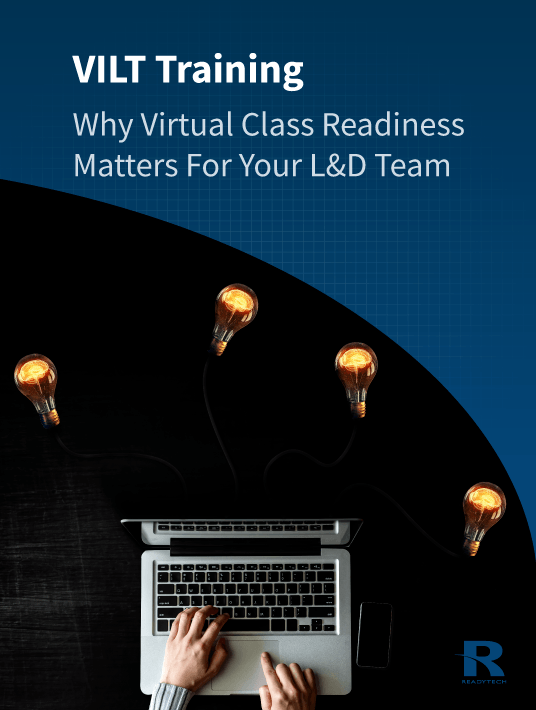 eBook Release
VILT: Why Virtual Class Readiness Matters For Your L&D Team
Learn if your business is ready to implement VILT and how it can help your L&D achieve efficient training delivery.
Moving From Traditional Training To VILT
Online training gives students the freedom to learn where it's convenient for them. It also makes learning accessible to all customers, employees, and partners. However, making the move from traditional, in-person training to virtual training is considered a daunting task by some training departments. There's educating key stakeholders on how the virtual classroom works, demonstrating the cost savings and value, and choosing vendors. In addition, there's managing the actual class delivery, from the technical aspects of training sessions to instructor preparation, support, material distribution, and contingency plans.
But the move to virtual training is actually quite simple. How do you know if your organization is ready for this type of change? This eBook will give you insight into your organization's virtual training readiness and help you manage the transition to virtual training.
Differences Between Virtual Training And Webinars
Confusing webinars with virtual training is common. However, they are two completely different platforms with different uses. The term webinar comes from a combination of the words web (online via the computer) and seminar (a lecture/training format). A webinar is a type of web conference that is typically one-way communication.
While polling participation can be integrated into webinars to allow for remote audience participation, speakers typically talk to an audience with limited audience interaction. The main difference between the two platforms is that webinars typically share ideas and experiences or promote a speaker, while virtual classrooms facilitate learning and have the option for hands-on exercises (known as virtual training labs).
With virtual training labs, students can learn how to use your software in a real-life environment, which drastically improves the learning results for students. For example, virtual training tools allow instructors to see a student's screen and provide them with step-by-step guidance. These tools, such as screen sharing, private/public chat, and whiteboard, give instructors complete oversight and control over the students' learning experience.
Additionally, virtual training software is typically built especially for training organizations, so they understand the unique needs of training departments. For example, some vendors offer 24/7 support to students and instructors, ensuring that classes start on time and that training departments run efficiently.
Why VILT Is A Good Return On Investment
Here's the big question: Will your organization experience cost savings from switching to virtual training? The answer is YES! Cost savings is a powerful motivation for companies to switch to virtual training. The bottom line is that VILT is cost-effective compared to in-person, traditional training. VILT not only reduces travel expenses but also decreases the money spent on learning materials and training venues.
Training departments that offer VILT don't need to invest in the real estate footprint of training classrooms, the IT staff to set up training labs, or the administrative staff for scheduling students. Virtual training increases the reach of your training department for several reasons.
Switching To Virtual Training Is Cost-Effective
First, online platforms have no limitation on the number of courses that can be taught at any given time (unlike brick-and-mortar training facilities that have physical space limitations). Second, students can attend a class from anywhere with an internet connection (unlike brick-and-mortar facilities that have geographic limitations). And finally, VILT increases student reach by lowering the cost to attend the class (unlike brick-and-mortar training that imposes a requirement to travel to a physical training facility).
It is important to note that while virtual training is cost-effective in most scenarios, there are times when this training will not lead to savings. For example, if a training department only sends one instructor to a nearby student location (therefore not requiring any travel or hotel expenses), VILT will not lead to any cost savings.
We've gathered some statistics to back it up:
56% of studies found that students were more satisfied with online vs. in-person training
30-70% is the average companies save when they switch to online training
63% of companies use"blended learning" as their primary training approach
If you are you receiving pressure from management to lower your traditional, in-person training expenses, that's a good start. It means your management is ready to hear about a lower-cost training option. This is exactly why VILT is a good value for money option.
Virtual Training Learning Experience Is Effective
Virtual students learn better than in-person students. When compared to in-person training, VILT provides the same content, same instructors, same learning experience and the same learning results and productivity gains. In fact, a U.S. Department of Education study of online learning found that learning outcomes for students who engaged in online learning exceeded those of students receiving face-to-face instruction.
So, What's The Difference?
Virtual training provides a more convenient delivery format. It also allows employees to schedule training around other priorities and get training without being away from work. The latter improves their lifestyle and reduces "wear and tear" from traveling.
Virtual Training Lowers Training Expenses
In conclusion, virtual training provides significant cost savings. In fact, companies can save between $9,550 and $15,870 by moving one course from a traditional classroom to VILT. This includes costs related to technology, travel, and transportation, as well as productivity loss experienced by students taking time away from work.
Compared to traditional face-to-face or classroom-style training, VILT is substantially more cost-efficient. The cost differences are greatest when multiple students and multiple instructors are traveling to a training location (where more travel is required). The same goes for mid-level and senior-level staff (where the cost of lost productivity is highest). The bottom line is that VILT clearly equates to substantial cost savings for companies. Have you been considering your big move to VILT? Not sure if your training department is ready for virtual training? This eBook VILT: Why Virtual Class Readiness Matters For Your L&D Team will give you more insight.