Does Your LMS Fulfill Your Business Goals? How To Measure Your LMS Reliability
Companies invest in Learning Management Systems to give their employees easy access to online training materials and improve workplace productivity. However, the ultimate goal is to transform their L&D program into a lean, mean goal-achievement machine. Every online training activity, module, and "moment of need" resource is intended to support the desired behaviors and outcomes. However, a system that falls short on usability and accessibility may be working against your company's objectives. Not to mention, it's bottom line. Here are 7 tips to measure your LMS reliability and UX to see if meets your team's needs and fulfills your business goals.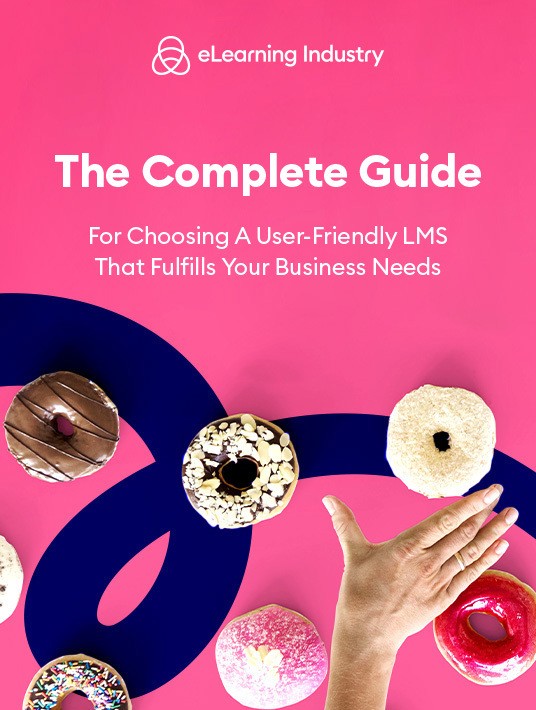 eBook Release
The Complete Guide For Choosing A User-Friendly LMS That Fulfills Your Business Needs
Discover the importance of the Net Promoter Score, how to use LMS user reviews & ratings to find the ideal LMS, the importance of LMS Perceived usefulness and its impact on work performance and L&D ROI.
1. Conduct Evaluation Workshops With Your Admins To Identify UX Sticking Points Throughout Their Workflow
Chances are, your admins already know what they don't like about the current LMS. Particularly regarding the usability, User Interface, and accessibility of the platform. They've worked with the system every day, which means they can give you the inside UX scoop. You can organize co-design and evaluation workshops to discover and highlight the sticking points in the LMS User Experience that tend to interrupt their workflow. Such as navigation issues that prevent them from viewing vital LMS reports or modifying online training content, or the fact that they can't pin important functions to the dashboard for quick access.
2. Evaluate Learner Data To Identify Undisclosed Pain Points
LMS reports give you the ability to track every step online learners make in order to identify undisclosed UX pain points and LMS reliability issues. For instance, employees take longer than expected to complete the health and safety compliance online training module. You could conduct surveys and observations through usability tests to reveal that the navigation controls are the root of the problem. Or maybe a complicated UI that requires more advanced tech experience. As a result, the LMS reports helped you discover that the system is actually hindering employee engagement and knowledge retention, thereby preventing you from realizing your business goals and objectives.
3. Weigh LMS Metrics Against Sales Stats And Customer Satisfaction Ratings
Business reports can help you shed light on UX issues, especially when you weigh them against LMS metrics. For example, your customer satisfaction stats have been steadily declining since you implemented the new online training program. You trace this back to low participation scores in the LMS among your  customer service team. LMS user satisfaction surveys reveal that they are finding the UI difficult to use and have trouble with the navigation controls. This back-tracking approach allows you to determine which aspects of the User Experience are lacking based on business reports and other external KPIs.
4. Use Gamification To Identify Problems Related To UX
Gamification isn't just a fun and engaging way to improve employee motivation. It can also help you monitor the User Experience and gather valuable feedback. For example, you award your employees a badge every time they complete an online training activity. But your most recent LMS reports reveal that only a small percentage have achieved their sales training simulation badge. After a closer inspection, you learn that it's not an issue with the content quality or real-world applicability. Instead, users are finding it difficult to access the simulation on their mobile devices, which boils down to the LMS User Experience.
5. Perform A Tree Testing To Check The Quality Of Information Architecture
Tree testing is a usability technique for evaluating the findability of topics in the platform and LMS reliability. It is also known as "reverse card sorting" or "card-based classification". Tree testing is performed on a simplified text version of the platform structure without the influence of navigation aids and visual design. After performing tree testing you can answer important questions, such as if certain labels make sense to your online learners and other types of LMS users, if the online training content is grouped logically, and if online learners can find the information they want easily and quickly.
6. Use Instruments Like SUS With Usability Testing
It's also wise to use validated data collection instruments e.g. standardized usability scales like System Usability Scale (SUS) after performing usability tests. The SUS helps you quantify the perceived User Experience and results are presented with a score between 1 and 100. It involves 10 easy questions that participants must answer using a 5-point scale, from "strongly agree" to "strongly disagree". Here are the authentic questions:
I think that I would like to use this system frequently.
I found the system unnecessarily complex.
I thought the system was easy to use.
I think that I would need the support of a technical person to be able to use this system.
I found the various functions in this system were well integrated.
I thought there was too much inconsistency in this system.
I would imagine that most people would learn to use this system very quickly.
I found the system very cumbersome to use.
I felt very confident using the system.
I needed to learn a lot of things before I could get going with this system.
7. Perform Expert-Based Reviews And Heuristic Evaluations
An alternative way to identify LMS reliability and usability problems, and evaluate UX is to perform heuristic evaluation or UX expert reviews. A UX expert review is an analytic method by which one UX expert or multiple evaluators independently examine an interface against a set of principles and rules, called heuristics. Although this is NOT a substitute for doing a full usability test, it is still a quick and effective method to assess and evaluate LMS UX quality quite early in the development process and quite often without the involvement of real users.
Does your current LMS pass the test, or is it time to look for a new system that can deliver a better User Experience? Finding a replacement can be a daunting task, especially since there are so many solutions to choose from. However, an online LMS directory is a great place to start your search.
Are you in search of an LMS that offers the best LMS User Experience at a price you can afford? Download our free The Complete Guide For Choosing A User-Friendly LMS That Fulfills Your Business Needs to learn everything you need to know to find a well designed and usable LMS that fulfills your business needs. It also features tips to improve the LMS User Experience for your corporate learners and explores the ways that you can evaluate the LMS User Interface during your free trial or demo.