Discussing What Augmented Reality Training Is
What is Augmented Reality training? To understand that, we first need to look at Augmented Reality (AR) in a broader sense, as it relates to other emerging technologies you may have heard about. Although it's often compared to Virtual Reality (VR), AR differs from VR in several key aspects. "AR allows the user to see the real world, with virtual objects superimposed upon or composited with the real world," says Dr. Ronald Azuma [1]. "With AR, users are interacting with on-screen digital objects, which are positioned over a live camera display of the physical world." VR is an entirely digital environment. AR, on the other hand, mixes the real world with digitally enhanced information. "VR views the physical world as a distraction, whereas AR views the physical world as an asset," says Dan White, CEO of Filament Games [2]. AR is quickly becoming an alternative technology for training programs, and AR training allows users to learn and practice skills in realistic settings.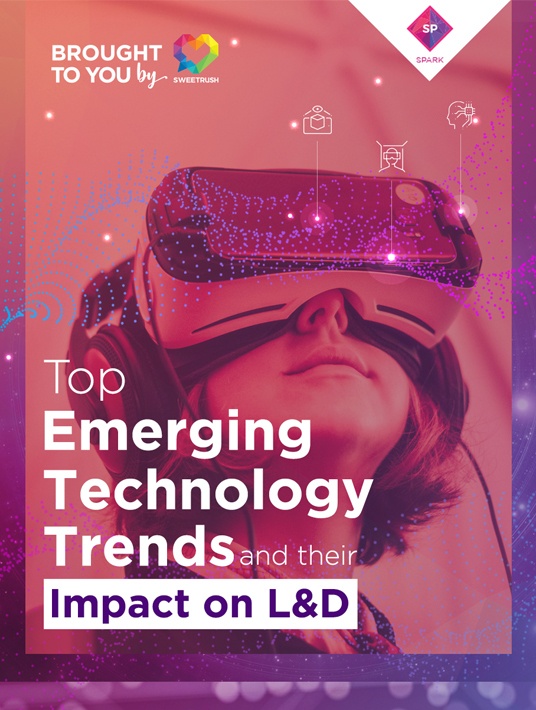 eBook Release
Top Emerging Technology Trends And Their Impact On L&D
Discover the benefits of incorporating emerging technologies in your Learning and Development programs.
What Augmented Reality Training Brings To The Table
AR enhances traditional learning by superimposing digital information and the real world, enhancing what we see, and offering additional information for better comprehension. "It gives us an opportunity to take something that might be stale and dry, and bring it to life," says Justin Mitchell, a Creative Engineer at SweetRush. "It's the difference between looking at a statue in a textbook and looking at it right in front of you, appreciating all the details, and understanding what it would look like in real life." As technology-assisted learning progresses toward point-of-need visual learning in real time, AR is quickly becoming an intriguing option for learning experiences. With AR, retail employees can simply point their phones at the product they need to sell and receive immediate training specific to the job at hand. "Augmented Reality training means utilizing AR to explain, enhance, or tell a story around existing data or information," Mitchell says. "By overlaying information on top of preexisting data, we can create an experience that elevates how people learn."
"This can happen today, without the need for any wearables—a smartphone is all you need," says Tushar Sharma of Blippar [3], an AR developer. "Using AR, employers can provide easily accessible on-demand information anywhere in the workplace."
Some Good Uses For Augmented Reality Training
When you develop a tech-driven learning program, it's essential to pick the right technology for the right reasons. Here are some of the best reasons for using Augmented Reality training, and the ideal situations in which to use it:
New Hire Onboarding
Imagine this is your first day at a new job. Instead of waiting for someone to guide you through your onboarding process, you can go around the office and scan AR symbols with your phone. Immediately, you get all the information you need about a specific area, or you get instructions for performing your new tasks. On the company level, an AR program can provide new talent with information distributed throughout the organization. For example, an automated orientation experience would allow newcomers to explore and learn information as they settle in their new position, speeding up the process and giving learners point-of-need training.
Performance Support
Performing surgery is rife with risk. What if surgeons – especially those with less experience – could wear protective glasses that streamed real-time data to guide them through the procedure? What if factory workers could receive instructions on operating a piece of heavy machinery while they were at the controls? Overlaying digital information on the physical space can help guide learners through these processes. "Traditionally, workers are supported with laminated job aids for tasks and functions seldom performed. AR aids can be placed on equipment for this function to enable workers with immediate guidance on the task," writes Alexander Salas [1], eLearning developer.
Enhancing Traditional Learning Modalities
"Imagine placing your phone on top of a textbook and having videos pop up for each section. Imagine you could get the definition for new terms in real time," Mitchell says. AR training can bring new life to already well-established learning methodologies, making them much more engaging. For example, the facilitator of an Instructor-Led Training course may ask learners to move around the classroom and gather information by scanning AR symbols with their phones.
Expect More Augmented Reality
AR is on the rise. According to Statista [4], AR users increased from 60 million in 2013 to 200 million in 2018, and that number is expected to continue to grow. Plus, a March 2018 report by Perkins Coie [5] revealed that education was one of the sectors (along with gaming and health care) expected to attract the most AR/VR-related investment over the next 12 months. "I think we can expect a lot from this technology," says Adrian Soto, Director of Future Technologies at SweetRush SPARK. "As Apple and Android make their phones ready for it and bring AR to the mainstream, developing AR projects is going to become far more cost effective and a lot more accessible to the audience."
***
Although AR may not be as popular as VR right now, it's already turning heads in the field of Learning and Development (L&D). As our experts say, we should expect AR to become even easier to develop and implement, and even more accessible for learning audiences. Stay tuned for more on Augmented Reality training and its influence on the L&D field from the SPARK team at SweetRush.
Download the eBook Top Emerging Technology Trends And Their Impact On L&D to see how the emergence of virtual reality and augmented reality can open up new ways of working for L&D professionals. Learn why they are new powerful tools in teaching and affecting behavioral change and how they can help you achieve your business objectives.
If you want to discover more fantastic features you need to implement Virtual Reality in your organization, check out the webinar Virtual Reality: Real-World Hilton/SweetRush Project Case Studies. It is brought to you by SweetRush and teaches everything you need to know to run an exceptional VR learning program.
References:

SweetRush
Our job is to help you achieve your objectives and be successful. Engage us at any point, from analysis to custom development (including e-learning, mobile, gamification, and ILT) to evaluation.