Understanding Social And Emotional Learning
Social and Emotional Learning is a core part of how we develop as humans. It's the process through which we acquire and apply knowledge, skills and attitudes, it's how we drive towards our goals and make decisions. In the context of workplace learning, it means creating environments of trust, meaningful programmes of instruction and learning, and ongoing evaluation and improvement.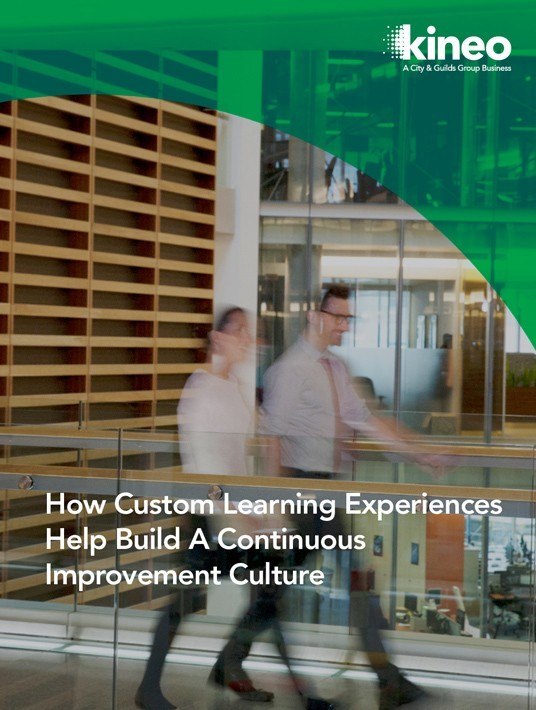 eBook Release
How Custom Learning Experiences Help Build A Continuous Improvement Culture
Discover how to support and develop a continuous improvement culture with custom learning.
What Is Social And Emotional Learning?
"The benefits of involving people are manifest. Involved employees are more likely to bring discretionary energy to their work. In doing so, they ignite the energy of their colleagues. They are more likely to be creative and try new things. They are more likely to grow themselves and the business in tandem."
-Brand Learning: Growth Drivers
1. Helps To Create Workplace Identity
Organisations need to provide a clear identity for people to connect with and feel part of in their social and emotional learning strategy. Work with business leaders to identify a clear internal brand and set of values that tell a story and that people can engage with. You can then build this 'humanised' brand and sense of 'us' into your learning materials.
But to genuinely engage employees with brand 'us', you need to go a lot further than the familiar story of creating values and 'telling' employees about them, over and over, through message-aligned learning materials. Consider how you can involve employees in the creation of the values through grassroots movements, social media involvement, curation or competitions; and then how you will keep these values alive and kicking as something that belongs to employees. If you value empowering and listening to employees – do it!
2. Develops Skills You Need To Lead
SEL competencies are often directly mapped to the skills employers identify as those they want in leaders and managers within their organizations. The ability to work in a team structure, solve problems and make decisions, communicate effectively and plan, organize and prioritize are all directly related to social and emotional learning competencies. These so-called 'soft skills' are effectively developed using learning platforms that collate and curate resources learners can 'pull' as they need them, rather than or in combination with more structured 'push' programmes.
3. Engages Learners Where They Live
Don't rock up to the party and try to make it your own. If there's a popular network already being used by employees to help each other, informally, don't break it by formalising it. In fact, if it works, perhaps leave it be or at least respect that it's an informal space.
Don't try to steal the crowds just because you've made something new. Is there already a popular network already being used for informal and formal learning? Consider if it's best to ride the wave rather than start something.
If you set up a new social venue, don't sit back and wait for the crowds. Consider a campaign to advertise and drive traffic to the virtual hang-out space. Of course, there should be some core champions showing how it can be done. Help get conversation going, at least at the start. A major benefit of virtual social learning spaces for L&D is that you can keep track of what's hot and what's not, and use the insights to shape what you do next. It's also a chance for you to be open and share what you're trying, and why, and seek feedback.
Conclusion
Creating a cohesive workplace identity and honing internal skills are just some of the benefits of social and emotional learning. You also have the opportunity to truly engage remote employees and make L&D more informal. You don't necessarily need to re-invent the wheel. In fact, you can use already existing platforms to kick-start your strategy. Better still, set up your own social learning spaces to enhance the online training benefits.
How do you get employee buy-in and make ongoing development a core company value? What's the best way to redefine your performance management process in times of flux? Download the eBook How Custom Learning Experiences Help Build A Continuous Improvement Culture to find out how bespoke eLearning experiences can help fuel business growth and achieve your organizational goals.