6 Ways Guest Blogging Can Benefit Your Business
Businesses often hesitate to share their expertise outside of their platform for fear of their ideas being stolen or some other website getting all credit for their hard-earned industry expertise. But even if you work on your SEO, who can guarantee that readers will actually find your website? Guest blogging, on the other hand, helps you reach a wider audience and utilize an already established website's reputation. Let's see what you gain by guest blogging and what are the basics of writing a guest post.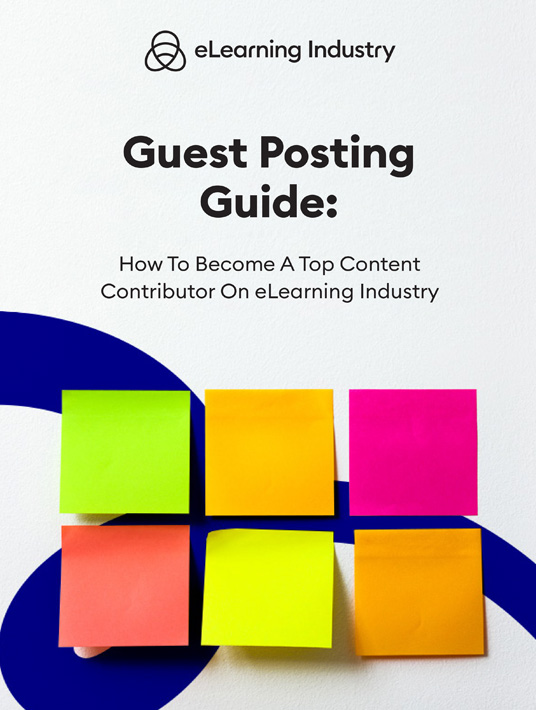 eBook Release
Guest Posting Guide: How To Become A Top Content Contributor On eLearning Industry
Discover what you gain by guest blogging and what are the basics of writing a guest post for eLearning Industry.
Why Insider Experts Should Guest Blog On eLearning Industry
When you're already working hard on your professional blog, it might seem counterintuitive to spend time writing for another website. Why would you share your expertise and impart your secrets if it doesn't enhance the visibility of your platform? But things are not quite like that. In the rapidly growing world of digital marketing, guest blogging has become a trusted technique. Here are a few key benefits of becoming a guest author for eLearning Industry.
1. Enhance Your Online Presence
The most important benefit of guest blogging is that it helps you build your online presence. Competition can be fierce nowadays, and improving your online visibility is a safe way to stand out from the crowd. When you guest blog, you no longer write just for the visitors of your website but the large audience of the guest posting site. Regular posts put you on the radar of people who are already looking for engaging content in your subject matter. Not to mention the informative backlinks, targeted keywords, and enhanced SEO that allow you to rise to the top of the SERPs and increase visits to your website.
2. Reach A Wider Audience
To increase your sales and attract more leads, you need to cast the net as wide as possible, and only uploading content on your company website is not enough. On the other hand, guest blogging allows you to address a significantly wider audience. Hundreds of thousands of professionals that previously had next to no access to your content are now seeing it on a trusted platform. Some sites even upload guest posts on their social media pages to target those who don't check the website as often. Social media allows you to interact directly with readers via comments and direct messaging. In addition, it facilitates the engagement monitoring of your post through likes and shares.
3. Build Your Brand Reputation
Nowadays, online marketing depends on industry authority. Producing high-quality, informative content for a credible and reputable website boosts your brand awareness and credibility. Professionals and other individuals interested in your niche get a chance to read your posts and are more likely to trust your content, driven by the fact that a website they already know and trust is hosting your article. This can work wonders on your reputation. In addition, if a reader has enjoyed your post, they can easily click on your author's profile to learn more about your business. Before you know it, your brand will become well-known in the industry, and the stats on your website will rocket.
4. Become An Industry Thought Leader
An industry authority is the business everyone turns to when they are looking for innovation. When new trends immerge or misinformation spreads, you want to be the person who can offer valuable insight and accurate information. In other words, you want to establish yourself as a thought leader in your industry. As you guest blog on other platforms, your brand awareness slowly—but steadily—increases, which in turn makes readers trust and respect you. As long as you create content that is based on facts and your experience, and you don't overly promote your products, you'll gain a faithful following and increase your clientele.
5. Improve SEO
Guest blogging is a great SEO strategy that can benefit your website greatly. Even if you have already researched which keywords generate more traffic and use them in your articles, you'll notice a great difference once you start guest posting. Firstly, when your content is featured on multiple platforms, it appears higher on SERPs. Moreover, visitors are more likely to click on your article because a specialized platform they already recognize is hosting it. As you create more SEO-friendly guest posts, your visibility and network grow.
6. Stand Out From Competition
There are countless eLearning businesses, and many of them create and promote their own content. But how are you supposed to stand out if your competitors are also guest posting to increase brand awareness? Ultimately, your consistency and quality of content are what will put you on the top picks of the guest posting sites and on the industry's radar. Make sure your posts aren't repetitive or riddled with keywords, and readers will come to recognize and even await your posts. When the audience develops familiarity and trust with your brand, it's significantly more inclined to choose you over your competitors.
Dos And Don'ts Of Writing An eLI Guest Post
Over the years, many professionals have used guest blogging to build their network and boost their website traffic. Its evident effectiveness has led many others to join in without really knowing how to do it right. Therefore, if you don't want to go through the effort of creating content—for the eLI website or any other—only to be rejected, stick around to find out the most important dos and don'ts of guest posting.
DO Read Posts From The Blog Before You Submit Your Own
Relevance is crucial when choosing a guest posting website to submit your content. Instead of sending your posts to the first sites you come across, do your research and discover a site that is relevant to your content. Make sure to read some of the published posts. What's the reading level, word count, tone? Most websites provide publishing guidelines. Read them closely and follow them.
DO Establish A Relationship
Although this isn't necessary, your chances of getting your post approved might increase if the webmaster is already familiar with you. Your connection could be formed through engagement with their blog (e.g., commenting on other posts or linking the blog on your social media). You could even research a little further and send a tailored email explaining what draws you to their website.
DON'T Ask For Directions
While it's good to communicate with the guest posting website of your choice, you shouldn't email them asking for directions as to what you should write. Instead, do your research and provide some topic ideas. In all likelihood, they will let you know if your choices are good and even offer more suitable alternatives.
DO Write Posts About Things You're Well-Versed At
Regardless of what is currently trending, you must remember to stick to what you do best. If you try to write a guest blog on something you don't know much about, chances are the editors will spot your lack of thorough knowledge and reject it. If you want to jump on a trend outside of your niche, find a way to make it relevant.
DON'T Be Repetitive
Don't send a post about a topic that has been overdone and is everywhere on the internet. Webmasters are looking to publish original and captivating content, and they won't be interested in a topic that is all over the SERPs. That extends to plagiarizing other people's content, which no website will accept. In addition, aiming for an overused keyword impacts your SEO negatively, as you will get lost in a sea of results.
DON'T Add Promotional Links
If you're hoping to fill your post with links to your website, landing page, or a sales pitch, think again. Most guest posting websites don't allow promotional links and backlinks to sales funnels and gated assets. We know that you're aiming for brand exposure, but you must be subtle. Create engaging content and save your links to your website for your author's profile.
DO Add Informative Links
Promotional links might be a no-go, but you can add informative links to your post. Specifically, your post might contain links to relevant, informative articles on your blog/website. Also, if you have organized a webinar on the eLearning Industry site, you can link to that. This way, you further support your content and build rapport with your readers.
DO Write Quality Content
If you want to have any chance of publishing your content, it must be of high quality. Such websites receive a large number of posts daily and won't approve a poorly written guest post. Therefore, make sure to create enticing content and, most importantly, proofread it. The grammar, syntax, and overall flow of the article are entirely your responsibility.
DON'T Send The Exact Same Post To Multiple Blogs
This is an important detail. Blog editors want to publish original content, not reposts from other websites. If you want to send your content to multiple guest posting sites to ensure that your brand gets established in the industry, you must make changes. For example, you can take a "top tips" article and turn it into a question form.
DO Create A Quality Website Of Your Own
We've mentioned backlinks to your website a few times in this article. But if you don't have a site, what can you link back to? Therefore, create a professional website for your business and make it presentable. Keep in mind that all guest posting links must be informative. So, populate your site with valuable articles, blog posts, and guides. Usually, webmasters inspect a potential guest author's website before they approve their content.
Conclusion
Following these tips will help you create content that is informative and engaging. This way, it will be easier to publish your posts on reputable websites and slowly build your reputation. Guest blogging streamlines network building, boosts website traffic, and increases sales. If you want your business to enjoy these benefits, it's time to get to writing!
Download our eBook Guest Posting Guide: How To Become A Top Content Contributor On eLearning Industry to learn what you can gain by guest blogging and what are the basics of writing a guest post for eLearning Industry.