How eLearning Can Benefit Your Industry
With everything going digital, education is not lagging behind as students enjoy personalized learning and eLearning. The recent pandemic has abruptly shifted billions of students out of their classrooms and triggered an interest in eLearning. Even schools are embracing online learning techniques and keeping up with changing times.
eLearning engages and moves toward more interesting formats, depending on the latest technologies, such as gamification and Augmented Reality (AR)/Virtual Reality (VR) to hold learners' interest. In this article, we will see some unexpected developments in the eLearning sector.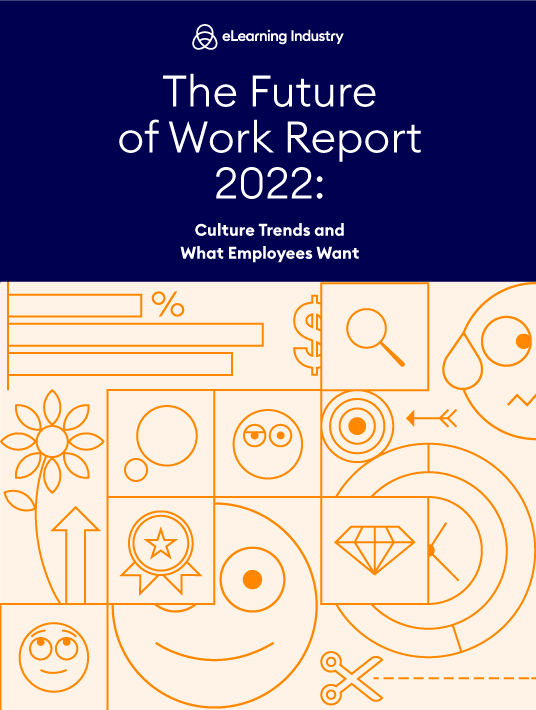 eBook Release
The Future Of Work Survey: Culture Trends And What Employees Want
Is your business out of touch with what employees want? Dive into this report and discover how you can create a great workplace!
What Is eLearning?
eLearning is a simple form of education that encourages learners to learn anywhere. It helps to gain complete knowledge with the help of the latest technologies. It is also understood as distance learning, online learning, or internet learning that suits everyone. Online learning is helpful for students and professionals who want to acquire diverse skills with customized learning.
eLearning comes with various advantages for educators and learners, requiring only a computer or a mobile device and an internet connection. Anyone can buy a course that interests them and study it from their remote location. This has also enabled individuals to pursue, receive, and impart knowledge effectively at minimal expense.
The Advantages Of Online Learning
eLearning includes all the advantages of the comparatively new form of education known as distance learning. There are multiple advantages of being able to learn from anywhere, where students also have:
Flexibility with regard to timings
Access to a variety of courses
No transport hassles
Can learn at their own pace
Lower costs
Education to date followed a system that had been in use for decades, but with the pandemic people started adopting new learning methods. Studying with eLearning is rapidly becoming the prevalent means to transmit knowledge to people of all ages. Here are the top eight reasons that indicate the future of education is eLearning. For those professors, parents, teachers, students, and administrators looking to make a smart investment in the future of education, this article will help you make smart decisions.
Reasons Why eLearning Is The Future Of Education
1. Adaptive Learning
Adaptive education is a learning style where resources and all assignments are customized as per the student's needs. With eLearning software the performance of adaptive learning is mainly accomplished by selected algorithms and reviews. As eLearning continues to grow and keep learners' interest, this new concept will help students learn new things, while offering them the personalization of courses that they want.
2. Social Learning
We have heard of and used social media, and social learning takes its base components of human interaction, including group dynamics and modern technologies, to make education easy and keep learners engaged. Unlike classroom teaching, social learning is all about technology, learning with videos, and reading books. It is more efficient, productive, and straightforward.
Social learning apps have been developed that are loved by users. An eLearning app development company will understand your requirements and offer excellent and well-designed online education software. Some well-known online education software development companies understand students' needs while keeping business requirements in mind and are developing software that suits the requirements.
3. Video Learning
They say that three types of learners—visual, auditory, and kinesthetic—excel best in education. As we all have experienced, videos and vocals give an effective learning experience as they practically demonstrate the subject. This served as one of the best reasons for students to learn online. Auditory learners who loved to hear the subject while learning were the only group adequately served by the standard method of course delivery. From video-based lectures, one can see the practical effect and results in the form of instructional videos.
4. Artificial Intelligence
According to forecasts, the worldwide eLearning market was expected to grow to $325 billion by 2025 even before the coronavirus pandemic. Experts in the eLearning industry said that "an AI-based eLearning platform is a system that maintains the power to accomplish different tasks requiring human intelligence." Artificial Intelligence (AI) has the ability to present solutions to human-related situations, like translation, speech recognition, decision-making, and more. One of the essential features of AI is the capacity to assemble and analyze users' data every time they interact with the technology. This is the reason online education courses can be more efficient. Using AI technology, it can:
Choose the highest level expected for the learner
Help the user to the next level by delivering relevant content
Assist learners by taking into account the student's previous experience, skills, knowledge, learning style, and preferred pace
AI is an intelligent technology that can guide students through courses and help with learning predictions and on-the-fly customization. All of this, which used to seem impossible, is currently used and working. Most mobile applications have AI to make app functions seamless and give a real-time effect.
5. Microlearning
Regardless of age, we are never excited about large, multi-phase projects. Similarly, students in collaborative classrooms have found much greater success by splitting learning materials into manageable pieces. Otherwise known as microlearning, professors have found that breaking study material into modules produces smarter and faster retention. For instant, a 2-hour long lesson can be divided into four 30-minute sessions. Microlearning is demonstrative of a movement that goes beyond eLearning into the domain of traditional classroom areas.
6. Customized Learning Experience
eLearning offers complete flexibility, and users can study at their own pace. This helps the learners to set their study time for as long as they can concentrate. Along with flexibility, online education is also customized as per students' requirements and mastery levels. Online learning platforms come with the record and save facility where sessions can be saved to visit later, which helps students revise the topic as required. More interaction with the faculty is another benefit as it helps solve individuals' doubts and provides more feedback. eLearning app development companies offer multiple features that include customized course and lecture record facility and space to store study materials like photos, videos, and eBooks online. This extra content is available anytime from anywhere, which offers a more dynamic and customized education.
7. Learning Management Systems
Managers generally use what is known as a content management system (CMS) to build and store digital content in many institutes and schools. Lately, the concept of CMS for study materials has extended globally to eLearning platforms, as a Learning Management System (LMS). An LMS is beneficial for professors and other eLearning faculty who can now design, document, and register courses and study materials in it. In a technology-based and digitalized world, eLearning plays a big role. Users can go digital and study required courses online. Leveraging the capabilities of an LMS, organizations are creating lesson plans and managing courses easily, thus doing away with the old analog ways thanks to LMSs.
8. Learning And Development
eLearning uses technology to allow people to study remotely. It is considered that anyone can learn online according to preferred learning styles and Instructional Design principles. Not only does the Learning and Development (L&D) function help to assess the resources and course overall, but it allows students of all ages to learn and develop. It also assists educators in assembling actionable data and analytic aspects. L&D is a strategy that connects students' performance with overall institutional goals. And now, it is applied to eLearning software development in multiple enterprises where education is the priority.
Conclusion
There are multiple reasons to believe that eLearning is the future of education. A few of the reasons mentioned in this article are some of the top reasons that students undertake and institutes offer eLearning. Overall it gives a better experience to learners. Every school and institute can develop eLearning software that brings in more students and helps educate them effectively. As the traditional way of education may not suit everyone, online education software helps the majority with accessing virtual study opportunities worldwide.